7x Champion Lewis Hamilton Reveals Emptiness a Day After Split From Angela Cullen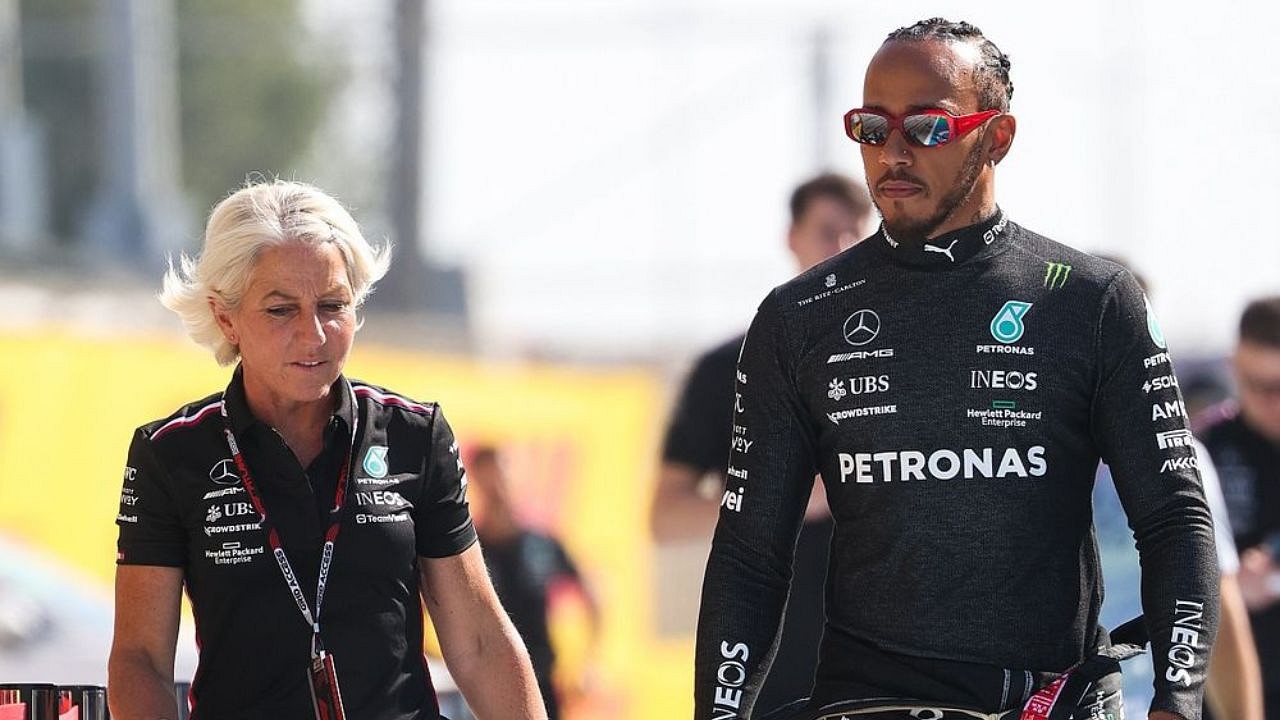 On Friday, Lewis Hamilton released a shocking statement on his Instagram. The 7-time World Champion announced that he has parted ways with his physio Angela Cullen.
Cullen joined Hamilton's personal staff in 2016. She acted as the Briton's personal confidant along with preparing him for races as a physiotherapist.
The New Zealander will be moving in a different direction in order to pursue her career. But the absence of his dear friend has left an impact on the Briton's activities during race week.
Lewis Hamilton parts ways with his long-time trainer Angela Cullen

Wishing you all the best for your next journey, Angela 🙌

📸 x @LewisHamilton #SaudiArabianGP #F1 @MercedesAMGF1 pic.twitter.com/rlBreieFKq

— Formula 1 (@F1) March 17, 2023
Lewis Hamilton talks about Angela Cullen after Saudi GP Qualifying
Lewis Hamilton endured another difficult day during the 2022 Saudi Arabian GP Qualifying. He struggled to perform with the car and only managed to put his W14 in 8th place.
The Briton has been demoralised by not being able to understand the car. But the absence of Angela Cullen has also left a void in his race day activities as he revealed after the race.
Lewis Hamilton about Angela Cullen pic.twitter.com/7q1X1VyZM7

— F1 To Rule Them All (@F1RulesMedia) March 18, 2023
Lewis said, "Angella is a bundle of joy. It's definitely different not seeing her during the day, having her positive energy around. But I still have a great team around me."
While Cullen's absence has left an emptiness in the racer's activities, she still is in touch with the racer. The 7x World Champion revealed, "She is been supporting me all weekend through texting."
However, the Mercedes driver refused to speak about the reason behind the split.
Mystery Angela and Hamilton's split
Angela Cullen and Lewis Hamilton were extremely close. She has been with the driver for 7 years and was an integral part of his inner circle.
Lewis revealed in his Instagram post, "She has been by my side, pushing me to be the best version of myself. I am a stronger athlete and a better person because of her."
Angela was his physiotherapist and assistant and had a crucial role in the 103 GP winner's pre-race and post-race activities. She also used to walk Hamilton's dogs, Roscoe and Coco on race weekends and kept the driver's schedules in check.
 

View this post on Instagram

 
Vullen shared on her Instagram that she is moving on towards a new adventure. She called Lewis a GOAT in her farewell post and wrote, "It's been such an honour and pleasure to stand alongside you. I'm so proud of you and everything you have achieved."
There is still a mystery surrounding her exit as the duo were extremely close. It is still unclear if it was Angela's choice or Lewis's. Or if Mercedes had any role in the decision.
Toto Wolff, Mercedes CEO denied any role in the team. He calls Angela a Mascot of the team and will always be a part of the Mercedes family. But the team will continue to support the 38-year-old's decision.
---
Share this article