Christian Horner Hits Back at Lewis Hamilton Fans Over Cheating Allegations; Says He's an 'Antichrist' for 7xF1 Champ's Followers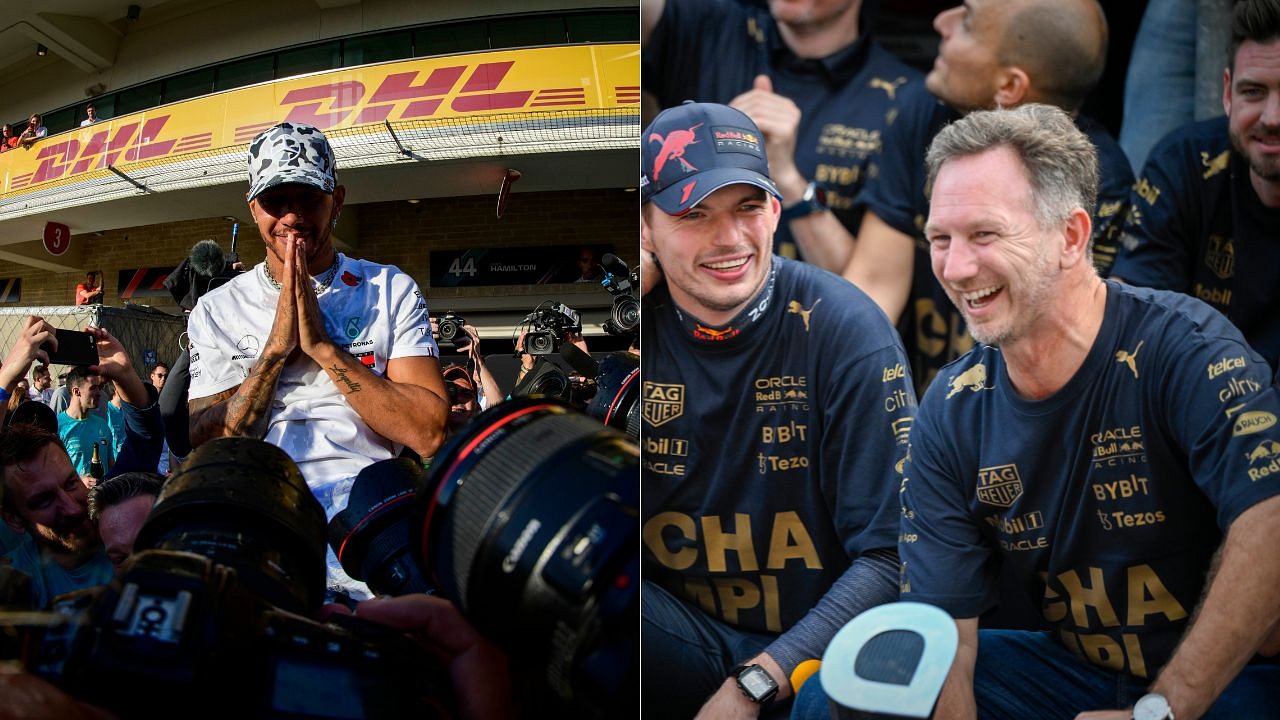 Red Bull Racing team principal Christian Horner has hit back at the cheating allegations his team continues to face for what transpired in the 2021 season.
On that occasion, Red Bull Racing's Max Verstappen beat Mercedes' Lewis Hamilton for his maiden championship by winning a controversial season finale in Abu Dhabi.
Following the 2021 Abu Dhabi GP, many Hamilton fans labeled Verstappen and the Milton Keynes outfit as 'cheaters.' Consequently of these allegations, Horner believes that he is likely to be some sort of an 'antichrist' for Hamilton's fans.
Christian Horner says he will always stand up for his team
While speaking in a recent conversation with The Telegraph, Christian Horner said, "For your average Lewis fan, I'm probably some sort of antichrist."
He stated that he will always stand up for his time and will not apologize for the same. Horner also added that he is unconcerned about what is said about his team as he knows they didn't cheat.
 

View this post on Instagram

 
However, the 49-year-old was not done there as he seemingly also took a dig at the British fans. Horner said that he believes the Britons forget that Red Bull Racing is an 'incredible story for this country too.'
He explained his point by stating that while the Milton Keynes outfit is Austrian-owned, they are not only a British-based team but also have a British team principal and that 85% of the workforce was British.
Also Read: Max Verstappen Spots Unlikely Threat to His Championship Dominance Despite Superior Powers in Play for the Title
Why is the 2021 Abu Dhabi GP a massive point of contention?
While the 2021 Abu Dhabi Grand Prix produced a nail-biting thriller for the neutral and Max Verstappen fans, it ended in heartbreak and frustration for those supporting Lewis Hamilton.
The Briton failed to win the race and a record eighth championship as Verstappen passed him on the final lap after some controversial decisions were made by race control and the stewards.
The drama began on lap 53 of 58 when Williams' Nicholas Latifi crashed into the barriers. Following the crash by the Canadian race driver, unsurprisingly, a safety car was brought out.
The safety car eliminated all of Hamilton's lead, which was about 13 seconds over Verstappen. While nothing was controversial until this point, how race control resumed, the race left Hamilton and Mercedes fuming.
Initially, race control had informed all teams that lapped cars could not overtake. However, they soon changed their stance by allowing all cars between Hamilton and Verstappen to unlap themselves.
This improvisation not only meant that Verstappen was right behind the Briton with a lap remaining, but he was also on fresher tires, having pitted under the safety car. Consequently, once the race resumed, he could easily pass Hamilton and win the race and his maiden championship.
Also Read: Mercedes Could Collate With Aston Martin's Fernando Alonso To Beat Max Verstappen Sounds Farcical to Red Bull Chief
---
Share this article