Mark Webber gave more 'grey hair' to Christian Horner than Sebastian Vettel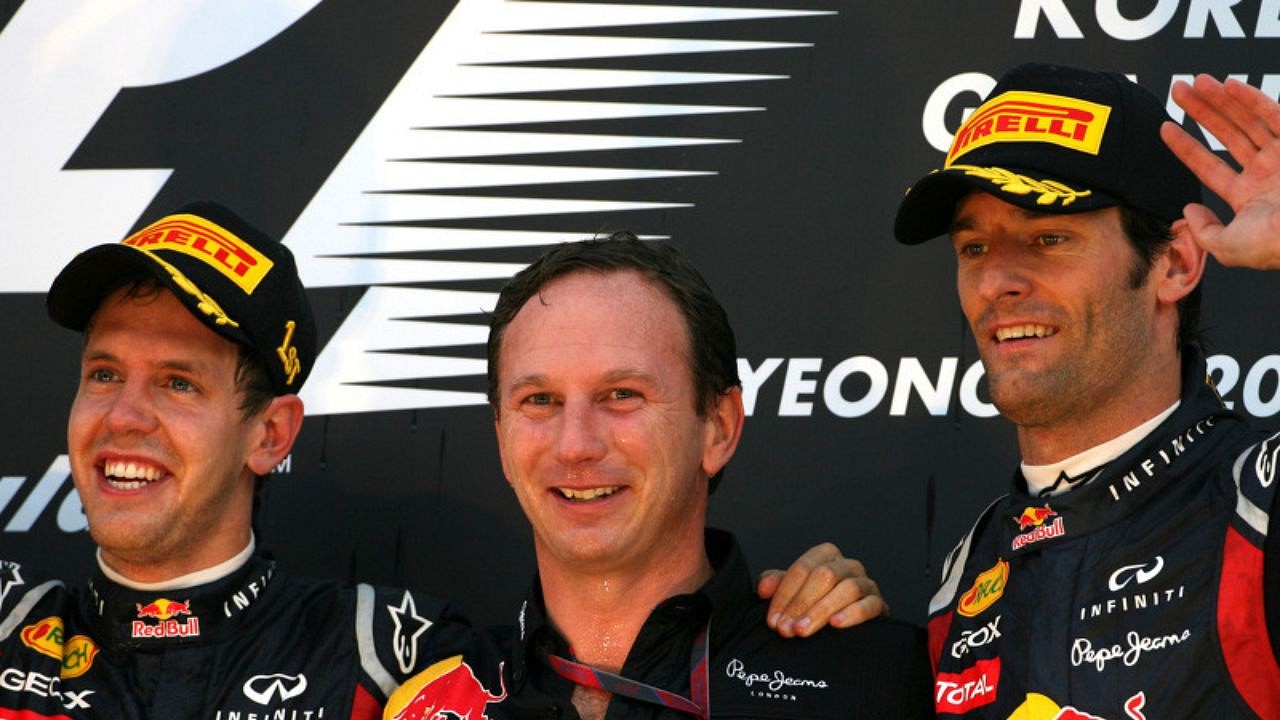 Mark Webber and Sebastian Vettel had a very strained relationship during their time together as teammates at Red Bull. The former showed glimpses of brilliance but was majorly outperformed by Vettel during his stint. However, a lot of times, Webber felt that he was not being fairly treated by Christian Horner and Red Bull.
During a recent interview involving Vettel, Horner, and even Max Verstappen, the interviewer asked the Red Bull team principal about the rivalry between his two former drivers. He asked who gave him more 'grey hair', and Horner didn't hesitate in revealing that it was Webber. The 49-year-old said this with a smirk, and it made Vettel and Verstappen laugh too.
seb's laugh when christian answered mark webber to the question of who gave him more grey hair pic.twitter.com/0wXIhVTduJ

— lee (@sebbiestuff5) December 20, 2022
Webber competed in F1 from 2002 to 2013, winning 9 races during his time in the sport. His most successful spell, however, was with Red Bull. However, the relationship between the two parties was completely spoiled due to his rivalry with Vettel.
Also read: "It deserves a special place emotionally": Max Verstappen winning 2022 Title ranked 3rd by Helmut Marko in all-time Championship wins
How relationship between Sebastian Vettel and Mark Webber was completely damaged
Webber was in the mix for the 2010 Drivers' Championship Title and was actually ahead of Vettel heading into that year's season finale. Unfortunately for the Aussie, things did not go his way that year, and not only did Vettel win the Title in 2010, but he also won it the next three years as well. This resulted in the animosity between them growing, and it peaked during the famous 'multi 21' incident at the 2013 Malaysian GP.
Webber was leading the race in Sepang, with his teammate behind him. Red Bull instructed them to hold positions but the German driver disobeyed orders and ended up winning the Grand Prix. After the race, Webber publicly accused Red Bull of giving Vettel 'special treatment', and it permanently damaged the relationship between them.
Who can forget 'Multi 21'

Despite being called the , tempers often boiled over – check out our top ten moments below #F1

— Formula 1 (@F1) January 17, 2020
At the end of that year, he left F1 to compete in other racing ventures. Webber made a return to endurance racing with Porsche and won the World Endurance Championship in 2015. Vettel meanwhile, retired from F1 only this year, with the 2022 Abu Dhabi GP being his last ever race.
Also read: Charles Leclerc sends Christmas gift to 'biggest fan' Max Verstappen
---
Share this article