Max Verstappen or Lewis Hamilton? Cristiano Ronaldo's Girlfriend Reveals Who Her Favorite F1 Driver Is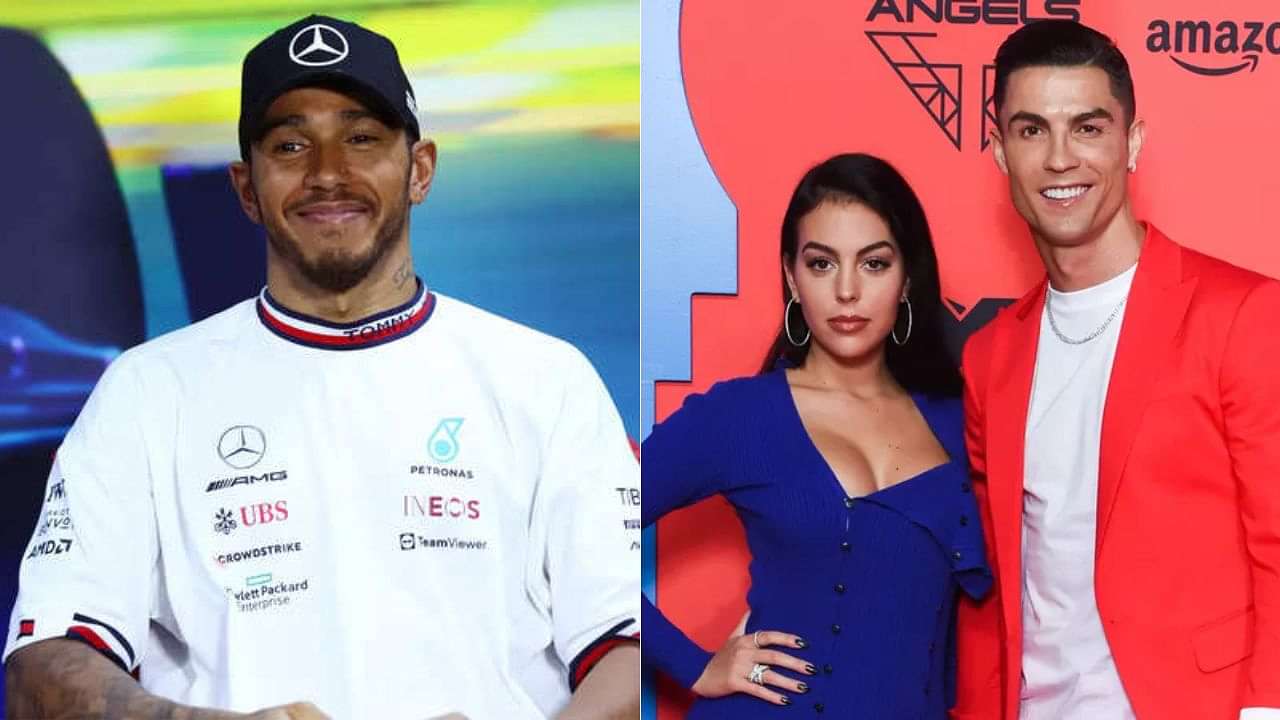 When it comes to popularity, very few athletes come close to Cristiano Ronaldo. The Portuguese is regarded as one of the greatest footballers of all time and is currently playing for Al Nassr, one of the biggest teams in Saudi Arabia. Ronaldo is also a fan of F1, and in the past, he has visited several F1 races where he has met the likes of Lewis Hamilton and Charles Leclerc.
Loading embed tweet https://twitter.com/F1tutkumuz/status/1162782548520570880?ref_src=twsrc%5Etfw
When Ronaldo was playing for Real Madrid, he used to travel to Monaco every year, for the race in the principality. That is where he visited the Ferrari garage, where he met Leclerc. That wasn't his only interaction with Leclerc however, as in 2019, he visited their headquarters in Maranello when he was in Italy, playing for Juventus.
Loading embed tweet https://twitter.com/F1Krampon/status/1391823932752375815?ref_src=twsrc%5Etfw
Now that Ronaldo is in Saudi Arabia, it is widely reported that he will attend the Saudi Arabian GP in Jeddah this weekend. Presumably, Ronaldo will be traveling to the Corniche circuit with his partner Georgina Rodríguez, who is a big fan of F1. But who does Rodríguez support in F1? Is it seven-time world champion Hamilton? Or is it Max Verstappen, a legend in the making?
Also read: "What on Earth Does Lewis Do From Here?": Hamilton Warned of F1 Rival With 0 Race Wins Showing More Promise to Rival Teams
Cristiano Ronaldo's girlfriend reveals her favorite F1 driver
The quote 'everyone is a Ferrari fan' is one of the most common phrases used in F1. The Scuderia is an iconic outfit and the most successful F1 team of all time. Their fanbase is huge, loyal, and passionate, and Rodríguez too is a part of that.
On the other hand, the 5-time Ballon D'Or winner's partner is also a fan of Mercedes, but that is only because of Hamilton. Heading into the Saudi Arabian GP this weekend, neither team is the favorite to win the race, with Verstappen and Red Bull expected to field the fastest car yet again.
Loading embed tweet https://twitter.com/ahmed_baokbah/status/1636048244135411725?ref_src=twsrc%5Etfw
If Rodríguez and Ronaldo do end up traveling to Jeddah for the race, it will be interesting to see who they root for, and which garage they spend most of their time in.
Also read: Amidst Lewis Hamilton to Ferrari Links, Mercedes Boss Toto Wolff Once Wanted To Work at Maranello
Is Ronaldo being forced to watch Lewis Hamilton and co. race in Jeddah?
Ronaldo, currently 38 years old, is playing for Al Nassr in the Saudi Pro League. He has played for some of the biggest teams in the world including Real Madrid, Juventus and Manchester United. However, his last spell in Manchester ended bitterly, and the Madeira-born footballer decided to leave Europe for Saudi Arabia.
Loading embed tweet https://twitter.com/CristianoXtra_/status/1635890886122033152?ref_src=twsrc%5Etfw
'Sportswashing' is something the Saudi government has always been accused of and Ronaldo's involvement in events all over their country, adds to these accusations. Some reports have stated that Ronaldo's current $200 million contract with Al Nassr, involves a clause that forces him to attend the Saudi Arabian GP.
However there are other reports which claim that the Real Madrid legend is under no obligation to make an appearance in F1 this weekend.
---