French Open-2016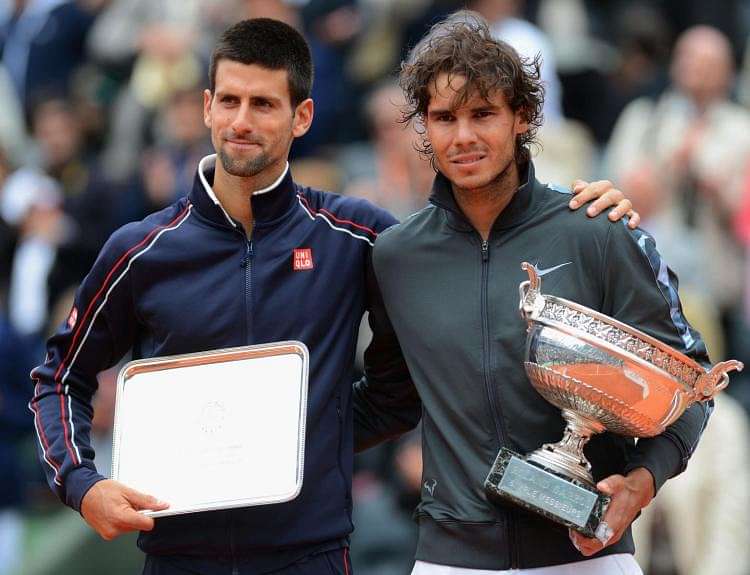 This Year's second Grand Slam tournament, the French Open went underway this past weekend and the stakes are very high as 4 of the top five players in the world come into the tournament with a rich vein of form.  Rafael Nadal won a record ninth title at the Monte Carlo masters, Novak Djokovic won at Nadal's backyard winning the Madrid Open and Andy Murray won the Rome Masters coming into the french open while Stanislas Wawrinka would love to defend his title. Get ready for an exciting tournament.
Nadal And Djokovic are on course for a semi final clash. Image- www.nydailynews.com 
One name that is missing from the bracket is Roger Federer, the swiss master appeared in 65 consecutive grand slam tournaments before pulling out of the French open, we need to go way back to the 1999 US open when Federer missed a grand slam in a calendar year.  It is due to this consistency that Federer achieved his unprecedented success and continues to perform brilliantly even in his thirties. He has managed to stay fit while competing at the highest level for so many years, something not many have been able to do.
Rafael Nadal will look to complete his own version of 'La Decima' just like his beloved Real Madrid did 2 years ago, winning an unprecedented 10th title having won the French Open 9 times in the past 12 years. Such is the dominance of the man in Paris , who has lost only two games at the french open ever – in 2009 against Robin Soderling and last year against Novak Djokovic.
Djokovic himself would look to complete his career grand slam by winning the title which has eluded him for some time now.  He appeared in all 4 grand slam finals last year and continued his dominant form this year as well winning the Australian Open.  Novak Djokovic and Rafael Nadal are on course to meet in the semi finals and it's fair to say that he winner will probably emerge as the champion.
The only major threat according to bookmakers to Nadal's 10th title or Djokovic's career grand slam is Andy Murray. Murray has always shown promise since he was young and even won two grand slam titles ,however, he always falls shorts when it comes to big occasions. He is at an age where he just can't afford to do that now, and probably needs to up his game if he has to challenge for the title.
Speaking about the women's draw, there isn't much of a debate is it? Since Serena Williams is playing! The American has won 21 singles grand slam titles and it will be a really tough task for anyone to stop her from defending the title she won last year. Agnieszka Radwańska and Angelique Kerber will be the major threats to her title challenge and Victoria Azarenka who has regained the form which saw her win back to back Australian open also should not be counted lightly .
It's going to be an exciting 2 weeks of tennis , shortly followed by Wimbledon and the Rio Olympics.
---