Apex Legends January 24 update reverts Horizon nerf, brings new Hardcore Royale LTM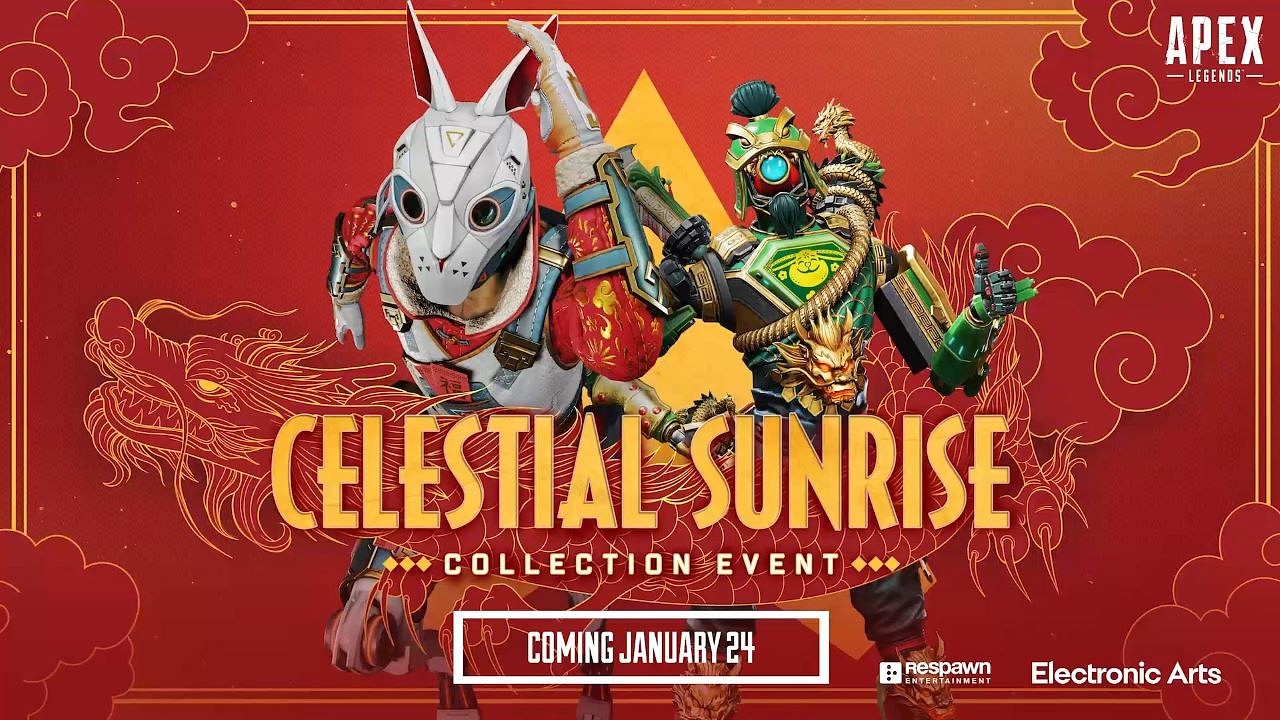 A brand new Apex Legends patch has dropped and Horizon mains can breathe easy. The nerf to Horizon's Q has been revered entirely, giving players their accuracy back. Additionally, the Lunar New Year celebrations have arrived in Apex Legends with a bunch of new cosmetics, game modes, and more headed to the game. Here's everything included in the patch.
Also read: G2 weather the storm and take down NAVI at the CS:GO Blast Spring Groups
What's included in the new Apex Legends patch?
Celebrate the dawn of a new year in the Celestial Sunrise Collection Event! 🌤

Starting Jan 24, put your skills to the ultimate test in the new limited-time mode Hardcore Royale, collect all-new cosmetics, and more.

👉 https://t.co/13UVS9ySVr pic.twitter.com/bkjnlZkYBu

— Apex Legends (@PlayApex) January 19, 2023
As per the latest tweet by the developers a few tweaks have been made with the latest patch:
Legends start with the correct number of tactical charges in BR
Firing Range easter egg can be activated again
Eliminating Wraith by headshot no longer causes incorrect particle effects
Horizon's tactical changes have been reverted
Aside from this, the Celestial Sunrise event will be added to the game. Here's what it includes:
Hardcore Royale Limited Time Event (Limited to players above rank 20)
Limited HUD
White Armor Only
No Helmets
Armor doesn't spawn in Deathboxes (No Armor Swapping)
Ring starts at max Damage
Hardcore Royale will not be a takeover, meaning regular trios will still be available during it's run
Other additions include 24 enchanting limited-time cosmetics, with Legendary skins for Octane, Pathfinder, Caustic, Ash, and more. All 24 items will be available in exchange for Apex Coins or Crafting Metals and in Celestial Sunrise Event Apex Packs for the entire duration of the event. Unlocking all items before he event ends will give players the "Jadeite Retribution", a new Reactive Peacekeeper Skin.
A new Duo's Takeover event called Date Night will also be added to Apex Legends later. Themed around Valentine's day, the new event kicks off on February 7. This new game mode features a new healing mechanic that allows you to heal your teammate in a certain radius while healing yourself. A new variant of the Bocek called The Heart Stealer will also make an appearance. This weapon gives health to the wielder based on how much damage they do with it. Any healing from the bow is also given to your Partner if they're close by
Also read: WWE 2K23 announced: Pre-order details, editions, and release date
---