Germany vs Ukraine – World Champions start with a tough win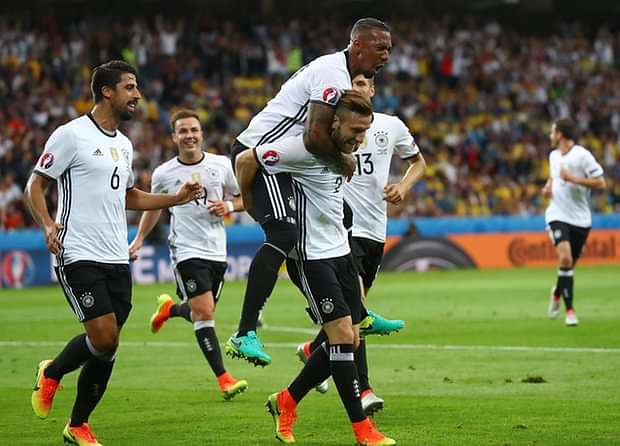 The world champions started their quest for a first European Championship since 1996 with a hard fought win against Ukraine. Defender Mustafi who played in for the injured Mats Hummels scored his first international goal in the first half. Germany's win was sealed with an injury time goal by captain Bastian Schweinsteiger.
Germany clearly had a psychological advantage going into the game and the fact that 10 of the starting 11 had tasted world cup glory 2 years ago clearly went in their favour as the game progressed.
It was Ukraine however, who looked more dangerous in the opening exchanges forcing a diving save from the stand in captain Manuel Neuer in the 5th minute after a shot from the edge of the box by Konoplyanka. Germany however did score against the run of play, Mustafi headed in from a pin point delivery off a free kick from Toni Kroos.
It was all Ukraine from there on , and they troubled Neuer more than once and nearly equalized only to be denied by an acrobatic clearance off the line by Jerome Boateng.  Neuer was the busiest of the two keepers and his opposite number hardly had to make a save in the first half.
The German midfield seemed to have missed the cool head of Schweinsteiger in the first half as the were clearly outplayed by Ukraine,  a half in which Mesut Ozil was merely a spectator.
Germany started the second half strongly and dominated possession throughout creating a number of chances , and Ukraine seemed to have run out of gas as they never really looked to threaten Manuel Neuer's goal in the second half.
Ukraine pushed everyone forward in an attempt to equalize in stoppage time allowing Germany to counter, Ozil broke on the left hand side and crossed in for Schweinsteiger to finish who was on the pitch for less than 2 minutes.
There are plenty of questions to be answered by Joachim Low if he is to repeat Spain and France's feat of winning the European Championships after the world cup, but Boating and Mustafi's place in the squad isn't one of them. Next up for them are neighbors Poland.
---