Giovani Lo Celso Red Card Controversy: Premier League VAR decision shocks once again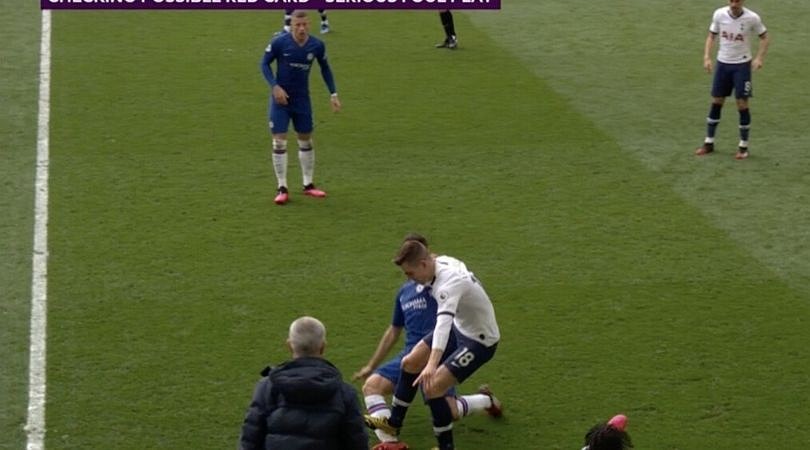 Giovani Lo Celso Red Card Controversy: Premier League VAR once again surrounds controversy after sparing Lo Celso for a red card.
There have been innumerable questions and criticisms against the VAR implementation in the Premier League, but tonight, during the Chelsea Vs Tottenham Hotspur, VAR surprised everyone.
In the 52n minute of the game, Giovani Lo Celso made a career-ending challenge on Cesar Azpilicueta, while being late on the ball. The Argentine international stamped on Azpilicuta's leg, which made him cry in agony.
Even the ball was far away from Lo Celso's boots, which should have been enough to find him guilty. The foul then went onto be checked by the VAR, and on the footage, it was clearly seen that Lo Celso made an off-time challenge.
Watch the video
https://twitter.com/Arsenal24649333/status/1231212842721959937?s=20
However, the officials didn't overturn the decision and declared Lo Celso innocent of any foul play. The decision immediately triggered Frank Lampard, as he was continuously seen arguing to the 4th official, even 5 minutes after the game resumed Lampard wasn't happy with it.
Even the fans on social media were not happy with the decision and spoke against the decision made by VAR. This is the second time in 2 game-weeks when VAR has gone against Chelsea.
https://twitter.com/LxtteryFT/status/1231213425981874177?s=20
How is that not a straight red. The VAR decision there is far more worse than the tackle by Lo Celso!!

— Manas Singh (@menacesingh) February 22, 2020
Last time, it was against Manchester United when Harry Maguire kicked Michy Batshuayi, although, it can be argued that Maguire had no intention to hit his counterpart.
However, this incident was all clear and Lo Celso should have headed back to the dressing room. But in the end, he continued to be a part of the game.
Amidst the game, a statement was brought up by Jake Humphrey, who claimed that the officials have accepted the mistake made by VAR at the Stamford Bridge.
BREAKING: We have been speaking to Stockley Park who have admitted they got the decision wrong and Lo Celso should have been sent off… @btsport

— Jake Humphrey (@mrjakehumphrey) February 22, 2020
Meanwhile, Chelsea managed to dominate their city rivals Spurs, and won the game with the scoreline of 2-1, with the help of the goals by Oliver Giroud and Marcos Alonso but an own goal by Antonio Rudiger gave Spurs a consolation.
This was the first visit of Jose Mourinho to the Stamford Bridge, ever since he took up the role of manager at the North London club this season.
---
Share this article