Goldberg: Former Universal Champion apologises to fans on Twitter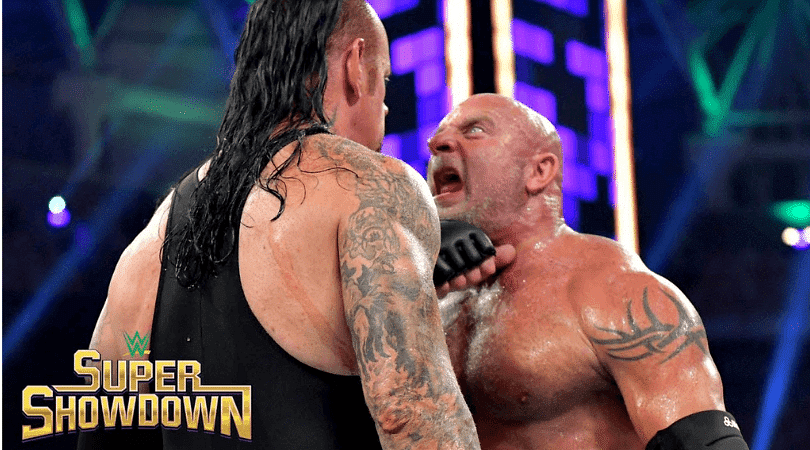 Goldberg: Former Universal Champion apologises to fans on Twitter. The apology came after a dismal performance at the main event of Super ShowDown.
Goldberg made his wrestling return last night in Saudi Arabia. His match against the Undertaker headlined WWE Super ShowDown. Goldberg's last match before that was a title defence at Wrestlemania 33 against Brock Lesnar. The two had a very physical 5-minute match that excited the crowd in attendance.
While Goldberg was given an amazing send off, the fact that his wrestlemania match was his longest since his comeback at Survivor Series 2016, was evidence enough that the Icon was done with Wrestling.
Naturally, it surprised the fans when WWE announced that not only was Goldberg back, but he would face The Undertaker, another ageing veteran. Confusion turned to anticipation after both the legends hyped their match with well delivered promos.
Unfortunately for them, the hype never materialised as their match got progressively worse.
Goldberg is known to bang his head on the door before a match or a promo. He says that it helps calm his nerves. However, as he walked out his head was visibly bruised, like that one episode on Raw back in 2017. As if that wasn't enough, the Icon bust his head open after a spear to the ring post.
He looked woozy and out of control as he tried to get back into the match. He botched a Jackhammer and dropped The Undertaker on his neck. Goldberg embarrassed himself further as he fell down while attempting a tombstone on the Phenom.
Undertaker also struggled and at one point botched a Tombstone as Goldberg's already bleeding head crashed on the mat. The match was met with heavy criticism and Goldberg took to twitter to apologise to his fans for letting them down.
He wrote:
Loading embed tweet https://twitter.com/Goldberg/status/1137146190456401920?ref_src=twsrc%5Etfw
Also Read: The Undertaker acknowledges fan reaction after his match with Goldberg
Many fans forgave the Icon and were just glad that he was alright after the match. While some requested the legends to retire saying they were destroying their own legacy. Goldberg is still beloved by his fans but hopefully after yesterday he will realise that it's time to move on from the squared circle.
---