The Undertaker: The Phenom acknowledges fan reaction after his match with Goldberg.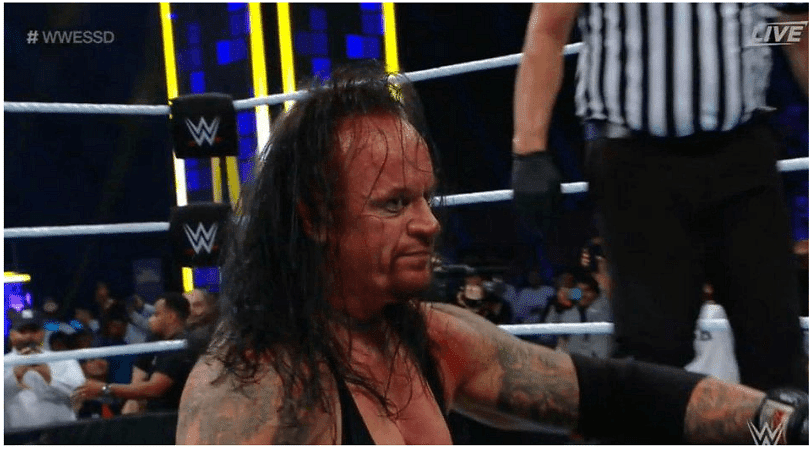 The Undertaker: The Phenom acknowledges fan reaction after his match with Goldberg. The WWE legend was heavily criticised for his sloppy match at Super ShowDown.
The Undertaker faced Goldberg last night in the main event of WWE Super ShowDown. Their much-anticipated clash is now being dubbed as the worst match in WWE history by some fans. The two WWE legends showed their age in the match as they even failed to successfully deliver their own signature moves.
Also Read: Watch Triple H's response to Cody Rhodes
While the two started well, things went downhill after Goldberg busted his head open. Goldberg looked like he had suffered a concussion. They tried their best to salvage the match but their deteriorating bodies failed to cooperate with them.
It's a miracle that both of them came out healthy what with all the risky botches. Undertaker failed to land a safe tombstone on Goldberg, hitting his head on the mat. Goldberg was just as dangerous dropping The Undertaker on his neck as he struggled to deliver a Jackhammer. He embarrassed himself further by falling down while attempting a tombstone on The Undertaker.
Thankfully, Undertaker called an audible and ended the match with a chokeslam and put them, and everyone watching, out of their misery.
Wrestling fans took to twitter to express their dismay and displeasures. Many were harsh, including NXT's Matt Riddle.
Loading embed tweet https://twitter.com/SuperKingofBros/status/1137110895950204929?ref_src=twsrc%5Etfw
However, one wrestling fan expressed his sympathy to the wrestlers in the ring on WWE's official Instagram account and diverted his anger towards them instead.
He wrote:
"Can you please stop bringing Undertaker back now? Jesus Christ after everything he has done for the company just let him retire in peace. Literally, the match was terrible because those two guys are in their 50s, they can't compete at main event level any more. You saw how Undertaker was struggling to stand after just five minutes, and Goldberg was too weak to even pull off a jackhammer. Just let them live out the rest of their days in peace, or they will end up getting seriously hurt."
To everyone's surprise The Undertaker seemed to agree with the fan as he liked the comment from his official Instagram account. Does this mean that the Undertaker agrees with the fan? Will he finally call it a day and pursue other ventures where he doesn't have to put his body through hell anymore?
There are no answers at the moment but Undertaker's acknowledgment of the fans concern has surely made it interesting. Hopefully we will have are answers soon, till then we can merely speculate.
---