Indian Wrestling at the Olympics: All you need to know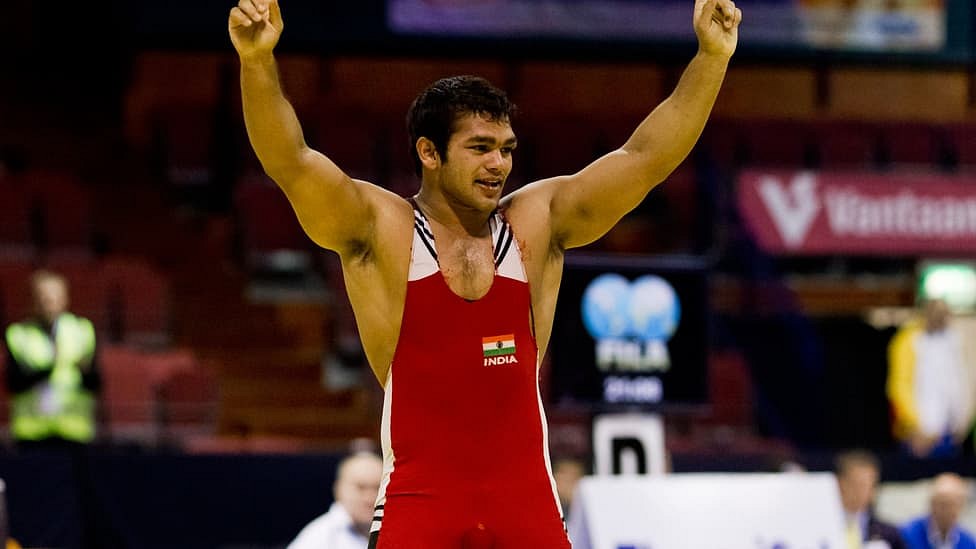 Indian Wrestling has been in the news for quite some time now. Earlier the Sushil Kumar- Narsingh Yadav saga dominated headlines as both candidates staked their claim to represent the country.
More recently, Yadav was accused of doping after banned substances were detected in his body. However, Yadav has now been given a clean chit by the National Anti-Doping Association (NADA).
Here, we discuss the history of wrestling in the Olympics and try to figure out India's medal hopes at Rio 2016.
History
Considered one of the most ancient and oldest sports in the world, wrestling in India has a glorious past. Wrestling has been popular in India since ancient times.
Wrestling is counted amongst the most prestigious and oldest events in the Olympic Games. It was allegedly included in the Olympics as early as 708 BC. One of the premier characters in Mahabharata, Bhima, was considered to be a great wrestler.
Wrestling in the Olympics
When the modern Olympic Games resumed in Athens in 1896, wrestling became a focus of the Games. The exception was the 1900 Summer Olympics when wrestling did not appear on the program.
Freestyle wrestling and weight classes both made their first appearance in 1904. The women's competition was introduced in 2004. Along with boxing, it is one of only two sports that still require participants to have amateur status to participate in the Olympics.
In February 2013, the IOC voted to remove the sport from the 2020 Summer Olympics onwards. On 8 September 2013, the IOC announced that wrestling would remain part of the Summer Olympics in 2020.
The erstwhile Soviet Union have been the most successful in Olympics wrestling. They won a total of 116 medals including 62 gold. The United States have more medals (125), but lesser golds (50).
Other successful participants include Sweden, Japan, Turkey, Finland and Russia.
India in Wrestling
India won her first ever individual Olympic medal (after independence) in wrestling. In the 1952 Helsinki Games, Khashaba Dadasaheb Jadhav won the bronze in Men's freestyle bantamweight.
This remained independent India's only Olympic medal (in individual sports) till 1996. Since, then India have always managed at least one individual medal per Games.
Olympics returned to the limelight in 2008. In the Beijing Games, Sushil Kumar won a bronze in Men's 66 kg freestyle.
India's performance in 2012 was even better. Sushil Kumar managed to better his performance by clinching a silver in the same category (66 kg freestyle). Also, Yogeshwar Dutt won a bronze in Men's 60 kg freestyle.
Format
There will be two sessions of competition on each day of the 2016 Olympics Wrestling program. The first session would comprise the Qualifiers and the second session would be the finals.
Men's wrestling will be conducted in freestyle as well as Greco Roman. The weights for freestyle range from 57 kg to 125 kg, while for Greco Roman they range from 59 kg to 130 kg.
Women's wrestling is only conducted in freestyle. The weights range from 48 kg to 75 kg.
Indian contingent
India has qualified eight wrestlers into the Olympics. One Olympic spot was won in the men's freestyle 74 kg at the 2015 World Championships. Two more Olympic places were awarded to Indian wrestlers, who progressed to the top two finals at the 2016 Asian Qualification Tournament.
Three further wrestlers had claimed the remaining Olympic slots in separate World Qualification Tournaments. One of them was in men's freestyle 57 kg and two more in women's freestyle 48 & 58 kg.
On 11 May 2016, United World Wrestling awarded two additional Olympic licenses to India in men's Greco-Roman 85 kg and women's freestyle 53 kg, after doping violations were discovered among the seven qualified wrestlers.
Squad
Men's freestyle: Sandeep Tomar (57 kg), Yogeshwar Dutt (65 kg) and Narsingh Pancham Yadav (74 kg)
Men's Greco Roman: Ravinder Khatri (85 kg) and Hardeep Singh (98 kg)
Women's freestyle: Vinesh Phogat (48 kg), Babita Kumari (53 kg) and Sakshi Malik (58 kg)
Previewing India's chances
India's medal hopes seem to lie on the shoulders of the recently cleared Narsingh Yadav. Yadav has been preferred to Sushil Kumar in the Men's freestyle 74 kg category.
This matter had dominated headlines for several weeks in the build up to the Games. Ultimately it Yadav was preferred to Sushil as India's representative in that particular category.
This is Yadav's second Olympics after the 2012 games. There he lost his opening bout against Matt Gentry of Canada in the 74 kg freestyle event and was knocked out of the tournament.
Yadav has been in a similar situation before. At the 2010 Commonwealth Games held in New Delhi, India, he was a last-minute replacement and competed in the men's freestyle 74 kg category. He managed to surprise everyone by winning the gold medal.
In the 2011 Commonwealth championship, Narsingh finished second and won the silver medal. Yadav also won a bronze in the 2015 World wrestling Championships.
Also, in the fray is Yogeshwar Dutt who won bronze in the 2012 Olympics.
---