IPL 2017 Fantasy Guide: Fantasy Tips for Delhi Daredevils vs Kolkata Knight Riders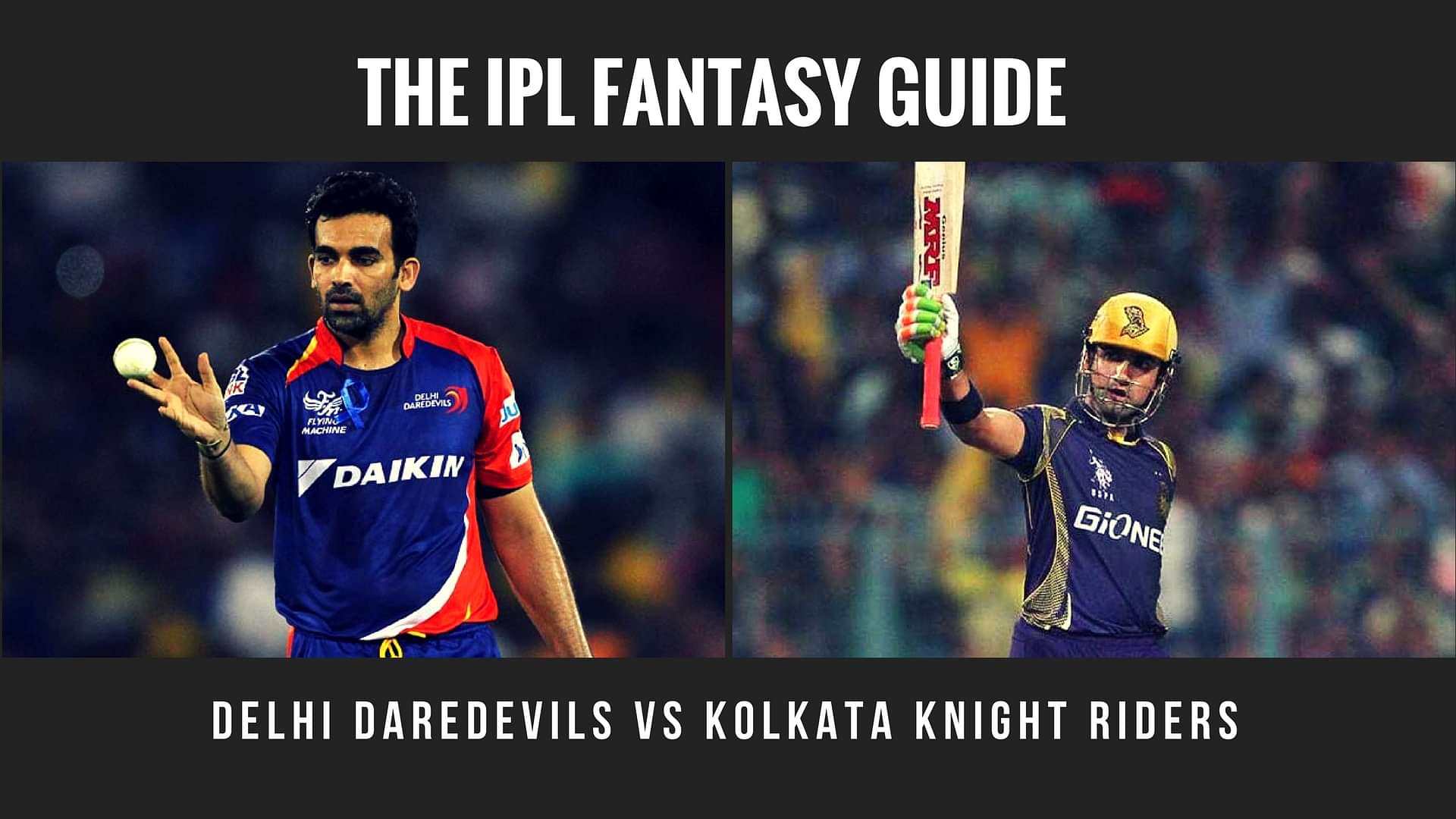 It was a night which confirmed the fact that the pitches here in India area a little tired from the long season, and wouldn't be acting their normal self. The ball is just not coming onto the bat, the runs aren't flowing and the ball is gripping the surface, something that you attribute to test wickets, and not to the T20 blitzkrieg. But as the age old saying goes, it's more or less a level playing field, so shouldn't make much of a difference.
But RCB seem to be the team that has been most affected by this change in pitch behaviour/character. They are a team full of stroke makers and sluggish pitches negates their strengths. A quick chat with the curator maybe, Virat?
RPS put up a below par score, as per Chinnaswamy standards, but once they got Virat and ABD out, it just didn't take off for RCB, as all their batsmen found it extremely difficult to time the ball. RCB succumbed to a second straight home loss and will have to find way to gel as a side, and quickly.
Also Read: Preview and Predictions for DD vs KKR
In the day game, Mumbai Indians comfortably chased down a rather stiff target put up by the Gujarat Lions, thanks to some lower order striking from Dinesh Karthik. Karthik is slowly turning out to be the most important cog in the Lions' wheel.
Nitish Rana put his hand up in the chase, like he has so many times this season, and it is so pleasing to see a young man taking on the mantle of leading an entire franchise to victory, multiple times.
Let's get to business now!
IPL Fantasy League
Transfer out: Jasprit Bumrah, Rahul Tripathi
Transfer in: Sandeep Sharma, Shahbaz Nadeem
Two teams that are wonderfully equipped to choke down the opposition with their bowling prowess, take on each other in the scorching Delhi heat today. So, where will the battle be won? Will it be a straight toss up between which side uses its strengths better or how they fair with their lesser favourable attribute(the batting)?
Gambhir and Zak both are really shrewd captains, depending more on analysis than instinct and probably have everything worked out before the start of each game. It will be interesting to see the tactics on display today, and they will rack your cricketing brains for sure.
Now, I already have Manish Pandey,  Rishab Pant, Chris Morris, Trent Boult and Kuldeep Yadav in my side for this game.
With bowling being the strong suit of both these teams, I think I have got in most of their best bowlers, with respect to their 'impact potential' in the game. Both Boult and Morris operate in the death overs and Kuldeep would be able to extract some spin and a little bit of bounce from the sluggish Kotla surface.
Narine has been really economical this year as well but doesn't look like taking too many wickets, and I would't want to waste that overseas spot for a meagre 20 points.
From the batting point of view, Manish Pandey has been the most consistent for KKR. And Rishab Pant, with his ability to hit the spinners and the seamers alike, provides that much needed impetus for DD in the middle order. But he needs to consistently bat at number 4, else I will be contemplating getting in some other Indian wicketkeeper.
Now, I feel that I have all bases covered for this game, and thus won't be transferring in any player. Gautam Gambhir's exclusion could be a little surprising, considering the form he is in, but all the other Indian players in my side play a game either tonight or tomorrow, and I won't want to bring him in, especially with the bowling prowess that Delhi possess.
For those who watched Uthappa pile on that pained 68 in the last game would know that he is far from being at his best. Leave him out for now.
Samson doesn't really score that quickly and hence misses out too. Billings could be a differential, provided you have the luxury of transferring out an overseas player(i.e they don't have a game tonight or tomorrow).
My budget doesn't allow me to get in an uncapped player from this game, as all the uncapped players that could feature are priced above 700,000. If you do have the budget, get in Shahbaz Nadeem for sure.
What I'll do in this case is get in an uncapped player from the next game(but do get one who is sure to get game time). Don't opt for Bipul Sharma as of now as you can't be sure if he'll feature for sure or not.
Or there is a better ploy you can apply here. Make whatever substitution that you want for the next game right now and see if you can incorporate that free transfer(with the budget constraint in hand). I'll be going in with this particular ploy.
I transfer out Bumrah to get in Sandeep Sharma and that gives me an extra cushion of 100,000 points, which will help me get in Shahbaz Nadeem as my free uncapped transfer for this game.
Captain: Chris Morris(because of his all round abilities)
Fandromeda tips on the next page:

Fandromeda
Transfer out: Jasprit Bumrah
Transfer in: Kuldeep Yadav
Now, I already have Chris Morris, Manish Pandey, Chris Woakes and Rishab Pant in my side for this game.
I will be making only one transfer for this game, and that is bringing in Kuldeep Yadav for Jasprit Bumrah
Kuldeep has been a revelation this season, announcing his arrival in the India-Australia test series and carrying on ever since. His guile and trickery have left the batsmen searching for answers and the Kotla pitch should assist him in getting some purchase. Get him in!
With all bases more or less covered, I won't be transferring any more players for this game.
Batting Star: Manish Pandey
Bowling Star: Chris Morris
---