Kiplin Doroga stumping vs Scotland: Watch PNG wicket-keeper affects outstanding stumping to dismiss Richie Berrington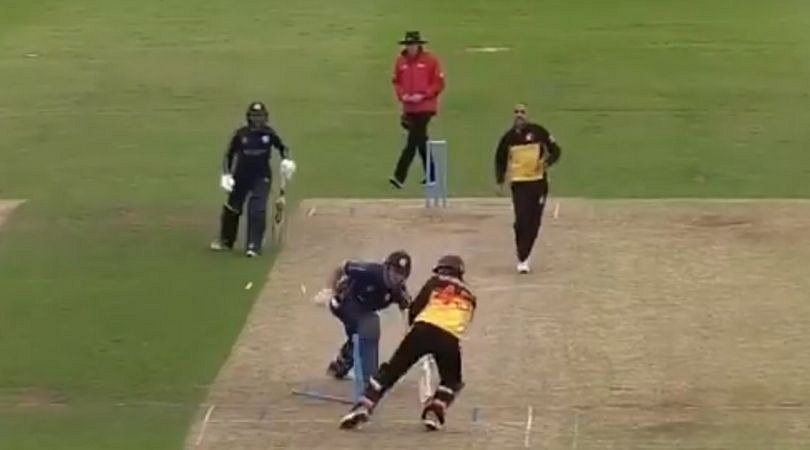 Kiplin Doroga stumping vs Scotland: Papua New Guinea's wicket-keeper was seen affecting an outstanding piece of stumping.
During the third match of the ongoing ICC Men's Cricket World Cup League 2 between Scotland and Papua New Guinea at Aberdeen, Papua New Guinea wicket-keeper Kiplin Doroga put on display an exceptional brand of wicket-keeping to dismiss Scotland middle-order batsman Richie Berrington.
It all happened on the second delivery of the 41st over when Berrington missed an attempt to late cut a Chad Soper delivery. With the ball bouncing off the wicket-keeper's gloves, Berrington thought of sneaking a single.
Quick to realize the same, Doroga collected the ball in the second attempt and dislodged the bails. The fact he completed the whole dismissal in a jiffy speaks highly of his alertness. With Berrington short of his crease, he had to take the long walk back to the pavilion.
Coming in to bat at No. 5 in the 28th over, Berrington ended up scoring 22 (32) with the help of two fours before getting out. While Berrington's dismissal saw PNG coming back into the match, a mediocre 206-run target didn't cause much trouble for Scotland despite them sealing the chase in the penultimate over.
Having scored his 15th ODI half-century, Scotland captain Kyle Coetzer top-scored for his team with 96 (123) with the help of nine fours and two sixes. Scotland spinner Hamza Tahir (10-0-37-4) and all-rounder Michael Leask (10-1-37-3) were the best bowlers for Scotland in the match.
Kiplin Doroga stumping vs Scotland:
Stylish work behind the stumps by Papua New Guinea's Kiplin Doriga! 👏

(📹: @CricketScotland) pic.twitter.com/RuPBY7kR7l

— ESPNcricinfo (@ESPNcricinfo) August 18, 2019
How Twitter reacted:
Unbelievable!!!!! 😲😲😲😲

— supriya saha (@supriyasaha749) August 18, 2019
Great work

— MUHAMMED GADHAFI A (@GADHAFIA) August 18, 2019
Wow

— Ankit Patel (@ankit_1910) August 18, 2019
Um…. What just happened?

— Obaid (@Obaid578) August 18, 2019
For more cricket-related news, click here.
---