Kolasinac on Ozil's pass: Arsenal star talks about Ozil's pass vs Burnley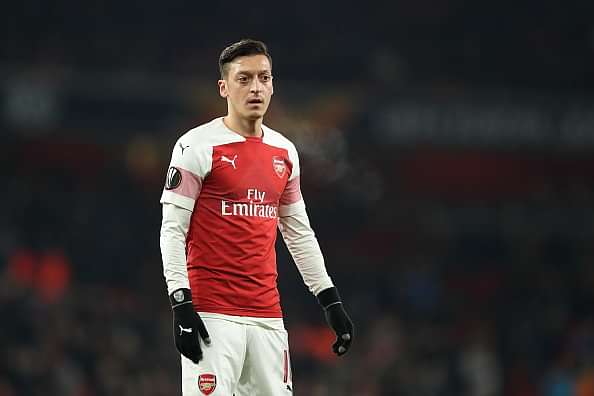 Kolasinac on Ozil's pass: The Arsenal defender has talked about THAT pass from Mesut Ozil which led to Aubameyang's goal.
Arsenal registered a 3-1 victory against Burnley last weekend. Unai Emery's side returned to winning ways after facing two successive losses against Southampton and Tottenham Hotspur.
Mesut Ozil made a brilliant return to the side in the game against Burnley. The former German international has hardly had game time since the end of the international break last month, but was named the captain for the Burnley clash.
Arsenal reach level on points with fourth-placed Chelsea after the win, but remain fifth as the side is behind on goal difference.
His pass to Sead Kolasinac for Aubameyang's first goal was lauded by fans and pundits alike. And now, Kolasinac has talked about the bit of play as well.
Kolasinac on Ozil's pass:
The defender stated that Ozil attempted a brilliant pass, and not many players have the ability to play such a ball.
"I only actually made that run because I saw that he had the ball," Kolasinac said.
Loading embed tweet https://twitter.com/official_Seif/status/1076529106202869761?ref_src=twsrc%5Etfw

"Not many players would have been able to play that pass. He can, and when I saw him get on the ball, I knew he was going to find me. It was a brilliant pass from him."
The defender supported Ozil, stating that the whole team is behind him in his period of uncertainty.
Loading embed tweet https://twitter.com/footballstew/status/1077161544461574145?ref_src=twsrc%5Etfw
"That's the case when you're a big star, like Mesut is," the Arsenal player began.
"Of course there are always negative headlines but, as a team, we don't pay attention to them and Mesut doesn't either.
Loading embed tweet https://twitter.com/YankeeGunner/status/1077249957365719041?ref_src=twsrc%5Etfw
"That's what's most important. We're all behind Mesut – all the staff, all the players."
Kolasinac insisted that his performance against Burnley was brilliant and has silenced his critics. "If negative things are written, then that's just what happens. In life, not everything is positive – sometimes there are negatives written about you too, and he's had that.
Loading embed tweet https://twitter.com/ArsenalArena/status/1077274062538313729?ref_src=twsrc%5Etfw
"But with his performance [against Burnley] he's quietened a few critics," he said.
---