Jeff Gordon vs. Lewis Hamilton: Is the NASCAR Legend Richer Than F1's GOAT?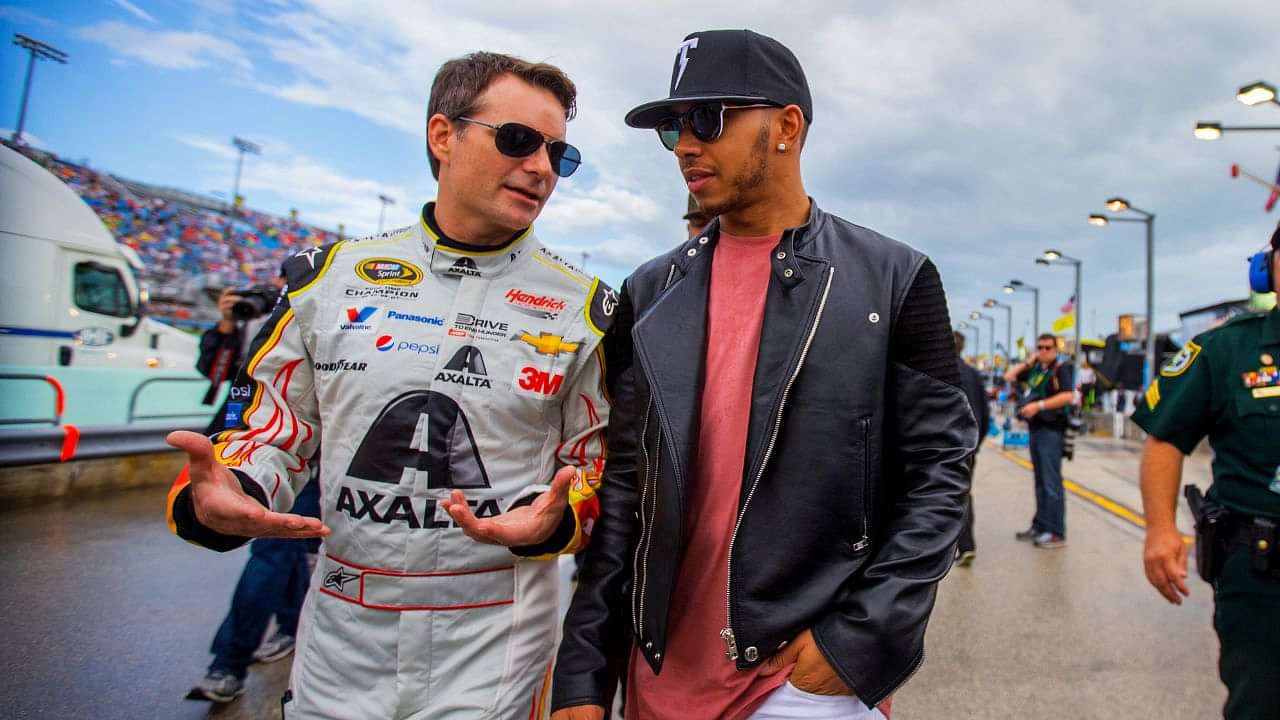 By all metrics, be it races or championships, Jeff Gordon has cemented himself as one of the greatest drivers in the sport. Driving for Hendrick Motorsports for the entirety of his career, Gordon amassed four championships and 93 wins. With all of the spotlight directed toward him during his racing heyday as well as his retirement career as the vice chairman of HMS, he surely has accumulated a vast net worth.
As per most official accounts, it is reported that Gordon holds an estimated total worth of $200 Million. A vast majority of this came from all of the lucrative sponsorships he had over the years. Additionally, he also made a good fortune with real estate, such as the 3,454-square-foot New York City apartment which he sold for $30 Million back in 2013.
If that was not enough, the NASCAR legend also owned a gargantuan 16,500-square-foot mansion in Boca Raton, Florida. But he eventually sold the place for $13.3 Million sometime around 2003. Gordon also has other properties as assets under his portfolio, along with a minority stake in the Hendrick Motorsports team. So with all of that wealth is he richer than Formula 1 GOAT Lewis Hamilton?
How rich is Lewis Hamilton and what does he own?
Well, before we answer that, it is important to consider that Gordon had to part with a chunk of his net worth because of his divorce from his ex-wife Brooke Gordon. According to reports, the settlement totaled anywhere between $15 to $100 million after multiple lawsuits.
Taking this into account and looking at Gordon's current net worth, the seven-time Formula 1 World champion Lewis Hamilton has a much larger financial portfolio. According to Business Insider, the Mercedes AMG Petronas Formula 1 team driver holds a total net worth of $285 Million, which over time will only continue to grow.
The Formula 1 superstar has a complete business empire outside of the racing world. He also owns several top-of-the-line cars with estimates of his car collection hitting several million dollars. He also used to own a multimillion-dollar private jet which he later sold. Reports indicate he splurged on a $4 Million yacht. Hamilton also owns quite a few properties around the world such as a $43 million penthouse in New York, a $24 million mansion in London, along with properties in Geneva and Monte Carlo.
In terms of business, Hamilton has close ties and lucrative deals with brands like Tommy Hilfiger, Monster Energy, Puma, IWC, Sony, Bose, Bell Helmets, MV Augusta Motorcycles, Petronas, and Gran Turismo Sport. Recently, the F1 legend started his own non-alcoholic Tequila Brand, named Almave. He also owns a minority stake in NFL's Denver Bronco's and Tiger Woods and Rory McIlroy owned TMRW Sports. Furthermore, he has a charity organization called Mission 44 and a clothing brand called Plus 44 World as well as a burger chain called Neat Burger.
---