"A bit more explosive than I was!": Shaquille O'Neal Admits 284LB Zion Williamson Has More Force and Potential for Dominance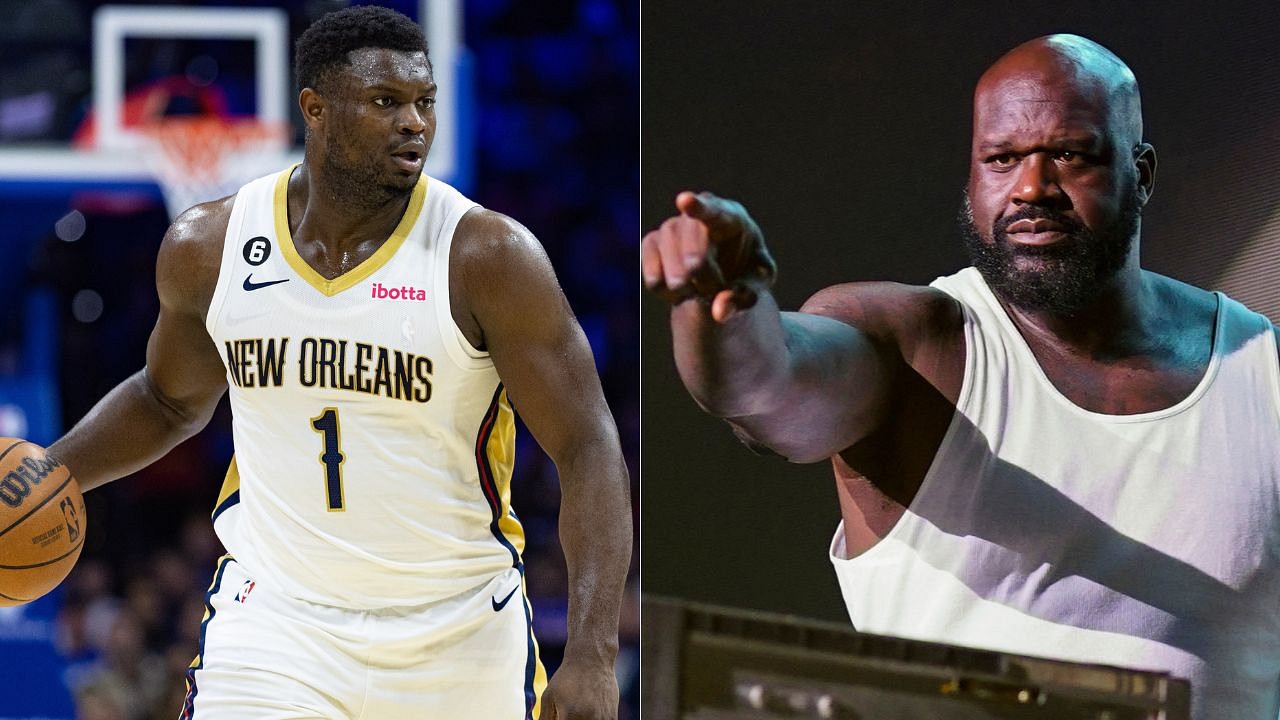 Prior to the hamstring injury he sustained, Zion Williamson was playing some of the best basketball of his young career. After playing merely 85 games in his first three seasons, which included missing out on the entirety of the 2022-2023 season, Williamson was not expected to make such an impact immediately.
Having played 29 games, without any of his previous injuries bothering him, Zanos managed to average 26 points, 7 rebounds, 4.6 assists, and 1.1 steals per game. While 3.4 turnovers per game is concerning, the former Duke Blue Devil makes up for it by shooting at a highly efficient 60.8% FG.
Also Read: Kings Legend Blasts NOLA Star Amid 3-Week Rest Post Hamstring Injury  
The 6-foot-6 southpaw had been receiving flowers from several personalities around the world amid his All-NBA level performance. Shaquille O'Neal was merely one of many to appreciate the youngster's productivity.
"Zion Williamson is playing great, doing what he's supposed to do": Shaquille O'Neal
Shaq recently lauded the 284-pound forward. The Diesel, who is one of the most dominant players in the history of the game, was humble enough to call the Pels All-Star more explosive than himself.
A few days after the 11th December Pels-Suns clash, the Hall-Of-Famer spoke to Vincent Goodwill of Yahoo! Sports:
"He's probably a little bit more explosive than I was. He's playing great, he's doing what he's supposed to do. They're number one in the West. I like what he did the other day — '0.1 seconds, I don't care, I'm gonna throw it down for the fans.'
"I like the way he's playing, I wish him well, I have nothing bad to say about the young fella. Usually, I give a guy three to four years, but he plays hard every game. When you a big guy and you can move like that, do what you're doing. He's putting up numbers, he's playing well."
Getting praised by one of the game's greatest big men is certainly a huge achievement in itself.
Can NOLA stay afloat without Zion?
Diagnosed with a right hamstring strain, the Louisiana-based franchise announced that they would miss Zion's services for 3 weeks.
Since the All-Star went out in the 3rd period of the 2nd January clash against the Sixers, NOLA has gone 2-4. Facing the Cavaliers, the Nuggets, and the Heat in the coming few weeks, the shorthanded Pelicans will definitely struggle without Williamson.
However, with CJ McCollum playing at an All-Star level and Brandon Ingram returning in the coming few days, the Pels should be good enough to prevent the #4 Kings from catching up to them.
Also Read: Despite No Zion Williamson, The Pelicans Are Afloat Thanks to CJ McCollum's Heroics
---
Share this article