"Other duties as assigned": Bradley Beal shows that he does everything for the Wizards, hilariously retrieves ball from under the bleachers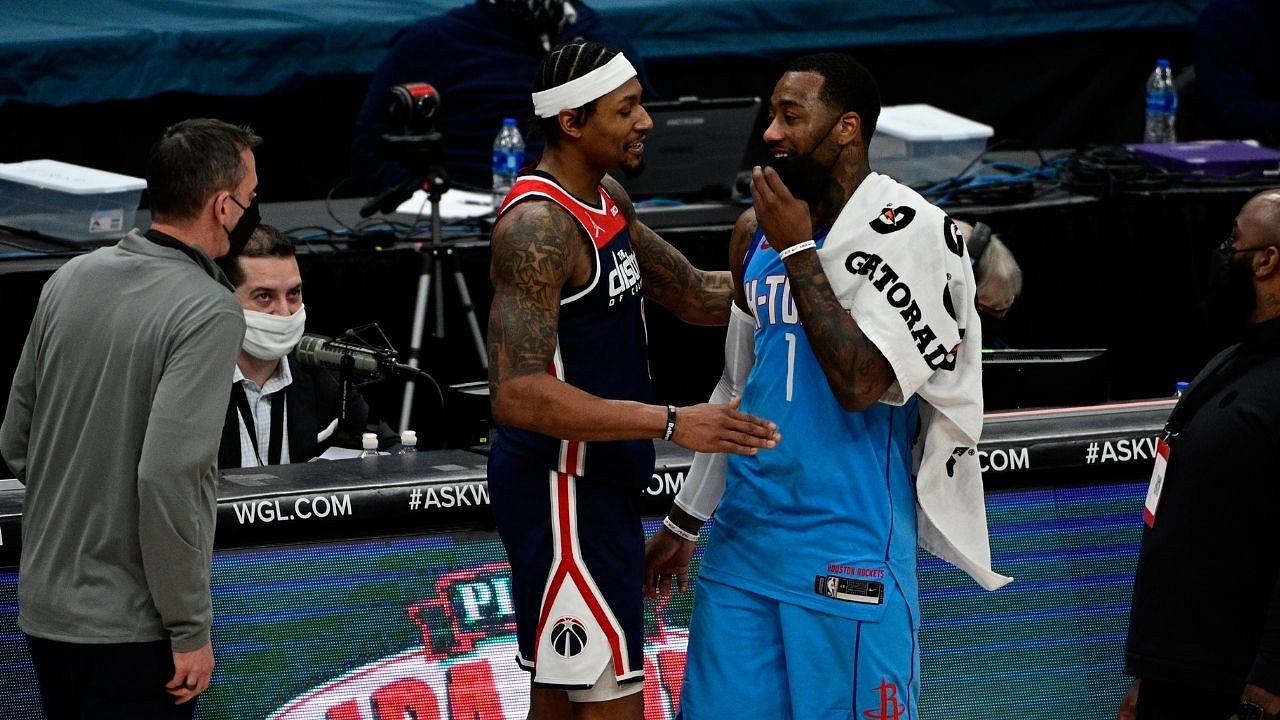 Washington Wizards' star guard Bradley Beal does it all, including retrieving the ball from under the bleachers in a live game.
The Washington Wizards took down the Houston Rockets 131-119 last night. It was an emotional night for the Wizards' fans as John Wall returned to the Capital One Arena for the first time since his trade to the Rockets. John Wall scored 29 points and dished 11 assists in his return to his old stomping grounds.
Also Read: "Kawhi Leonard is a better leader now than when he was in Toronto": Serge Ibaka explains how the 2-time Finals MVP has become more vocal with the Clippers
For the Wizards, Bradley Beal led the way with 37 points and 8 rebounds to record their 8th win for the season. Russell Westbrook chipped in with a 16 point, 13 rebound, 15 assist triple-double.
Westbrook's 'Kidd triple-double' aside, the Wizards pulled away with a surge in the 3rd quarter after a tight first half. The likes of John Wall were then no match for the hot Wizards team, who also had a good defensive half. They were able to hold the Rockets to a paltry 20 points in the 3rd quarter.
Bradley Beal retrieves the ball from the bleachers
Bradley Beal has been a player who has been doing it all for the Wizards this season. He is leading the league in scoring, averaging 33.1 points per night. In tonight's matchup, Beal showed he is always ready to go the extra mile for the team.
Early in the 3rd Quarter, the ball went under the bleachers. Beal was seen going under the bleachers to retrieve it.
*other duties as assigned* 🐼😂#NBAAllStar | @RealDealBeal23 pic.twitter.com/BzawI4CNI6

— Washington Wizards (@WashWizards) February 16, 2021
Also Read: "I got a foul for this": Damian Lillard is indignant about a phantom foul called on him while guarding Luka Doncic during Blazers' win
The Wizards have now strung two wins in a row and would like to keep on the same path. They have a tough upcoming schedule ahead, with games against the Nuggets, Clippers, Lakers, and the Blazers coming up.
The Wizards now hold an 8-19 record for the season, and still have the 14th spot in the East. There is still a long road ahead, and the Wizards can still aspire to make the playoffs.
---