"Brandon Roy Was Too Cold": Ja Morant And Anthony Edwards Show Love To Former Blazers Guard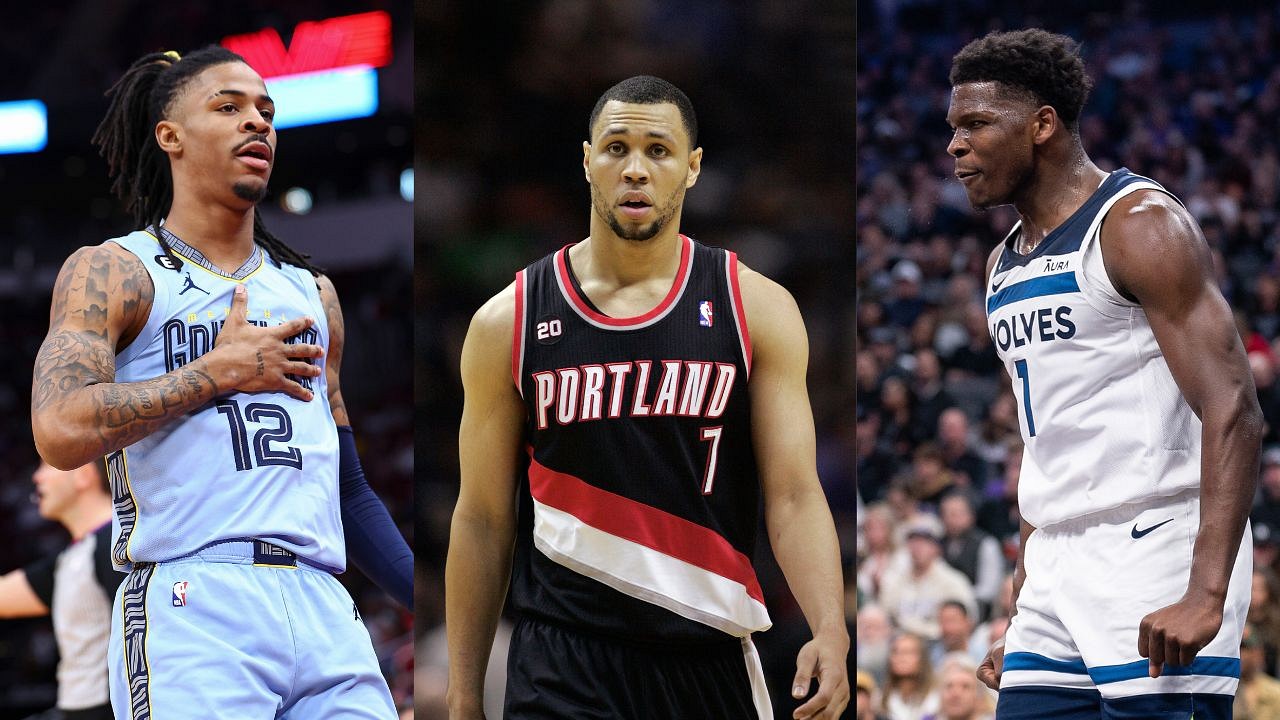 Many of the NBA's young players idolize basketball legends. From Michael Jordan to LeBron James, several of the league's potential superstars love the big-name players. However, there are a few players, like Ja Morant and Anthony Edwards who appreciate the underrated legends.
Both Morant and Edwards recently appeared in an interview, where they paid homage to one such underrated legend. The two stars shared their respect for former Trailblazers guard, Brandon Roy.
Also Read: "Ja Morant, It's Time To Grow Up!": Charles Barkley Addresses Grizzlies Star's Gun Incident, Gives Advice to 23-Year-Old
Ja Morant and Anthony Edwards pay respect to underrated superstar Brandon Roy
Every now and then, it is important to pay respect to some of the underrated stars the NBA has seen. After all, while there are many who have reached superstardom in the league, there are also those whose names have gone quietly under the radar.
So, when asking about underrated talents the NBA has seen, hearing Brandon Roy's name isn't surprising. The former Blazers' star was quite the athlete. One that averaged 19 points, four assists, and five rebounds in a career marred with injury.
But, what was surprising was hearing two young stars, Ja Morant and Anthony Edwards paying their respects. The two men name-dropped Roy when they were asked about forgotten talents during All-Star weekend. Ant even claimed the former three-time All-Star was "cold".
 

View this post on Instagram

 
It really is high praise, especially considering it is coming from two of the brightest talents the league has to offer. Although, given the current happenings around the league, one of those talents has greatly jeopardized his career.
Morant may have jeopardized his NBA career following major controversy
There can be no denying that Ja Morant is one of the most exciting players in the league. Many have hailed him as the next top point guard in the NBA. However, recent headlines may see him jeopardize his own career. Especially considering he is now in the spotlight for not just hitting a teenager, but also brandishing a gun.
Ja Morant was investigated by the police for assault after allegedly clashing with a high school student back in September, per @TMZ_Sports

Cops investigated Ja for simple assault, intimidation — no physical contact, but no charges were ever filed. pic.twitter.com/z6WxxiqXrb

— NBACentral (@TheNBACentral) March 10, 2023
This truly is a nasty piece of business. One that has forced Ja to take some time away from basketball, in an attempt to reflect and make amends for the damage he has done. Hopefully, he can redeem himself and come back stronger.
Also Read: "Why Do Rules Change For Celebrities?!": Kyrie Irving Defends Ja Morant Despite Recent Gun Controversy
---
Share this article