"Why Do Rules Change For Celebrities?!": Kyrie Irving Defends Ja Morant Despite Recent Gun Controversy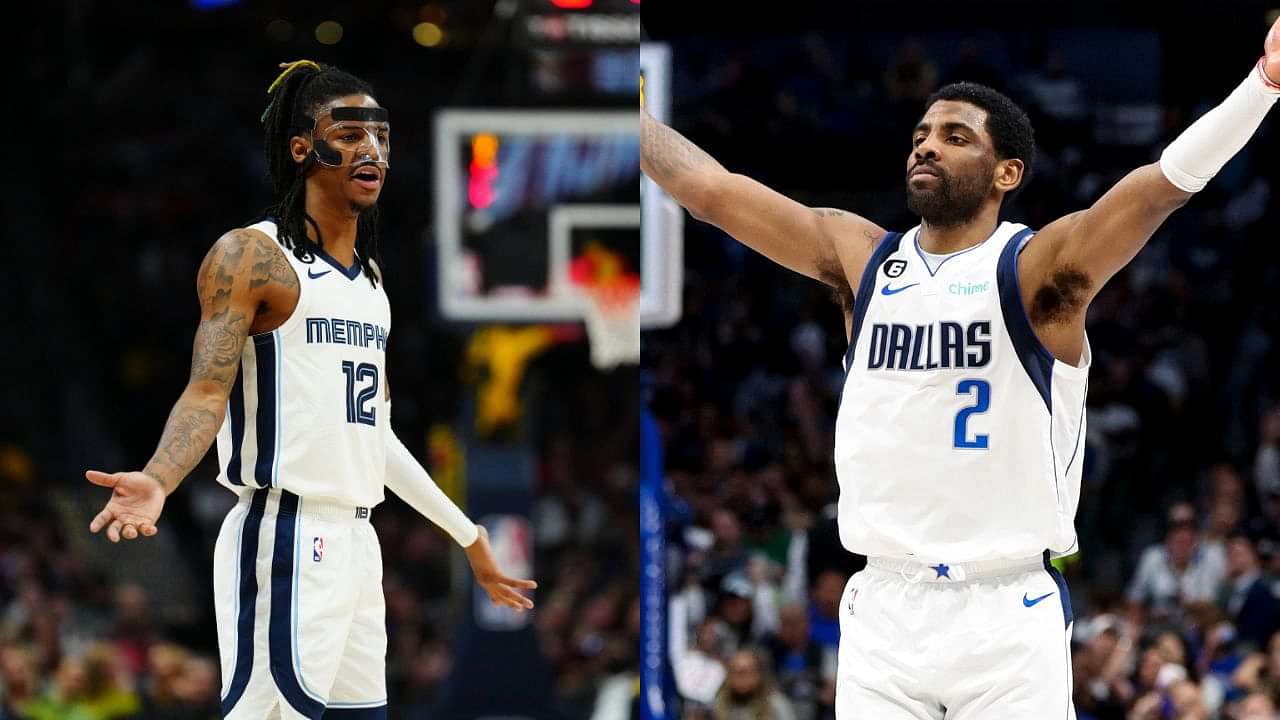 As things stand right now, Kyrie Irving and Ja Morant probably wouldn't be expected to be best friends right now. After all, the NBA community's questioning of why Nike cut ties with one and hired the other has got to make some sort of an impact on the players themselves.
However, despite often being the controversial one, Irving can also be deeply understanding sometimes. And it appears that Morant is enjoying that to a major degree, as the Mavericks star recently vouched for him on an Instagram live. And yes, he absolutely knew about the gun controversies.
Also Read: "Ja Morant, It's Time To Grow Up!": Charles Barkley Addresses Grizzlies Star's Gun Incident, Gives Advice to 23-Year-Old
Kyrie Irving helps Ja Morant out, says everybody makes mistakes on recent Instagram live
When it comes to other NBA players, Ja Morant hasn't gotten much. After all, it's hard to save your brand image, if you put a foot wrong in helping him out. Then again, to be fair to the other players, a man waving a gun around will do that.
However, Kyrie Irving clearly isn't like other NBA players. And as if to demonstrate just that, he recently rushed to Ja Morant's defense on an Instagram live. Here is what he said on the matter.
"Y'all saw what's going on. We don't have to go into 12ski (Ja Morant). We don't even have to go into that. We don't have to go into that because 12ski's not the only one that's dealt with real life circumstances. He's not the only one. He won't be the only one.

So, guess what I'm going to do. I'm going to stand, and make sure I'm there for my family and my friends. We all make mistakes. We all do things that we'll regret. But somehow when you're a celebrity and you're famous, you're underneath different rules."
Loading embed tweet https://twitter.com/TheNBACentral/status/1634041059171876865?ref_src=twsrc%5Etfw
Frankly, we don't think Kyrie Irving should be too highly criticized for what he is saying here. After all, the man wasn't justifying what was going on. No, he simply said that everybody makes mistakes and that he is going to be there for his family.
That doesn't sound too bad at all. However, we do hope Ja Morant is appreciating the support he is getting here and treats this whole thing like a wake-up call. Otherwise, soon enough, he may really be left with absolutely no support.
What is Ja Morant's gun controversy?
In late February, rumors of Ja Morant pulling a gun on a high schooler after a pick-up game started spreading. The incident in question was said to have taken place during the 2022 NBA offseason.
At the time, many simply dismissed these claims. However, Ja Morant then waived a gun on camera during an Instagram live session, a blunder you can take a look at in the clip in the tweet below.
The NBA called a 2-game suspension for the man in response to all the evidence. Further, the Grizzles have also ruled that Morant will be staying away from the team for 3 more games.
Also Read: "Draymond Green, Keep Doing Your Podcast. It's Cute.": Dillon Brooks Claps Back at Warriors' Star After 131–110 Win
---