"Ja Morant, It's Time To Grow Up!": Charles Barkley Addresses Grizzlies Star's Gun Incident, Gives Advice to 23-Year-Old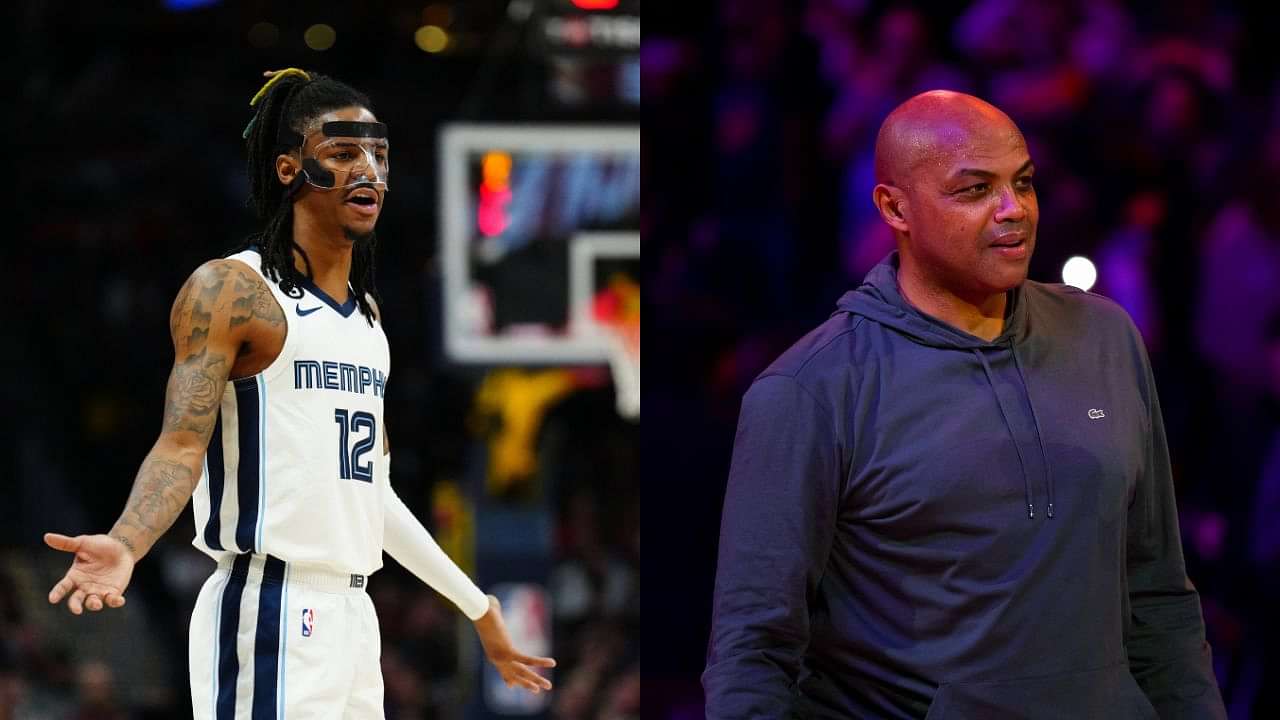 The Memphis Grizzlies hosted the Golden State Warriors tonight for their third matchup of the season. While the Warriors have their superstar Stephen Curry back in the lineup, the Grizzlies are missing theirs. Ja Morant was suspended for two games after his incidents involving a gun and a teenager. Yesterday, Taylor Jenkins announced that he would miss at least four more games.
Despite Ja's absence, the Grizzlies managed to hold off the defending champions 131-110.
Ty Jones, Desmond Bane, and Jaren Jackson Jr. led the charge as the Grizzlies secured the win without their superstar. After the game, Dillon Brooks even had some words for Draymond Green. A bit of banter, if you will.
Just before the game was about to tip-off, Charles Barkley had some words of advice for the 23-year-old Morant.
Also Read: "Ja Morant Gonna Have to Cut His Hair": Gilbert Arenas Gives an Absurd Advice For Grizzlies Star's Image Cleansing
Charles Barkley gives advice to Ja
The NBA world is in splits about Ja Morant's actions. While some do not like what he's done at all and want to see him punished as fit by the law, others try to blame him being young and stupid for the same. Charles Barkley falls in the latter category.
As Inside the NBA prepared to host the Grizzles-Warriors game, Chuck had some words of advice for Ja Morant. Here's what he said,
"To have one of our brightest stars have three gun incidents… Like one gun incident is too many, three is way over the limit. I want to applaud the Memphis Grizzlies for handling it the way they have. I hope the kid grows up and matures, and gets better people around him."
"It's time for Ja Morant to grow up. Next year his new deal is going to kick in, he's gon make, for 5 years, $231 Million. Man, you can't screw this up. You're one of the best basketball players in the league, you're one of the new faces of our league. You're out here acting like a fool and an idiot. It's not all on him though, it's the people around him, cause he's 23."
Loading embed tweet https://twitter.com/NBAonTNT/status/1633988175969280005?ref_src=twsrc%5Etfw
That's Charles Barkley being the nicest he has while pointing out someone's mistakes. Hopefully, Ja gets to see this video and take some heed.
Also Read: NBA Analyst Opines Giannis Antetokounmpo's Block on Ayton in 2021 NBA Finals Was Greatest Block After LeBron Blocking Iguodala
Shaq on Ja Morant
Earlier this week, Shaquille O'Neal spoke about the Ja situation as well. While Chuck had a more big brother/understanding approach, Shaq was the opposite. Here is what he said,
"It's no excuse for what he did. But remember, he pressed the button on his phone. He went live. [If] you don't go live then nobody knows he has a weapon. […] You got to have enough common sense to know that wasn't going to go the way you wanted it to go. You're not a rapper, you're an NBA player."
Loading embed tweet https://twitter.com/NBAonTNT/status/1633264244379598849?ref_src=twsrc%5Etfw
What Big Diesel said is also right. Ja chose to do what he did, and now he's suffering the consequences of his actions.
Also Read: "Dillon Brooks Can't Punch Up at Draymond Green": Shannon Sharpe Believes Grizzlies Guard is Nowhere Close to Warriors Star at Basketball 
---