'Bradley Beal to Lakers? Bro Stop': Dwayne Wade gives his verdict on Lebron James and Lakers getting Wizards star to LA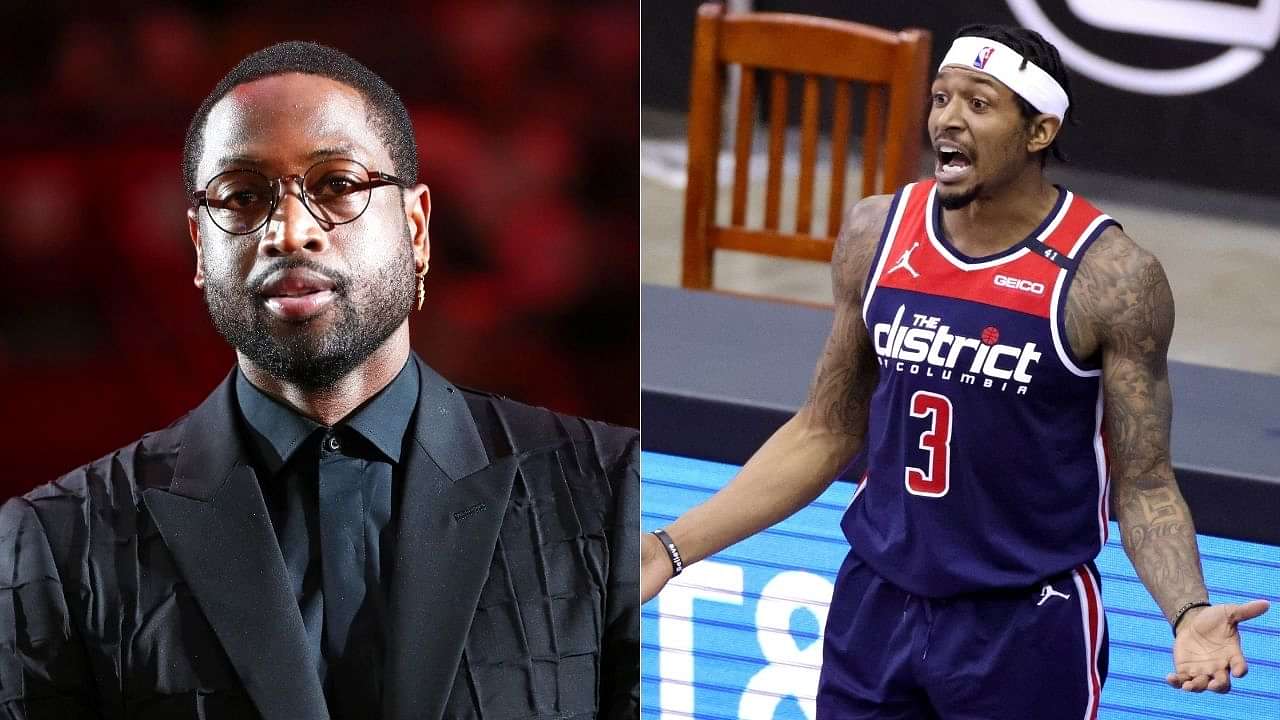 Dwyane Wade doesn't seem to like the idea of Bradley Beal making his way to the Los Angeles Lakers to team up with LeBron James.
It's natural for the trade rumor mill to churn out a multitude of potential trade destinations for stars around the league as the season progresses. There's bound to be many players in the NBA who do not seem all too satisfied with their situation and would want a change in scenery.
James Harden was the most recent example of this as he had been requesting a trade for months and finally had his wish granted. It seems as though Bradley Beal could be heading in that same direction.
Also Read: "Derrick Rose to team up with Kawhi Leonard and Paul George?": Trade rumor linking former MVP to Clippers should put LeBron James, Lakers on red alert
The Washington Wizards moved off of John Wall this offseason to pair 31 year old Russell Westbrook with Bradley Beal, in hopes of Playoff contention. This hasn't worked out at all as the Wizards are 3-10 to start the season.
Bradley Beal could ask for a trade away from the Wizards; Dwyane Wade doesn't approve
Following their loss last night to the Houston Rockets, Bradley Beal was seen exceptionally distraught on the Wizards bench. Twitter immediately screenshot this moment and called for the Wizards to trade him elsewhere.
Loading embed tweet https://twitter.com/TheHoopCentral/status/1354271082102984704?ref_src=twsrc%5Etfw
One fan suggested that the Lakers should try to pursue the young shooting guard. This caught Dwyane Wade's eye he instantly retweeted the suggestion by hilariously saying, "Bro stop."
Loading embed tweet https://twitter.com/DwyaneWade/status/1354285804772724745?ref_src=twsrc%5Etfw
Also Read: "They thought I was done": John Wall channels his inner Michael Jordan to pull off vintage performance against Wizards in win
It looks like the Heat legend isn't a fan of another LeBron James superteam being formed on the West Coast. The Florida Gators alum has been posting up monster offensive numbers but his team rarely succeeds when he does so. In the twelve 40+ point games he's had in the past two seasons, Washington boasts an abysmal 1-11 record.
This isn't the first time Beal has been linked to the Lakers. Rumors of his arrival in sunny LA really picked up steam back in the 2020 offseason. These mumblings were shushed straight away by Beal's wife how scoffed at the idea of the Wizards' franchise star departing from Washington.
Bradley Beal has said it himself that if he had control of the situation, he would love to end his career in Washington.
---