"Continue To Fly High Young King!": LeBron James Proudly Shares Mother Gloria James' Post From Bronny's High-School Graduation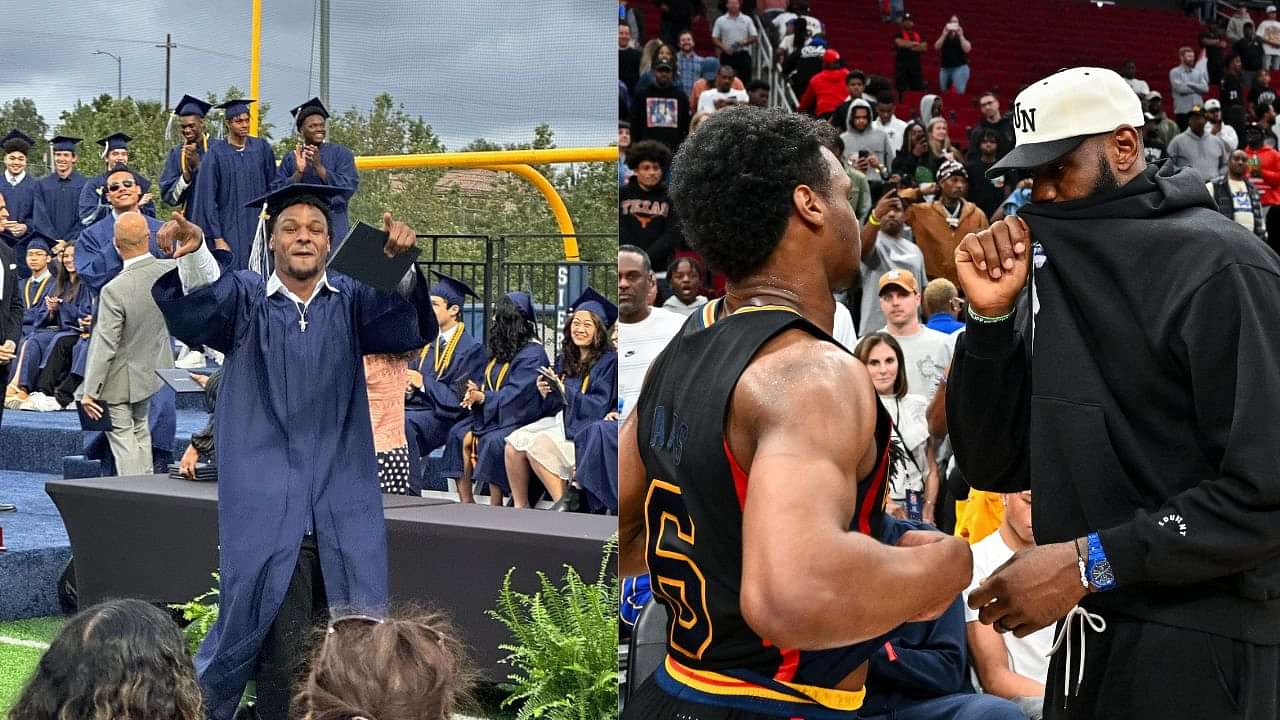 A high school graduation is a big moment for any child, as well as their parents. This is the time when the child has reached a monumental step toward becoming an independent being. It often leads parents to get very emotional. The case was no different for LeBron James. Today, Bronny graduated from Sierra Canyon High School, and LBJ couldn't have been any prouder. He went on Instagram stories to share his mother Gloria's post about Bronny and write a message for his son.
It's been a big month for the James clan, especially when it comes to Bronny. Less than a month ago, Bronny declared he was going to join USC and become a Trojan. Then recently, he went on his senior prom. Now he graduated from high school. Here's the message Bron had for his son.
LeBron James and Gloria James pen messages for Bronny
To share his joy with the world, LeBron James went live on Instagram as Bronny went up on the stage to collect his high school diploma.
Loading embed tweet https://twitter.com/MaskedInLA/status/1661903602905149440?ref_src=twsrc%5Etfw
We saw LeBron try to zoom in and out, struggling to keep his camera still and focus on Bronny. It was a sweet fatherly gesture. After the graduation, Bronny's grandma, Gloria James, put a post on Instagram congratulating Bronny. She wrote,
"Congratulations grandson🎉🎊🎉🎊!!!! You've always made me very proud of you. And seeing you graduate tonight, just made me feel an even bigger sense of pride. I wish you the most happiness and  success in this next chapter of your young adult life. Continue to spread your wings and soar to new heights🚀. Love you very much, Grammy💗💗💗💗."
Loading embed instagram https://www.instagram.com/p/CssNhOHOpIv/?utm_source=ig_embed&utm_campaign=loading
LeBron James shared the post on his Instagram story and captioned it,
"Continue To Fly High Young King!"
Loading embed tweet https://twitter.com/NBACelebsUpdate/status/1661942751871799297?ref_src=twsrc%5Etfw
We can't imagine what a bittersweet moment it would be for LeBron and Savannah today. On the one hand, their son graduated from high school. On the other hand, he'd grown up so much and would soon be leaving for college.
One thing's for sure: whatever Bronny does next, he will have his entire family supporting him and cheering for him.
---