Despite $100 Million Pledge, Michael Jordan 'Staying Away From Black People' Leads Druski To Put LeBron James Over Him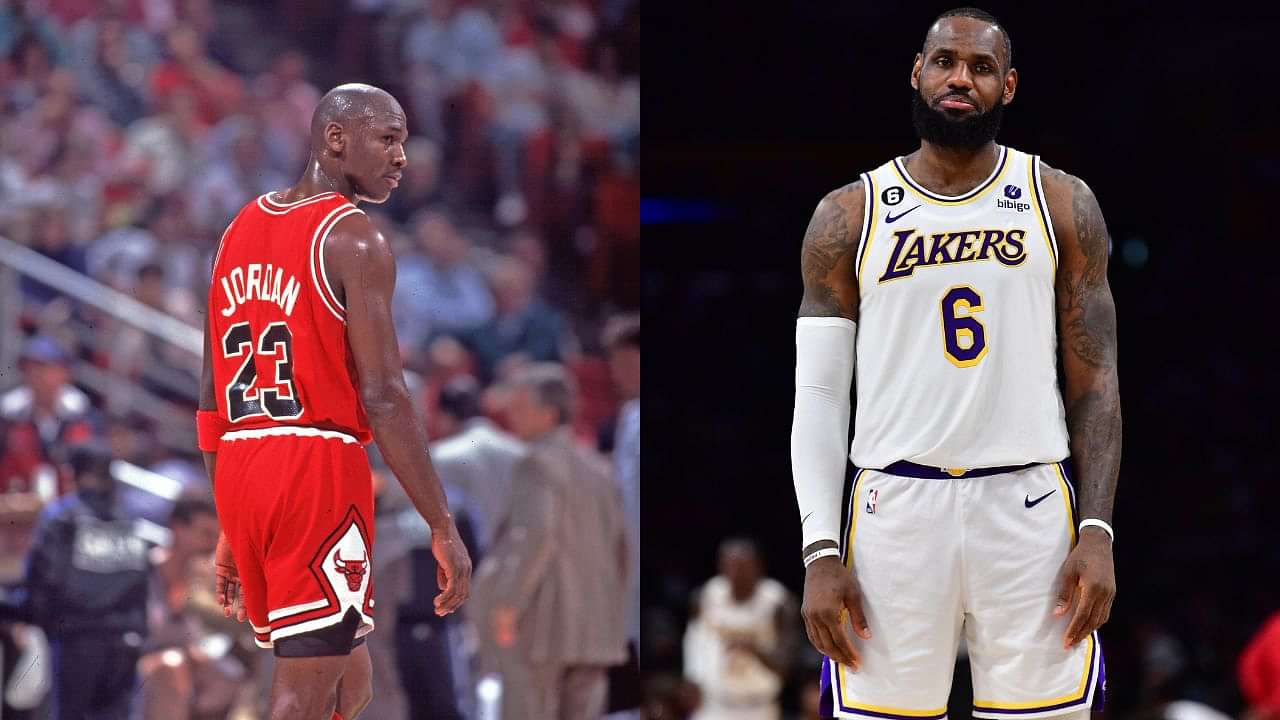 The debate on whether or not LeBron James has surpassed Michael Jordan as the greatest player of all time has been one that has raged on for close to a decade now. Even before James claimed his first NBA title, discussions on whether or not the Akron native was a better basketball player than MJ ever was were happening. 
The 'GOAT' debate has been one that has strictly considered what they have accomplished on an NBA court, not what they did off it. However, if we were to line up what the two did off the court in terms of securing their own financial status along with giving back to communities, it would be quite an even tie as well. 
The one difference is that Jordan started to give back a lot more after his retirement and has truly done so in the past decade. 'The King', who is only 38 years of age, has been heavily involved in politics and giving back to communities as an active player in the NBA.
Also read: "Never beaten me when it counts": Michael Jordan Has No Mercy for Patrick Ewing, As he Continues Decades Worth of Trash Talk
Druski on Michael Jordan vs LeBron James
Druski recently went on Club Shay Shay and revealed that he was a fan of LeBron James over Michael Jordan because the latter didn't mingle with the black community the way James has done over the decades.
Loading embed tweet https://twitter.com/ClubShayShay/status/1616208889929732125?ref_src=twsrc%5Etfw
Enes Kanter made a similar remark about 'His Airness' when he brought up the fact that Jordan once said, "Republicans buy sneakers too". 
That statement by MJ was made in jest with his teammates but with it having gotten leaked at the time, resulted in many believing the 6x NBA champ cared more about his earnings than the black community as he refused to speak out against a political figure that had policies negatively targeting the black community. 
LeBron James on the other hand, has openly expressed his distaste for the Trump administration. He's incredibly proactive with the black community and stood in solidarity during the NBA Bubble to protest the unjust shooting of Jacob Blake. 
Michael Jordan has since helped out with the black community
Michael Jordan, a few years ago, announced that he would committing $100 million to helping aid the black community in any which way he could. He would use earnings from his Jordan brand to do so and given that the brand is worth a reported $10 billion, this wouldn't be all too hard. 
The $100 million was pledged over a 10 year period and resulted in social organizations the ability to dip into a $1 million fund if their budgets were less than $3 million. Nike was involved in this as well as they pledged $40 million to anti-racist groups in the United States.
Also read: "Michael Jordan thought he could win a championship with the Wizards": Kwame Brown Reveals Bulls' Legends Ambitious Claims for Final NBA Campaign
---