"Devin Booker broke Rudy Gobert's ankles": Suns star brutally crossed up the Jazz DPOY candidate in their 121-100 win last night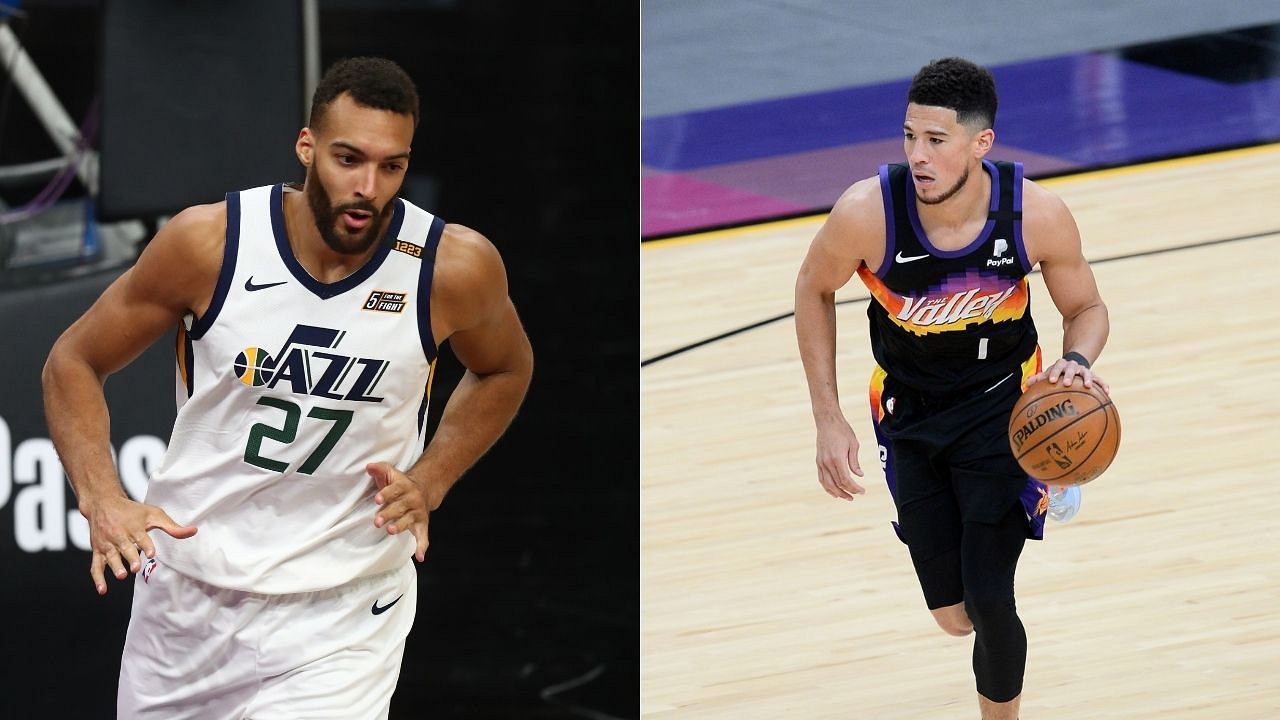 Devin Booker was on fire last night, scoring 31 points in just 3 quarters. He put Rudy Gobert on the top-10 reels with a filthy crossover move.
The Phoenix Suns usurped the #1 seed from the Utah Jazz with a blowout victory last night. They shot off to an early 20-point lead, which never fell below the double-digit mark from the first quarter onwards.
Utah were missing Mike Conley and Donovan Mitchell on the night, putting greater responsibilities on the shoulders of Jordan Clarkson. The former Lakers guard was off target on the night, ending up on the wrong end of a Mikal Bridges block.
Also Read: "Deuce Tatum, your father is a bad man!": Tristan Thompson's hilarious declaration after Jayson Tatum scores Celtics franchise high 60 points in 32-point comeback win over Spurs
Meanwhile, Devin Booker and Chris Paul had their characteristically effective offensive nights for Phoenix. Booker, in particular, seemed to have smelled blood right from the beginning.
The 24-year-old splashed 5 jumpshots just in the first period, in addition to a layup. His scoring barrage opened things up for the rest of the Suns offense, which thrived as CP3 set the stage.
Devin Booker puts Rudy Gobert in the blender
The Jazz tried valiantly to come back with some scoring runs in the 2nd quarter. The Suns were in no mood to relent, quelling most of their rallies with buckets of their own.
As the 3rd quarter wound down, Phoenix found itself leading by over 20 points. Booker seemed to feel like turning the afterburners on, so he got a switch onto Rudy Gobert from the right corner. What happened next is best explained through visual evidence, more than anything else:
oh man. Devin Booker disposing of Rudy Gobert. pic.twitter.com/HCl4DXVvCc

— Rob Perez (@WorldWideWob) May 1, 2021
The slo-mo does it more justice. You can see the exact moment when Gobert feels his ankles broken and how he haplessly tries to recover and contest. Booker's crossover and subsequent double step-back to swish the shot with a foot on the line was like a signal that the game was over there and then.
This angle of Devin Booker crossing Gobert is even better 🥶

(via @Suns)pic.twitter.com/NcMjPCvQgQ

— Bleacher Report (@BleacherReport) May 1, 2021
Also Read: "I'll never be back to 100%": LeBron James laments his ankle condition as Lakers lose to Sacramento Kings on his injury return
Booker will have gone home content in the knowledge that he's possibly traded league standings with Steph Curry in the space of 2 years.
---
Share this article