'Gary Trent Jr with one of the biggest flops you'll ever see': Trail Blazers' announcers hilariously talk about their guard flopping against OKC Thunder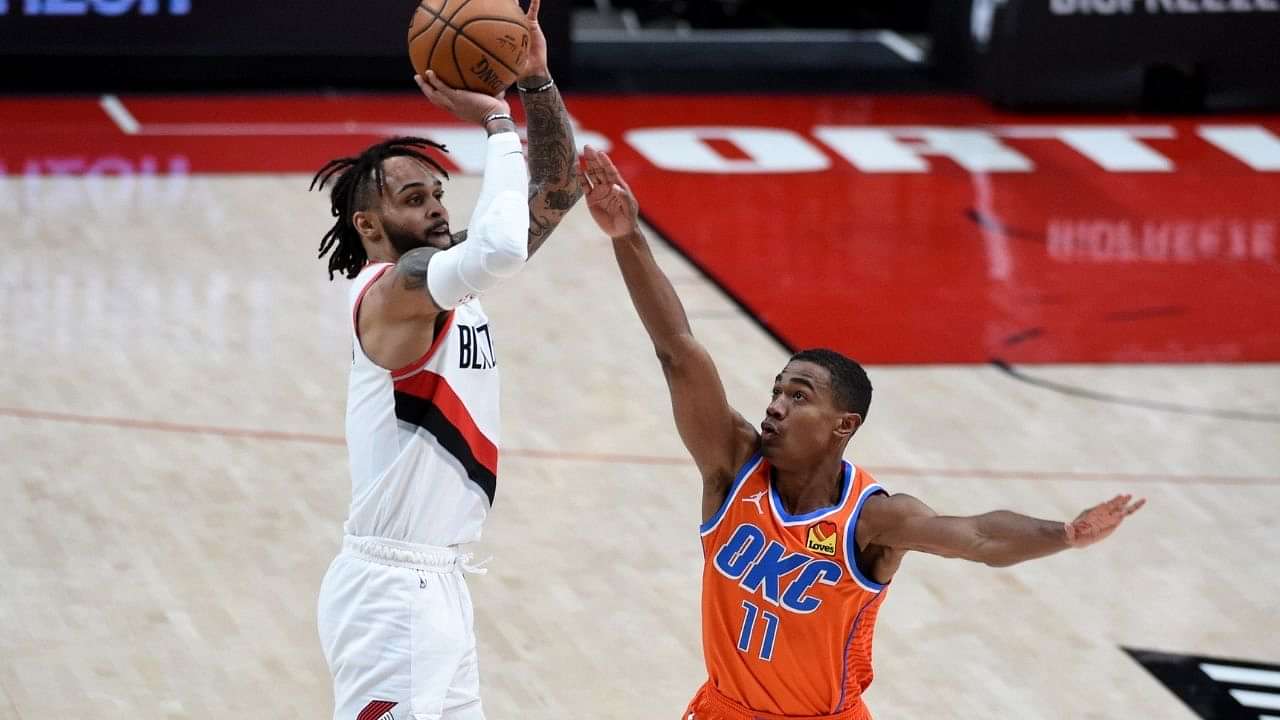 Gary Trent Jr sent the NBA fraternity into hysterics with one of the most blatantly obvious flops you'll ever see from an NBA player.
Selling a foul to a referee is one of the essential things on the mind of an offensive player. Flopping is one of the ways to sell the foul. In some sense it isn't fair and shouldn't be allowed, but flopping has been in the league's history for quite a long time now.
On Monday night, Portland Trail Blazers' Gary Trent Jr. had a really hard attempt to sell a flop against the Oklahoma City Thunder. With 4:50 on the clock in the third quarter, Trent was rushing towards the basket for Portland's fast break. Shai Gilgeous-Alexander hit Trent's hand.
Loading embed tweet https://twitter.com/BleacherReport/status/1353926877224689664?ref_src=twsrc%5Etfw
https://platform.twitter.com/widgets.js
Also Read: "Patrick Mahomes is the Steph Curry of the NFL": Damian Lillard congratulates Chiefs quarterback for setting up Super Bowl with Tom Brady
At first, it was a natural motion which followed the foul. Later on, Trent dived right onto the floor with a big leap. The announcer amusingly said that the flop committed by Trent was 'one of the biggest flops' anyone would ever see.
'You can see even Shai Gilgeous-Alexander with a chuckle': Reaction to flop by Gary Trent Jr
Gary Trent Jr.'s flop was so hilarious that Shai Gilgeous-Alexander, who had hit his hand, managed to laugh it off.
Unfortunately for Trent and the Blazers, his dramatics couldn't win them the ball or the foul. The Thunder had the last laugh after beating the Blazers 122-125. SGA led Oklahoma City Thunder to the win, scoring 24 points, 9 rebounds and 6 assists. His teammates Mike Muscala also had a great 23-point performance off the bench to help them defeat the Blazers.
Also Read: "I'm living my life in a box": Blazers star Damian Lillard speaks about how tough it has been to stay in isolation as part of NBA's Covid-19 protocol
Trent has been having his best season in his career so far. He's been averaging 11.6 points on 43.5% shooting from the field. Trent was lucky enough that he wasn't fined for his flop under the "unsportsmanlike practice".
With this win, the Oklahoma City Thunder are now 7-9, placing them 11th in the Western Conference. The Blazers are still in the 5th position of the Western Conference with a 9-7 record.
---