Watch: Giannis Antetokounmpo Knocks Suns Player's Tooth Out With a Shoulder Barge!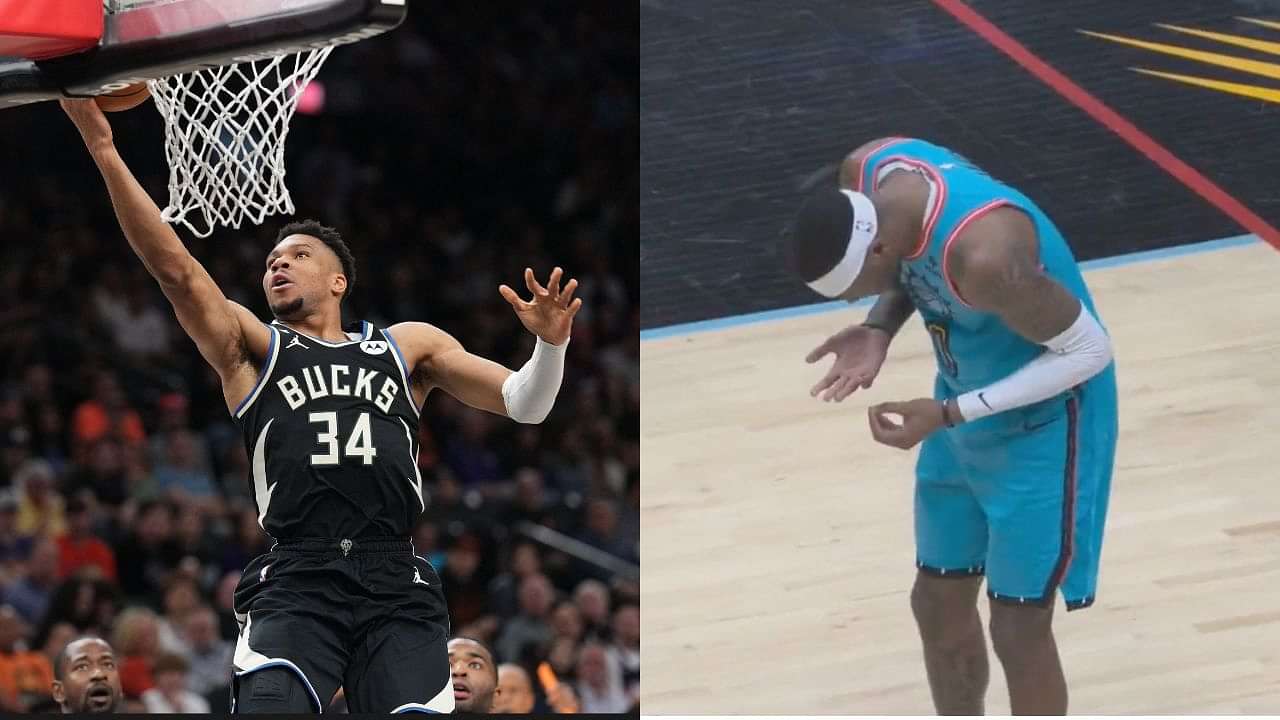 Giannis Antetokounmpo is a very scary player to come up against. Especially when he is running at you full steam. How can you stop him? You can't and you might even lose a body part as Torrey Craig found out the hard way.
It is not often that you see someone pick up a tooth from the floor. And tonight we got to see it. While it may not have been as spectacular as it sounds, in fact, seeing a tooth fall is kind of gross.
But the way it happened was rather funny. And the cause of it was none other than Giannis steamrolling his way to the opposition's basket.
Also read: "I Was No. 1 in the State": Michael Jordan's Son Marcus Boasted of Being a Prodigious Basketball Talent
Loading embed tweet https://twitter.com/BallySportWI/status/1635848336589594630?ref_src=twsrc%5Etfw
Torrey Craig gets his tooth knocked out as Giannis Antetokounmpo slams his shoulder on the Suns player
Unfortunately for Craig, he had to find out the hard way that Giannis Antetokounmpo is stronger than you realize. A simple shoulder tussle or barge in shall we say caused mayhem.
Giannis' shoulder might have connected it all too well with Craig. He knocked the Suns player's tooth out without a problem.
Yikes! And earlier to that the Bucks got a questionable call when Giannis ran through Craig!
Loading embed tweet https://twitter.com/KhizBadshah/status/1635837293742129153?ref_src=twsrc%5Etfw
Honestly, we feel bad for Craig. He didn't deserve this unnecessary visit to the dentist. But here we are.
Also read: "They Come To the Door, They Ring the Bell": Juanita Vanoy Revealed Why Michael Jordan Built a $14.9 Million Mansion in Chicago
The Phoenix Suns and Milwaukee Bucks tee up an exciting game
A repeat of the 2021 NBA Finals, the Suns and Bucks were involved in a game that is exciting, to say the least. As the game heads into clutch time, they are separated by less than 10 points.
Giannis is 33-11-8 and Devin Booker is on a 30-4-3 game himself. An enticing battle between two superstars everything about this game reminds us that we could see a repeat of this in this year's finals.
What do you think? Will the Bucks and Suns meet in the NBA Finals once again?
Also read: Having Never Played 1v1 For $1 Million, Shaquille O'Neal Once Admitted Hakeem Olajuwon Was Better Than Him
---