"Give Russell Westbrook Credit For 24,000 Points!": Amidst LeBron James' Scoring Brilliance, Redditor Ponders Over Lakers Guard's Greatness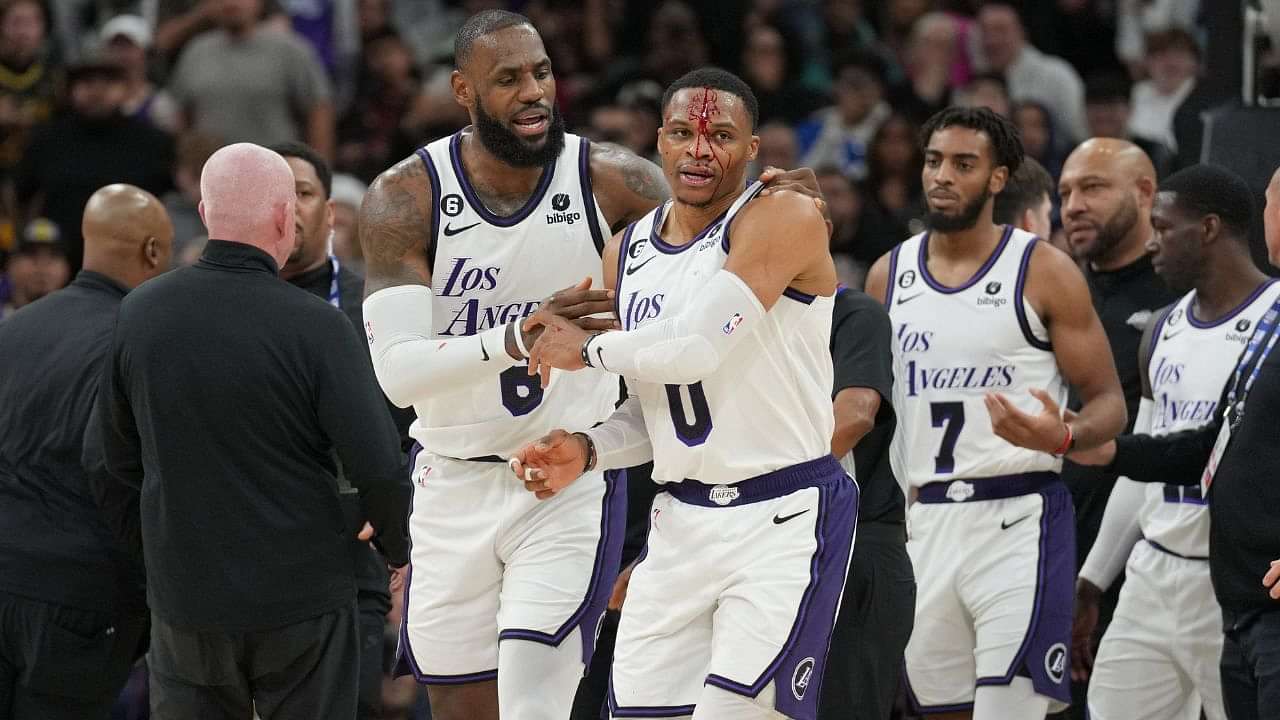 Russell Westbrook made his way to the Los Angeles Lakers after averaging yet another triple double while on the Washington Wizards. However, with him not fitting next to a player like LeBron James, his role has now been relegated to a bench role, with him not even playing clutch minutes during most games. 
However, recency bias has fooled a lot of NBA fans as their opinions on Russ have shifted so severely in these past few years that they forget he was one of the greatest point guards the league had ever seen in his prime. His 2017 MVP season is singlehandedly the most impressive season from a PG in terms of 'doing it all'. 
Prior to his MVP season as well, Westbrook led the Oklahoma City Thunder to several deep Playoff runs alongside Kevin Durant. That duo not working out made sense due to conflicting play styles but it should take away from the brilliance that he put on show night in and night out in OKC.
Also read: "Good Block, Jayson Tatum!": LeBron James Banters With Celtics Star Following NBA Referees Panel's Admittance of Blown Call in Lakers Loss
NBA Reddit wonders if Russell Westbrook is a better scorer than other league greats
Most recently, Westbrook cashed in on 24,000 regular season points but this milestone of his received little to no coverage. When it comes to scoring, he's surpassed the likes of George Gervin, Adrian Dantley, Stephen Curry, Larry Bird, and Dwyane Wade. Yet, he seems to be disrespected much more than any of these players. 
Of course, the fact that Russ has been on teams that needed him to have the ball for a majority of the time contributed heavily to his scoring prowess. His 32% usage rate shows just how much he's had to have the ball to be effective but given just how much he distributed the ball along with putting it in the basket, this makes sense. 
With the way things are going for the Los Angeles Lakers currently, it doesn't seem as though Russ will be back in the starting lineup anytime soon. Trading him is always and option and with the trade deadline fast approaching, it'll be interesting to see if Rob Pelinka pulls the trigger on it. 
LeBron James will be the NBA's all time regular season leading scorer
LeBron James is currently sitting on 38,271 points in his regular season career. Kareem Abdul-Jabbar is at 38,387 points. It's only a matter of time before 'The King' passes the 6x NBA champion and becomes the all-time leading scorer in regular season history. 
What's interesting however, is the fact that LeBron is technically, already, the league's all-time leading scorer. Both Playoffs and regular season combined, he's scored over 44,500 points. Kareem Abdul-Jabbar is second with 44,149. 
This accomplishment was swept under the rug for whatever reason when in reality, it should be lauded much more than being just the regular season all-time points leader.
Also read: LeBron James Left Flabbergasted by Recent Missed Calls by Officials, Shares Twitter Post: "🤦🏾‍♂️!!! I don't understand. I truly don't"
---