"Good Block, Jayson Tatum!": LeBron James Banters With Celtics Star Following NBA Referees Panel's Admittance of Blown Call in Lakers Loss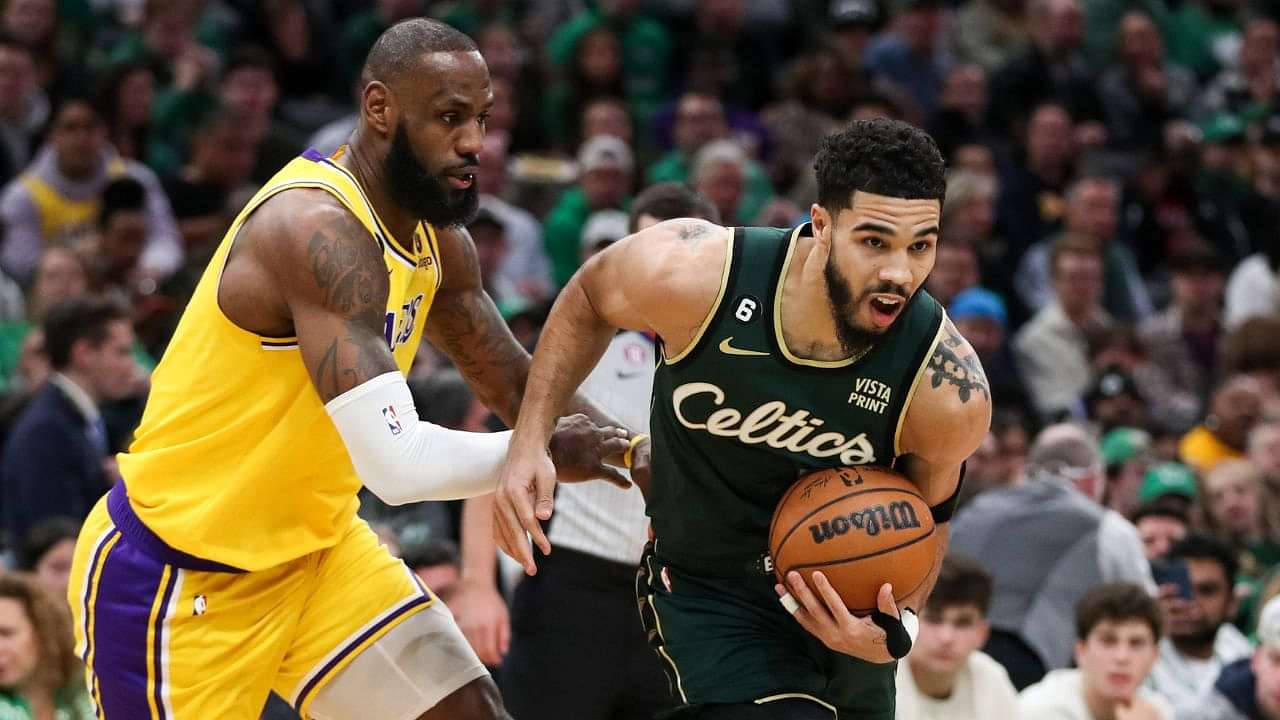 The Los Angeles Lakers find themselves in quite a deep hole at the current moment. They're only 3.5 games behind the 4th-seeded Clippers, but stuck at 13th spot in the Conference.
Led by LeBron James, they held their own in the 20-odd games missed by Anthony Davis. However, they are still 4 wins short of a .500 record, and in need of pulling their socks up really quickly.
While James has played his part and Anthony Davis continues playing like a two-way monster, they have other issues. The Russell Westbrook situation continues to be a problem as Russ keeps making boneheaded decisions and plays.
Around these 3, the rest of their roster looks terribly short of shooting and size. The acquisition of Rui Hachimura should help in that regard, but it still doesn't cure their ailments.
Loading embed tweet https://twitter.com/jovanbuha/status/1619397875284447232?ref_src=twsrc%5Etfw
Also Read – "Father Time Has Officially Beaten LeBron James": 'The King' Gets Dethroned In Nike's Recent Advertisement
Lonnie Walker and Dennis Schroder look like their best shooters with Austin Reaves ruled out by injuries. That can't be a good thing for any NBA team hoping to compete for a championship.
Regardless, James should continue to push the Lakers to try and make at least the play-in tournament. They do have the superstar talent to do that – something they couldn't do last season.
However, they definitely need some luck from the refereeing end – something they've lacked in the recent past.
LeBron James and Jayson Tatum exchange pleasantries on Instagram Stories
The Lakers-Celtics game last night was marred by some extraordinarily bad refereeing – particularly at the end. Refereeing crew chief Eric Lewis missed out on a clear foul committed by Jayson Tatum on LeBron James in the closing seconds.
This error was so shambolic that the refereeing panel even put out a tweet to apologize for the blown call today.
Loading embed tweet https://twitter.com/OfficialNBARefs/status/1619815874583752704?ref_src=twsrc%5Etfw
This candid admission of failure seems, however, to have done nothing to improve LeBron's mood. The King was obviously still gutted by how the call went, judging from his recent Instagram story in which he mockingly congratulates Jayson Tatum for a 'good block'.
Loading embed tweet https://twitter.com/WorldWideWob/status/1619906370521952256?ref_src=twsrc%5Etfw
Tatum didn't take long to acknowledge how the call went in his favor, but he did so quite discreetly.
Loading embed tweet https://twitter.com/ClutchPointsApp/status/1619911554887188480?ref_src=twsrc%5Etfw
Also Read – "LeBron James is RIDICULOUS!": Jayson Tatum, Kevin Durant And Many Others React to the King's 47-Point Birthday Bash
Can Celtics preserve their #1 seed? Can the Lakers make a playoff push?
The Celtics are currently 1 game in the loss column above the 2nd-seeded Philadelphia 76ers in the standings. They're one of the few teams to not have had injuries sustained by their superstars.
They also have a rather light schedule for the remaining 32 games of their season. They looked likely to crack 60 wins at one point, but a recent 3-game losing streak will probably put paid to that. Nevertheless, they sport quite a good chance of being the no. 1 seed.
Things don't look quite as rosy for the Lakers. They'll be missing LeBron James and Anthony Davis in action for their game against the Nets tomorrow. The likely loss will take them 5 games below .500.
Though they'll still have 31 games to go and a middling strength of schedule, the lack of coherent winning in the squad does not bode well for the remainder of their season. They'll have to go balls to the wall for the next 10 weeks to make the playoffs.
---