"Got it After my Rookie Year": LeBron James' Clears Myth About his Chosen One Tattoo In Coach K Interview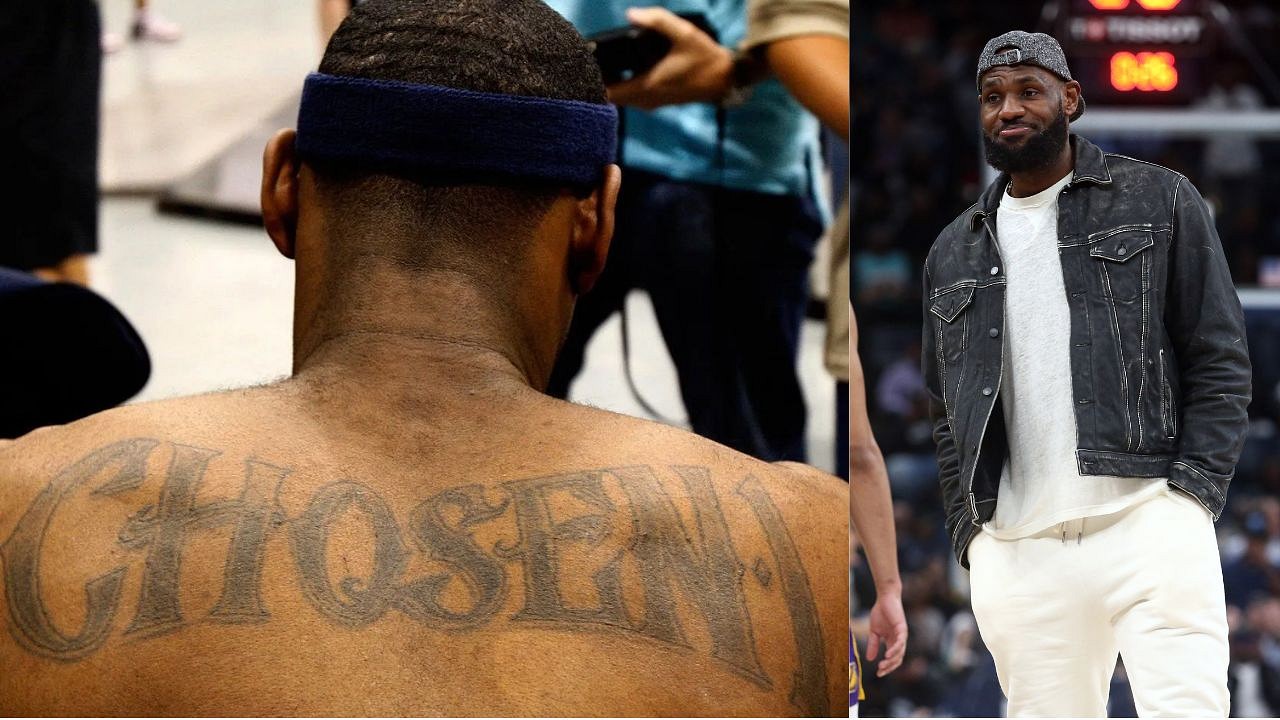 LeBron James is an icon in the world of sports, and in more than one way. His silky smooth skills on the court aside, King James is not just a basketball icon but a cultural icon as well. Inspiring many with his amazing personality and sleek fashion sense. This includes his many tattoos.
Altogether, James has a grand total of 25 tattoos. Each of which represents something important or significant in his life. However, one of his first ones has far simpler origins. After all, he got it because he thought it sounded cool.
Also Read: "LeBron James is Out of the Walking Boot": Lakers Take on the Knicks as The King is Finally Back Courtside
LeBron James got his "Chosen One" tattoo in his sophomore year in the NBA because it sounded cool
Over the years, many misconceptions have been drawn regarding the origins of LeBron James' "Chosen One" tattoo. Stories suggest that The King got it done when he was still in high school, after his first appearance on Sports Illustrated.
However, that is far from the truth. Not only did LeBron get the tattoo after high school, but he also didn't get it because of some Sports Illustrated cover story.
As he explains in an interview with former Duke head coach Mike Krzyzewski, AKA Coach K, he got the tattoo in his sophomore year in the NBA. Additionally, it was a local magazine that used the epithet, and James thought sounded cool.
"I got that after my rookie year in the NBA. It was a local magazine…my sophomore year…actually used that after one of my games. It went like, 'Is this kid the Chosen One?'. You know, and I was like, 'That's pretty cool! I don't know if I am, but it sounds cool!'"
It's hard to disagree with The King. The Chosen One tattoo is definitely the definition of "cool". But, his latest tattoo is far more horrifying.
LeBron's newest tattoo pays tribute to the horror movie genre
It's no secret that LeBron James loves getting tattoos. From his Chosen One tattoo to his tattoo honoring Kobe Bryant, almost all of his 25 tattoos hold some meaning or message. Well, his latest tattoo is bound to make fans 'scream', quite literally. After all, it pays tribute to some of the most iconic characters in horror movie history.
 

View this post on Instagram

 
It certainly is a great piece of art. One that LeBron will be hoping will give his opponents, and not him, nightmares.
Also Read: "LeBron James Is Gonna Trade Austin Reaves Now": NBA Twitter Reacts as Old Facebook Post of the Lakers Youngster Trolling the King Goes Viral
---
Share this article