Having Spent $10,000 on his Wedding Dress, Dennis Rodman was Once Ridiculed by Oscar Winner Brendan Fraser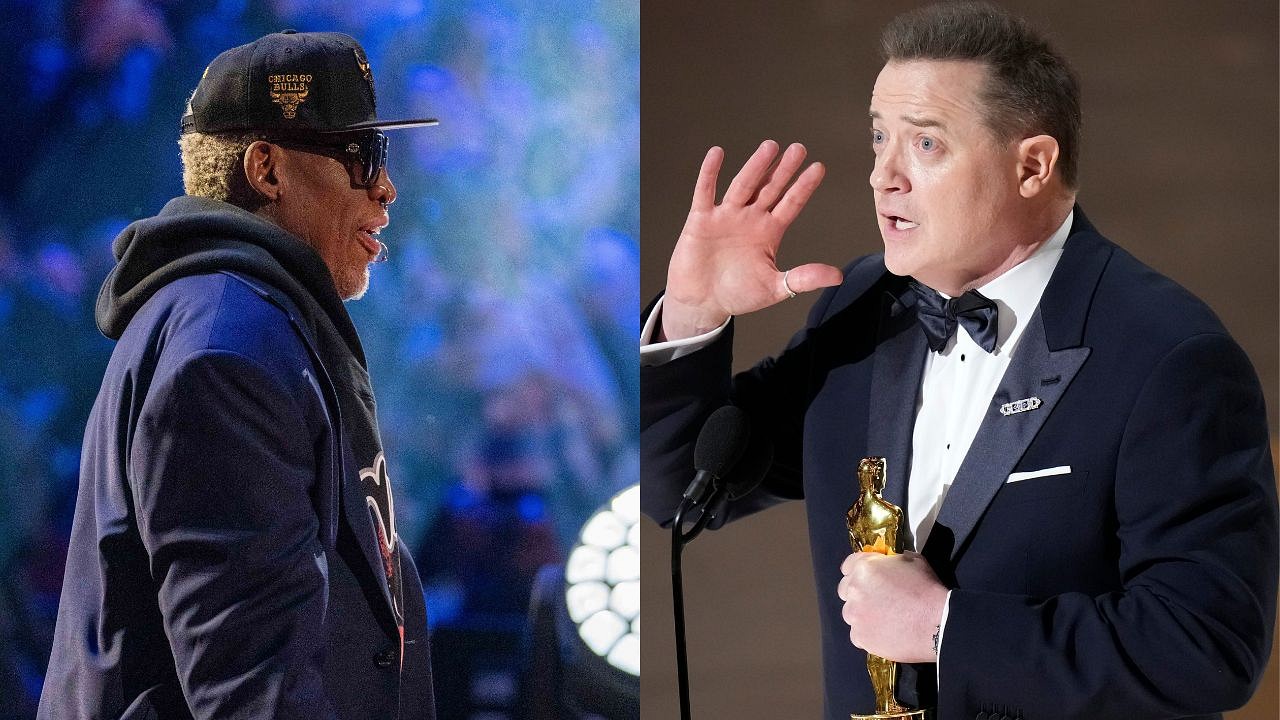 The tale of Dennis Rodman stands in stark contrast with other legends of his caliber. Although the tale starts with similar themes of financial hardships and daily struggles, it quickly diverges from that point. Though many like Rodman grew up in extremities, the mental and emotional brunt carried by 'The Wom' is hard to compare to.
The lack of any semblance of affection in his childhood and being forced to fend for himself as a 19-year-old turned Rodman into the perennial wallflower. But his rise in the NBA and stardom removed all those childhood inhibitions and timidness. The turnaround in Rodman's personality, the flamboyant display of his eccentricity challenged the norm to the point Dennis was regularly ridiculed in movies and late-night shows.
Unfortunately, 2023 Oscar Winner Brendan Fraser too indulged in ridiculing Dennis Rodman. In his 2000 romantic comedy film, Fraser took a pronounced dig at the Bulls legend.
Also read: Dennis Rodman Wore a $10,000 Wedding Dress After Getting Aerosmith Lead's Approval
Brendan Fraser mocked Rodman's fashion choices in Bedazzled
The 2000 film 'Bedazzled' featured Brendan Fraser as the lead. In the movie, Fraser is given 7 wishes by the devil. One of them features Fraser wishing to be a professional basketball player. The devil, played by Elizabeth Hurley speaks Rodman's name and Fraser ends up dressed in a bright pink jacket and stilettos. Fraser then yells in shock.
The scene is an obvious mockery of Dennis Rodman and his fashion choices. The late 90s belonged to Dennis's whims. he dressed up as he wanted and did what he pleased. His fashion was just an extension of his personality. And movies like Bedazzled mocked him for just being himself.
Fortunately, the social climate today is vastly different than in the late 90s and early 2000s. Rodman's recent resurgence as a popular personality only enforces this idea. Today's world is much more accepting of a star even if he wished to wear a wedding dress to his book signing.
Dennis Rodman spent $10,000 on a wedding dress
In 1996, Rodman topped every promotional gimmick in history. While promoting his book 'Bad As I Wanna Be,' he wore a $10,000 wedding dress. The gown was reportedly made in France.
More than the cost of the dress, or the spectacle of the promotion, it was the results that were even more shocking. By wearing that dress, Rodman ensured the great success of his book. 'Bad As I Wanna Be' remained #1 on the New York Times bestseller list for 20 weeks. Quite a profitable gimmick.
Also read: "Had S*x With Dennis Rodman On Court": Carmen Electra Had Wild Escapades With Bulls Legend Before Their Marriage
---
Share this article