Brendan Fraser, Who Won Best Actor at Oscars 2023, Once Played Quarterback in a Commercial Disaster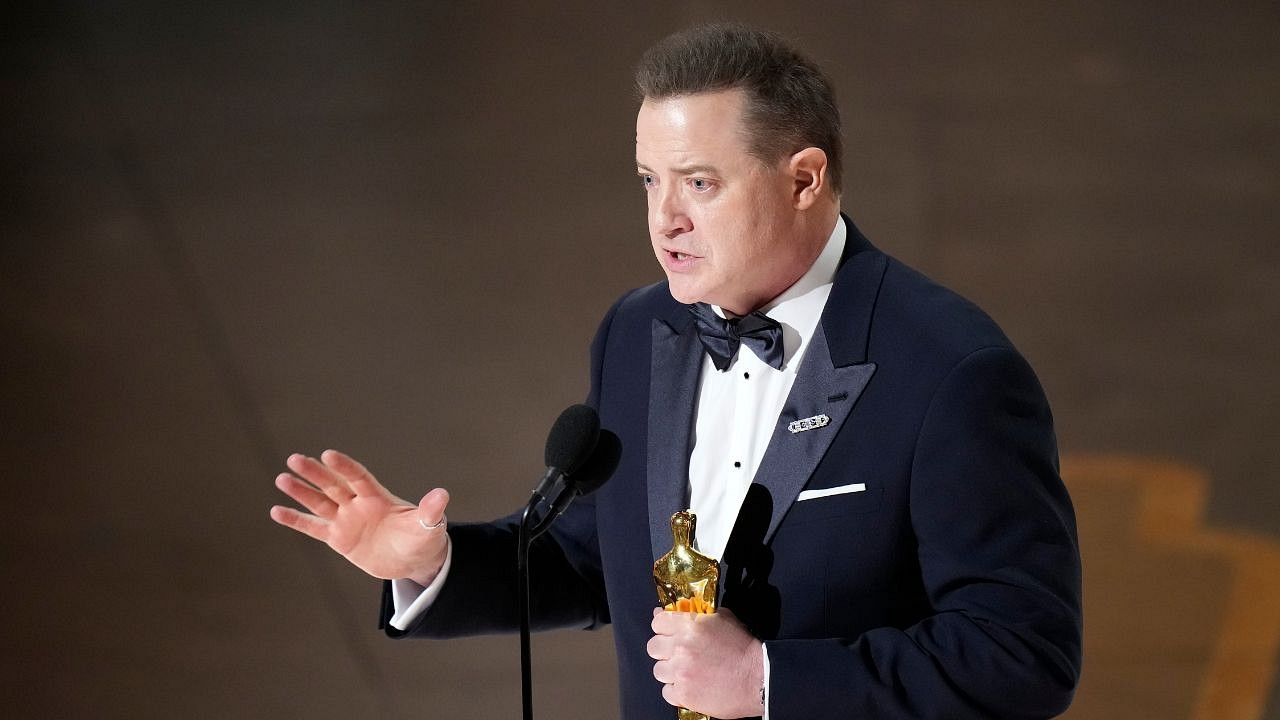 Perseverance pays off and Brendan Fraser proved this when he won the award for Best Actor at Oscar 2023. After twelve years, the 54-year-old actor made a comeback to the big screen. 'The Whale', for which he won the award, is a movie about an English professor who is morbidly obese and a recluse.
The main character of the movie, Charlie, tries to reconnect with his teenage daughter. Many reviewed the movie as an emotional masterpiece in which Fraser gave his all. However, there was one movie where the US-Canadian actor failed to impress his audience.
Fraser was a heartthrob in the late 1990s. He gained an immense amount of popularity after acting in the movie 'George of the Jungle.' Then he acted in the hit 'Mummy' trilogy from 1999 to 2008. After that, he worked in several other movies. But in the late 2000s, work was slow and eventually stopped. One particular movie that did not commercially succeed was one in which he played a quarterback.
Also read: Ice Cream Shop Trolls Ravens by Introducing "Pay Lamar Jackson" Flavor as the Franchise Continues to Deny Star QB a "Deservedly Hefty" Contract
A handsome Brendan Fraser could not triumph over his audience as a QB
'School Ties' is a 1992 drama film. The movie centers on a 17-year-old Jewish boy who belongs to the working class. David Greene receives a football scholarship to St. Matthew's Academy, a prestigious prep school. There, he discovers that the students, who are from affluent families, are antisemitic. Hence, he hides his true identity and becomes a star football player. However, he faces discrimination. Additionally, he decides he will use the school as a springboard to further his education, the same way the school is using him for football.
Brendan Fraser got his breakout role in the 1992 film "School Ties." He recalls working with Matt Damon, Ben Affleck, Chris O'Donnell … and the film's famous naked shower fight scene. pic.twitter.com/CsHKF6LPCc

— Stern Show (@sternshow) February 8, 2023
Even though the movie tried to show the development of a character in a difficult situation, it failed to earn any profits. The budget of the movie was $18 million, but it only earned $14.7 million. Although 'School Ties' failed to gain recognition, there have been many football movies that hit the right spot for many people.
Here are some of the best football movies
One can enjoy School Ties because it has gained a cult following. However, if one wants to explore the world of football movies, here are some that can live up to expectations. We Are Marshall (2006) tells the tragic story of Marshall University and the 1970 plane crash that killed most of the football team's players.
The new coach, Jack Lengyel (Matthew McConaughey), helps the new players and the townspeople recover from the tragic event without forgetting about it. Then on the list is Blind Side (2009); a promising biopic on former offensive tackle Michael Oher. Oher's story is beautifully presented in the movie.
The Freshman (1925) is another magnificent film. It is actually a silent comedy film that follows a nerdy character who is looking for fame and maybe a girlfriend, too. In order to gel with the popular football players, he becomes a tackling dummy. The movie became an instant classic. Every Fraser fan wishes School Ties was as good as the movies mentioned here.
Also read: "Our Last Kiss as Fiancés": Brittany Mahomes Takes a Trip Down Memory Lane as She Relives the Most Important Day of Her Life
---
Share this article