"I want Ben Simmons to be aggressive every single play": Joel Embiid details his expectations from his All-Star Sixers teammate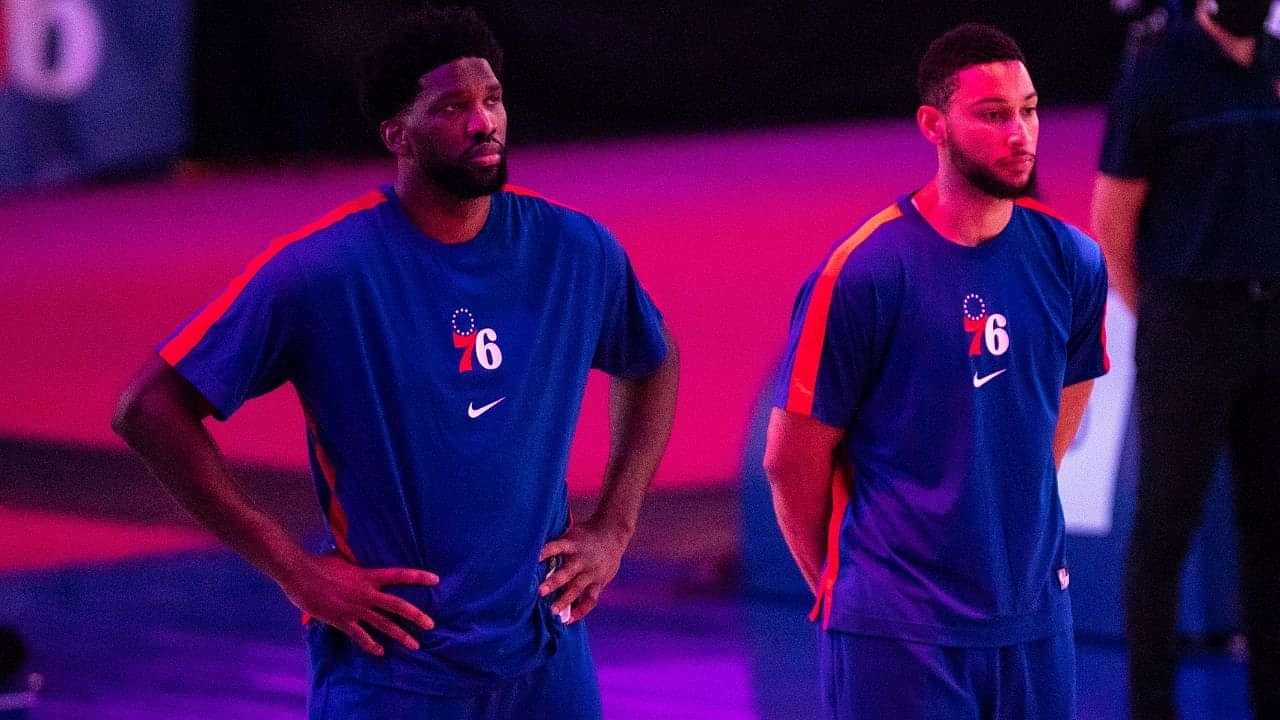 Joel Embiid and Ben Simmons have combined to lead the Philadelphia 76ers to 2nd place in the East. But Jojo wants more from his teammate.
We've all been watching Philadelphia set up their franchise for a long run of success in the mid-2010s. It was a period of planned losing that lasted 4 seasons.
It yielded to them the talents of Embiid and Simmons. Robert Covington and TJ McConnell made up in residual value what the likes of Michael Carter-Williams, Jahlil Okafor and Nerlens Noel couldn't bring to the setup.
But the Sixers have yet to win a playoff series against any opponent of note recently. They will have to step it up a gear or two in the postseason this time around. Their high seed is a good step in that direction. But it will still require Herculean efforts from their best players.
Also Read: "Michael Jordan reminds me all the time that he's got 6 championships": Yankees legend Derek Jeter reveals how the GOAT trolls him for having only 5 titles
Embiid expects his players to know how to approach their roles. He didn't spare even his fellow top pick Ben Simmons from criticism.
Joel Embiid wants Ben Simmons to be aggressive on every play
The Sixers blew the OKC Thunder out in their previous game as the team had an easy day in the office. Ben Simmons had a casual outing that lasted only 28 minutes. He seemed to show all the right signs in his play. Embiid seems to agree:
"Oh yeah, for sure. … First of all, I want him to be aggressive every single play, whether it's to make plays or whether it's to look for his shot. He's got to be aggressive."
Loading embed tweet https://twitter.com/DerekBodnerNBA/status/1381100977445429248?ref_src=twsrc%5Etfw
Also Read: "Charles Barkley doesn't know how to ride motorcycles, he's not a winner": When Michael Jordan playfully trolled the NBA legend for being ringless on the Oprah show
"He's got to make guys on the other team guard him — like tonight. We saw it. I was really excited when he made those two (jump) shots. He's starting to be comfortable. He's getting back to where he was right before the All-Star break, so he's got to keep on doing it."
"Ben's a playmaker and he wants to be a playmaker. He wants to get everybody involved but at times, you also need to just be aggressive and make the other guys on the other teams guard him."
---