"It's All the Same to Me": Luka Doncic Doesn't Care About His Brilliant 50-Point Game vs Rockets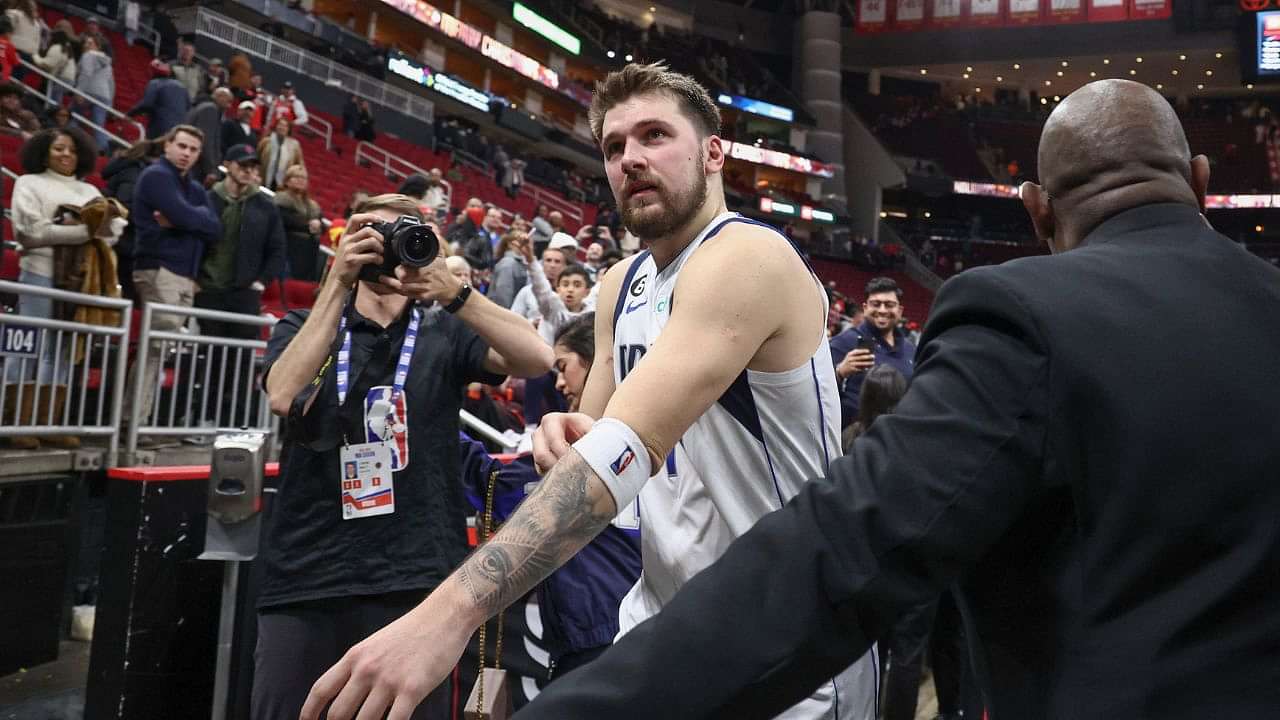 Luka Doncic is one of those players that only comes about once a generation. And even for that to happen, fans have to have been really, really lucky for the talent to not only show what he has got but also escape any significant injuries that may cut his career short.
And thankfully, no such thing has happened just yet., and hopefully, it never will.
In the meantime, the man is making high-scoring games look like child's play. On the season, he has been averaging 32.2 points per game, on 49.4% from the field. And of course, that is to go along with 8.3 rebounds, and 8.7 assists on the season.
Now, when a player plays to that level, you'd expect to see some level of excitement from them… right?
Well, apparently after his 50-point night against the Rockets, Luka Doncic couldn't have cared less.
Also Read: "Luka Doncic Is the Best Player in the World": 10x All-Star Jason Kidd Crowns 6ft 7" PG in the Aftermath of a Historical Performance
Luka Doncic seems unamused by his 50-point night against the Rockets
Luka Doncic has been putting up a clinic this season and is having one of the greatest offensive seasons of all time right now. But while that is pretty amazing, perhaps the man is starting to get a bit bored by now.
Why do we say that? Well, here was his reaction to having a 50 points, 8 rebounds, 10 assists, and 3 steals night against the Rockets.
Loading embed tweet https://twitter.com/CallieCaplan/status/1606515011890847746?ref_src=twsrc%5Etfw
In case you were wondering, the man did this on 56.7% from the field, and 50% from beyond the arc. And of course, he had the game-sealing dagger as well.
So overall, yes, the man is now bored of his own brilliance.
Perhaps, with the Mavericks sitting just 8th in the West, what he is hoping for, is to see some of the same from his teammates.
Jason Kidd has grown sick and tired of Luka Doncic's antics too
Luka Doncic may be sick of his own brilliance, but you'd think his head coach would want to keep seeing more of the same right?
It turns out that if you thought that way, you'd be dead wrong, as here is what we had to say just a few games ago.
It takes a special kind of player to bore people because of how good they are. And even if some Mavericks players may be bored, we're sure they definitely appreciate the fact that he is still on their side.
Also Read: "Turns Into Freaking Michael Jordan": 7ft Joel Embiid Details the Fear Kawhi Leonard Creates During Playoffs
---