Jayson Tatum on Verge of Passing Lakers Superstar Anthony Davis On Elite Scoring List In Upcoming Game vs LeBron James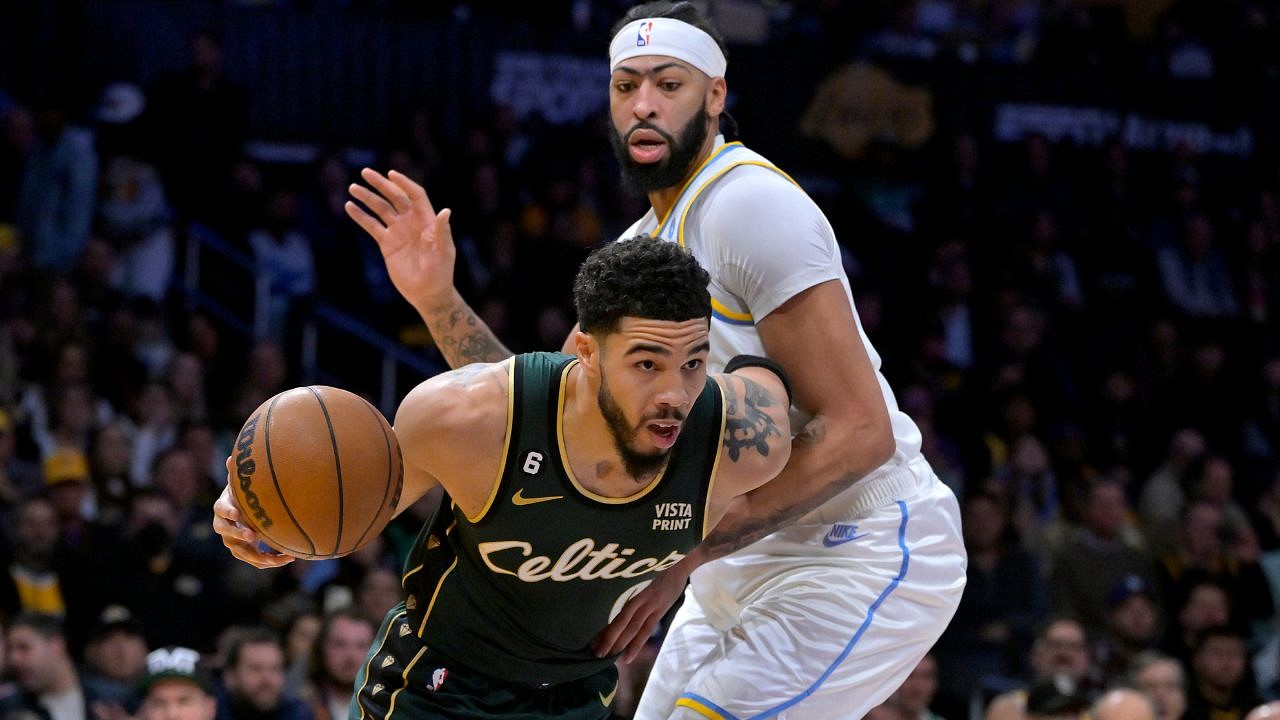 Jayson Tatum has had probably the best development among the current superstars, after Giannis Antetokounmpo and Nikola Jokic. Although the 6ft 8" forward came in as the 3rd pick in 2017, he was not looked at as the face of a franchise who would lead them to the NBA Finals in his fifth year.
He did average close to 17 points in his only year with the Duke, but still came in as a 19-year-old into the league of grown men. And into a conference where LeBron James, in his mid-30s, was leading his teams to 8 straight NBA Finals. Tatum wasn't supposed to do it when he was just 23.
But, he did. Through all its transitions, the Cs didn't miss the Playoffs even once since getting JT. And now the Celtics' MVP candidate is making and breaking records for fun. When they take on the Lakers on Saturday, he would be up for taking over Anthony Davis for an all-time record.
Also read: "How Can Joel Embiid, an MVP Candidate, Not Be a Starter?!": Skip Bayless Rages About Picking Jayson Tatum Over Sixers Star
Jayson Tatum stands a chance to take Anthony Davis over on an all-time list
Leading his team towards a #1 finish in the East with more than half of the season already finished, Tatum is eyeing an MVP award this season averaging a mind-boggling 31 points, 8.7 rebounds, 4.4 assists, a steal, and close to a block per game (0.8) in 47 games played.
However, when they take on the Lakers tonight, the 4x All-Star will have a chance to take over AD as the 9th top scorer in the NBA under the age of 25. He is just 22 points behind the 9x All-Star of LA.
Not that a Celtics-Lakers game needs subplots, but as LeBron chases the all-time scoring record, Jayson Tatum continues to climb this list.

He needs 23 points against the Lakers and Anthony Davis to pass…

…Anthony Davis. pic.twitter.com/aBmQS2SXU2

— Sean Grande (@SeanGrandePBP) January 28, 2023
If he does score exactly 23 (Kobe Bryant's number) it will ironically be beautiful for the Lakers legend's fans. But he will score more than that.
Meanwhile, the Lakers are in dire need of wins, Tatum and the Celtics can afford an individual show by the 24-year-old in the Garden tonight for welcoming its greatest guest/rival.
Also read: "Jayson Tatum can add a big stamp to his MVP resume": Kevin Garnett Believes 6ft 8″ Forward Can Benefit From Celtics' Dwindled Roster
Tatum recently got his 4th All-Star selection
Last year's Eastern Conference Finals MVP has upped his ante this season on both ends of the floor. And so, the NBA media voted him as the #1 player in the East for the 2023 All-Star game in Salt Lake in February.
Full 2023 All-Star voting results.

Fans -> 50%
Players -> 25%
Media – 25% pic.twitter.com/5DFNx2zfjR

— SLAM (@SLAMonline) January 27, 2023
With players considering him the 4th best and fans as 3rd best, JT is the 3rd top vote-getter in the East behind Kevin Durant and just above Kyrie Irving who tops the guards' list.
He'd surely have a lot of teams and individual success this season, maybe even an MVP award, but Jayson Tatum would aspire for what he missed out on last season, the NBA championship.
Also read: Jayson Tatum Broke Larry Bird's Record in "Unreleased" $175 Air Jordans
---
Share this article