Jimmy Butler slams Chris Paul with 'mess with my guys and deal with me' over altercation during Heat vs Thunder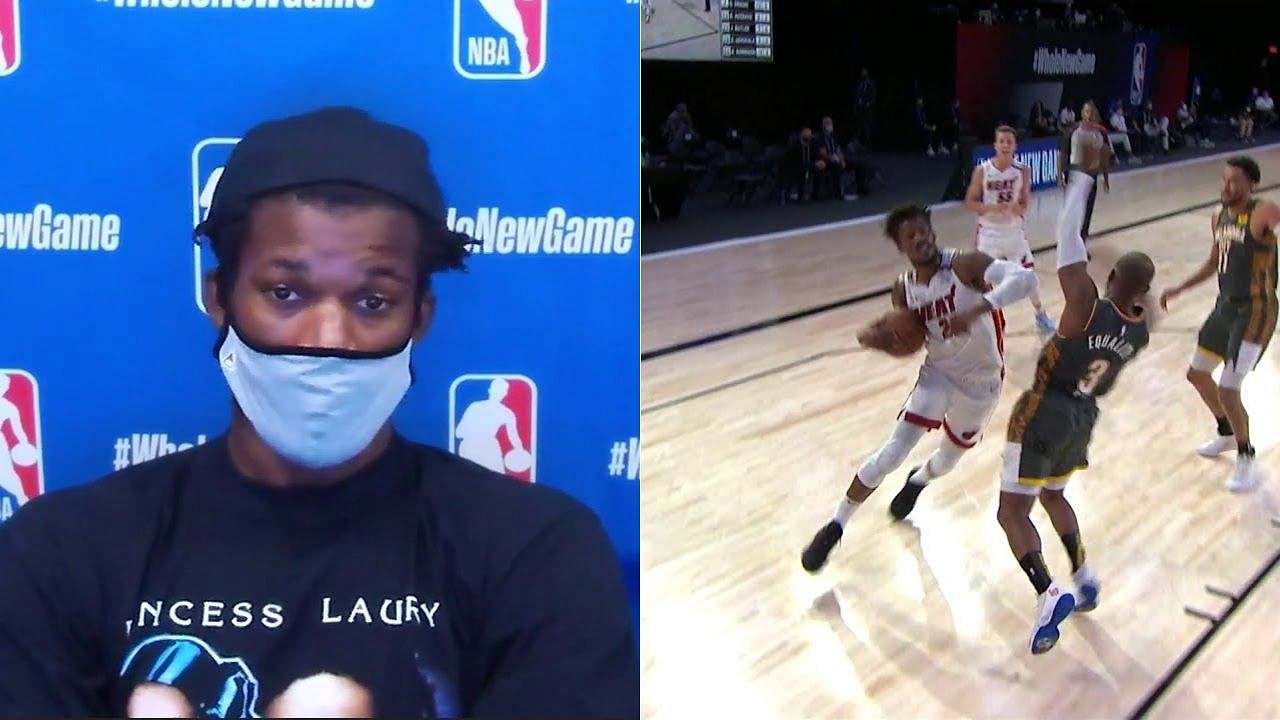 Jimmy Butler and Chris Paul were involved in an on-court altercation tonight, with Butler ramming his shoulder into CP3 after the latter bounced a ball off Duncan Robinson.
Things got a little heated during Heat vs Thunder tonight, with Jimmy Butler and Chris Paul going at it on the court. It all started when Chris Paul purposely hit Robinson with the ball, after having managed a steal on an inbound pass.
CP3 then also had some words for Heat's reliable 3 point shooter, something that did not go down well with Jimmy Butler.
Jimmy Butler's response to Chris Paul
The Miami Heat superstar did not wait until the end of the game to give it back to Chris Paul. In the 2nd quarter, while driving to the rim, Butler straight up ran into Chris Paul, hitting him with his shoulder and elbow.
Butler was given an offensive foul, as he clearly knew what he was doing. Right after the move, Butler turned back without any protest and settled into a defensive position.
fun sequence of events pic.twitter.com/aY3pY4ZZX3

— Rob Perez (@WorldWideWob) August 13, 2020
After the game, Butler commented on his altercation, confirming that he would stick up to his teammates at all times. CP3 had instigated his shooter and that was always going to earn him a reaction.
"You're not gonna throw the ball at my teammate like that. So yeah, I'll get a turnover. I'll get an offensive foul. … You mess with one of my guys, especially one of my shooters, then you gotta deal with me and everybody else," Butler said.
Butler's statement clearly shows how much of a team player he is and how he will always stick up for his teammates.
Jimmy Butler and Miami Heat
Heat have had a brilliant season up until now, with Butler leading the way. Bam Adebayo has provided brilliant support on both ends of the court and will be hoping to do so in the post-season as well.
Pacers will take on the Heat in the Eastern Conference round 1 and incidentally the two teams will also square up against each other in the last seeding game in the Bubble.
Expect both teams to not show their cards in their meeting just before the playoffs. Jimmy Butler could be rested for that game, so that he is rested and raring to go come game 1 of the series vs the Pacers.
On the other hand, Chris Paul will square up against his former team, Houston Rockets in what promises to be a mouth watering clash in the Western conference. With Westbrook uncertain for the initial stages of the playoffs, things are in the balance when it comes to Rockets vs Thunder.
---
Share this article