"Joel Embiid Deserves MVP!": Sixers Superstar Overtakes Shaquille O'Neal's MVP Performance With His 24th 35-Point Game This Year!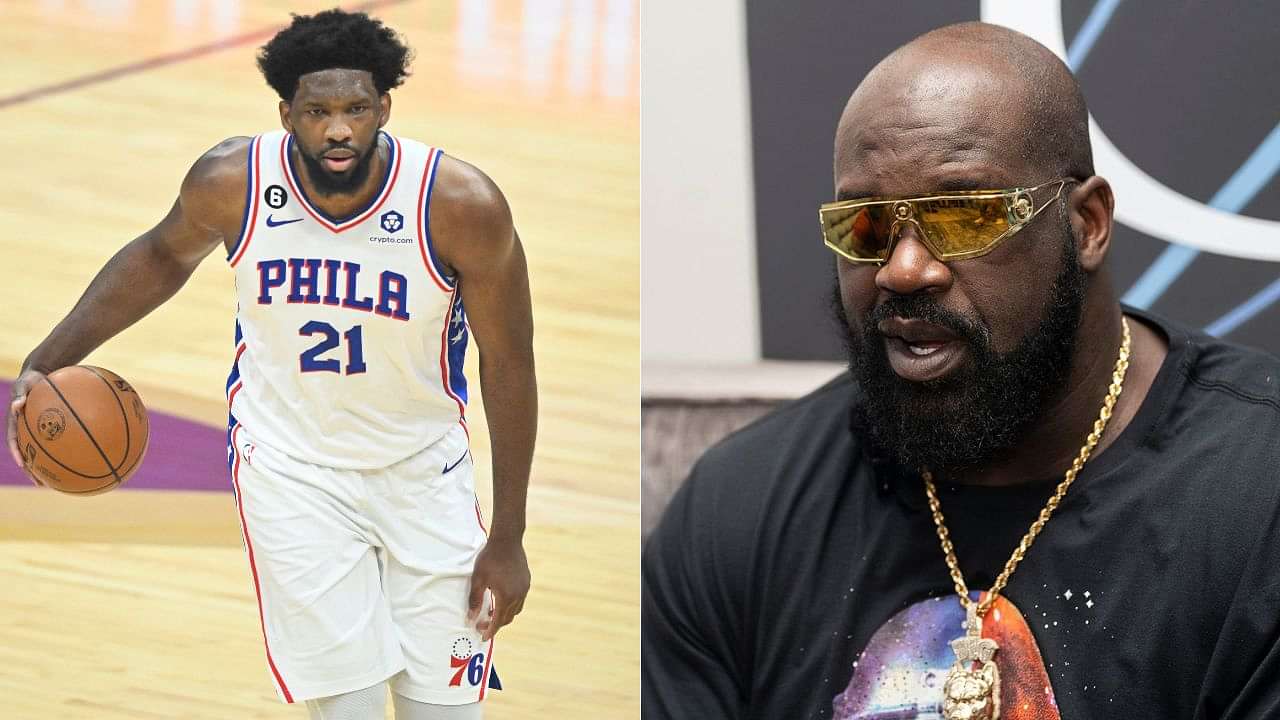 Despite playing 23 games fewer than Shaquille O'Neal in 1999-2000, Joel Embiid has overtaken Shaq's 35-point game tally from his MVP year.
Joel Embiid is putting on an absolutely phenomenal run and swinging tons of MVP voters to his fray. The Sixers are on a 6-game winning streak with Jojo delivering big-time in all of those games.
His dominance as a scorer will likely take his scoring notch even higher than last season, when he won a scoring title. Currently averaging 33.4 points per game, Embiid is establishing himself as the greatest two-way center since Shaq.
O'Neal was nearly voted as the league's first unanimous MVP in that particular year. He won the only scoring title of his career that season, maximizing the potential that many fans had tipped him with.
Loading embed tweet https://twitter.com/NBAHistory/status/1636051779329703961?ref_src=twsrc%5Etfw
Also Read – "Of Course Me, I'm the N**a": Clip of Joel Embiid Scandalously Bragging About His D*k Size Resurfaces on Social Media
Joel Embiid overtakes Shaquille O'Neal with his 24th 35-point game of the season
The Cleveland Cavaliers put the Philadelphia 76ers through a stern test last night. In a tightly-contested game, the Sixers had the last laugh after nearly blowing a 4th-quarter lead.
Joel Embiid, who was initially deemed to have fouled out before a successful challenge to reverse the call by Doc Rivers, finished with 36 points, 18 rebounds and 4 assists in the win.
In doing so, he put together his 24th 35-point game through 54 appearances this year. That ranks as the most by a center since the introduction of the 3-point line. Embiid broke a tie with Shaq from the latter's MVP season with this outing.
Loading embed tweet https://twitter.com/ESPNStatsInfo/status/1636193839231770625?ref_src=twsrc%5Etfw
Also Read – James Harden, Joel Embiid Create Record With Twin 30-Point, 10-Assist Outings In Win Over Bucks
What are the Sixers' playoff chances this year?
The Philadelphia 76ers are moving slowly, but surely toward attaining the 2nd seed in the East. They started the season off slowly, especially due to simultaneous injuries suffered by Harden, Maxey and Embiid.
However, they picked up the tempo in mid-December, and they now have the best record in the league since December 6th. They are 34-10 in that span, 3 losses clear of the Bucks in the same span.
A good measure of the credit for this run can be attributed to the return of James Harden to fitness. The Beard has been slowly, but surely, getting back to his best shape after an injury-riddled 21-22. He's leading the league in assists per game by a clear margin.
At face value, this seems like the duo's best chance at a maiden championship run. Neither is getting any younger or fitter, although Harden still has a couple of elite years left.
---