"Of Course Me, I'm the N**a": Joel Embiid's Scandalous Response to His D*k Size Resurfaces on Social Media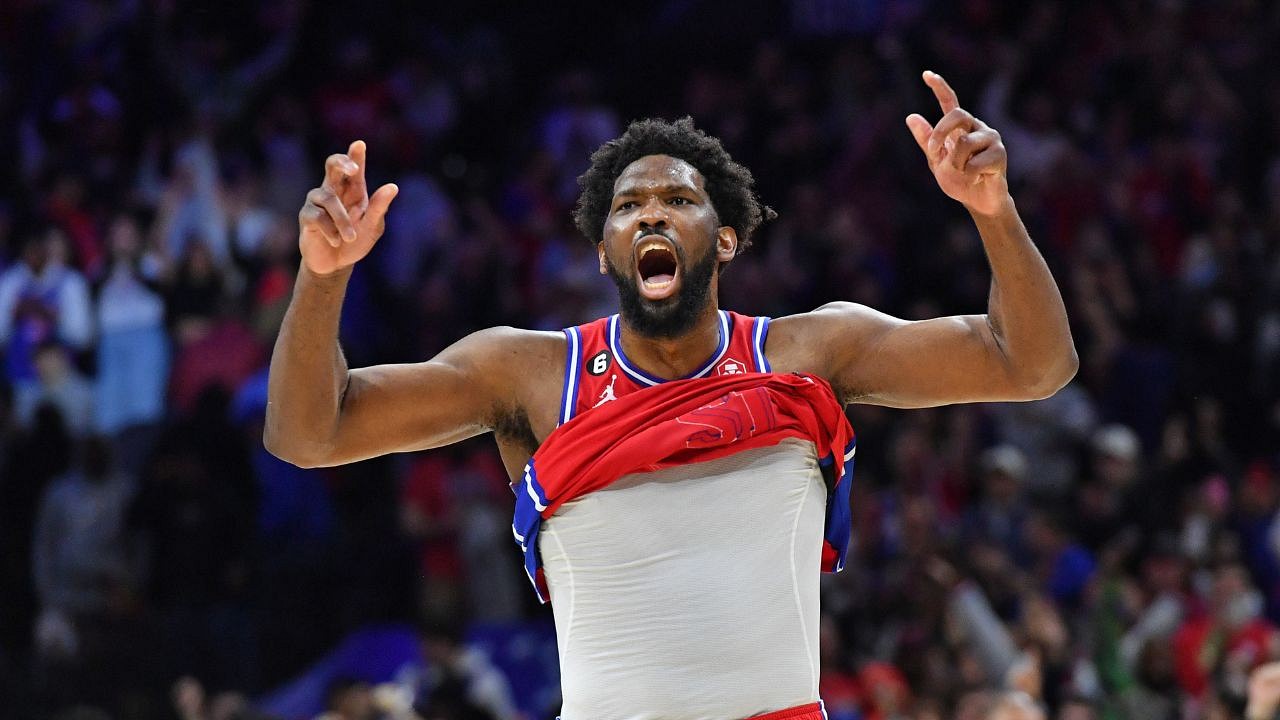 Joel Embiid has made a name for himself over the past nine years for his drastic rise within the sport of basketball. The Cameroonian has developed into his own being and provided a great return on investment for the Philadelphia 76ers. He has solidified himself as the marquee player he was perceived to be by being ranked amongst the best players the NBA has to offer over the past five years.
Although, more often than not, the seven-footer has made the headlines for his facetious and hysterical responses. This is done to certain questions from reporters, remarks, and includes his celebrations.
However, Joel Embiid was once a little too explicit about his masculinity and genitalia. The former 2014 number three pick once declared that he had the biggest male genitalia among his group. Old footage from 2014, during his rookie year, has now resurfaced online, whereby Embiid can be seen indulging in a humorous yet explicit interaction with his mate. 
Also read: "Ja Morant Wants to Be a SHOOTING GUARD": Charlemagne tha God & Andrew Schulz Mock Grizzlies Point Guard
Joel Embiid crowns himself for having the biggest genitalia. 
Embiid is renowned for his notorious antics off the court. The six-time All-Star has earned himself a reputation for his unsolicited frolics.
As such, footage from 2014, during his rookie year, has resurfaced online, where Joel Embiid can be seen in a car with his friends driving around. In the footage, Embiid and his friend can be seen and heard having a conversation regarding their genitalia.
Embiid's friend can be heard making a statement saying: "Im 5'10 and I have a seven-inch d**k." To which Embiid can be seen smirking and responding: "I would never do that s**t yo…You can't f**k with me…"
 

View this post on Instagram

 
Following this, the person recording can be heard prompting and asking: "Who's got the bigger d**k between you two?" To which Embiid comically responds: "Of course me, Im the n***a." 
Also read: Having Spent $10,000 on his Wedding Dress, Dennis Rodman was Once Ridiculed by Oscar Winner Brendan Fraser
Is Embiid a legitimate MVP candidate?
Given that he is having yet another magnificent season, it wouldn't be too far-fetched to assume that the 76ers center is worthy of the coveted NBA MVP trophy. Embiid is currently averaging 33.4 points, 10.0 rebounds, and 4.1 assists in 54 games this season. The 28-year-old is basically averaging career highs in points and field goal percentage.
In tandem, he has been pivotal in leading Philadelphia to the third seed in the Eastern conference. Provided, Embiid can help guide the Sixers to the second seed, it would be strenuous to deny him his first NBA MVP award. 
Also read: 'Injured' LeBron James Partied with Wife Savannah James and Draymond Green at Jay-Z and Beyonce's Oscar Party
---
Share this article