"Knicks have been irrelevant since Patrick Ewing left": Charles Barkley & Shaquille O'Neal Believe New York Team is High on Expectations and Short on Talent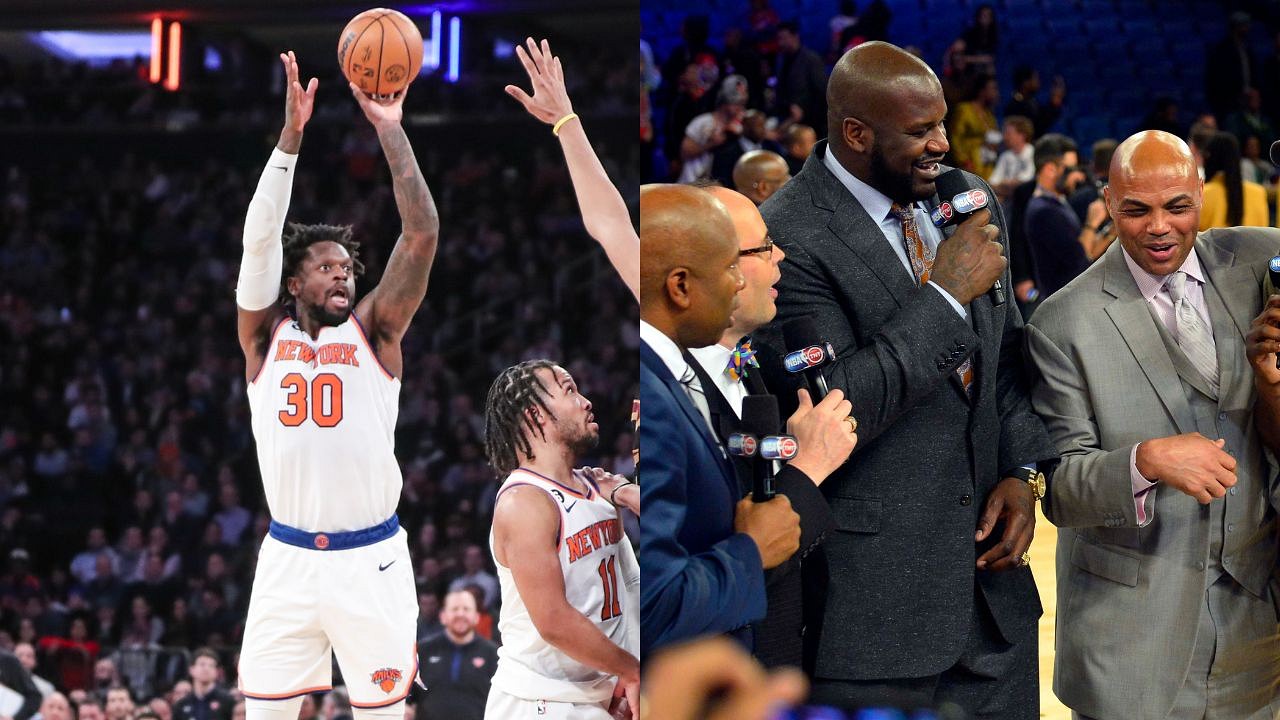 The New York Knicks are probably headed toward yet another post-season, but they might have to clear the Play-ins if they finish in the position they are at right now. And if they do, it would be the second time in three years that they would be in the Playoffs. However, Charles Barkley doesn't look at it as success.
Before the Knicks' Thursday night game in the TD Garden against the Celtics, the TNT crew discussed the history of the team, and they all criticized the James Dolan-owned team for its failure to compete in the past two decades.
Also read: $400 Million Man Shaquille O'Neal's Favorite Investment Hilariously Has Charles Barkley Written All Over it
"Knicks have been irrelevant since Patrick Ewing left": Charles Barkley
Except for the 2013 postseason where they lost in the second round, the last New York Knicks cleared the first round of the Playoffs was when the franchise GOAT, Patrick Ewing, was still playing for them in 2000. Charles Barkley pointed it out tonight before the Knicks' game against the Celtics.
Although Adam Lefkoe did remind them of the 2012-13 season led by Carmelo Anthony, Shaquille O'Neal shut him down. And when Chuck started to praise Julius Randle and Jalen Brunson for what they are doing, Big Diesel said something which is the harsh reality for Dolan's side.
O'Neal believes the expectations are too high for the talent they currently have.
Barkley: "Knicks have been irrelevant since Patrick Ewing left"

Lefkoe: "They did have that 1 year with Carmelo"

Shaq: "1 year"

…

Barkley: "Julius Randle has played well
"…Brunson's…been fantastic"

Shaq: "Problem with the Knicks…expectations are too high for the talent" pic.twitter.com/IU4dDoZ1j2

— New York Basketball (@NBA_NewYork) January 27, 2023
Poor Knicks fans, their team had just broken a 4-game losing streak against the Cavaliers and is playing decent basketball against the leaders in the East, just to hear this from the legends of the game.
Also read: "Carmelo Anthony Didn't Want to Leave the Knicks": How $6 Billion Worth Franchise Messed Up With it's Greatest Star After Patrick Ewing
When New York still had Ewing
There is a reason why Patrick Ewing is the Knicks' greatest of all time. During his 15-year tenure with the franchise, they missed the playoffs just twice (Ewing's first two years in the NBA) and crashed out of the first round just once (his 3rd year).
In his last year with the Knicks, Ewing led them to the Eastern Conference Finals against Reggie Miller's Pacers which the New York team lost in 6 games. That brought an end to both—Ewing's tenure with the team and them being good in the playoffs.
Also read:  "Say the same thing about the Bulls or the Knicks": Joel Embiid Casually Flexes Flawless Record After Improving to 8-0 in Los Angeles  
---
Share this article