"Larry Bird Can't Play With Lebron James": 6x NBA Champ Michael Jordan Crowned 6ft 9" Celtics Legend a Better SF Than LBJ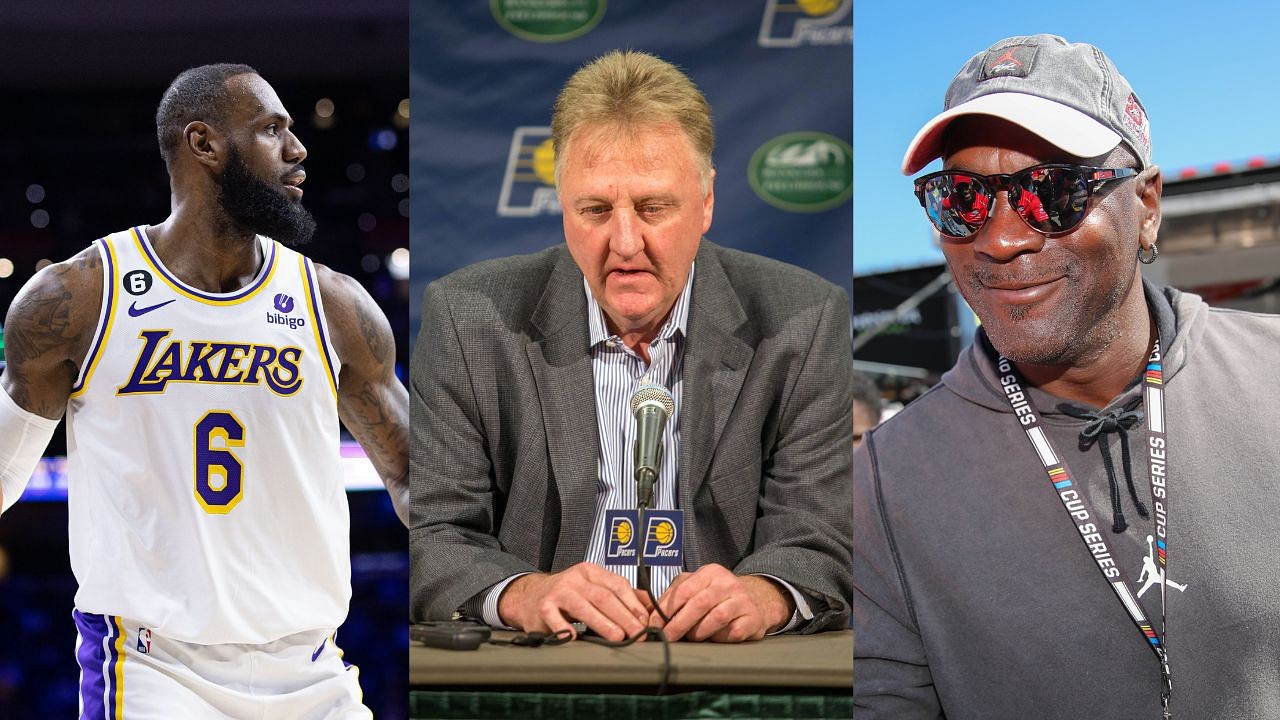 Before Michael Jordan took over the league, two names ruled the NBA world. The 80s belonged to Magic Johnson and Larry Bird, the greatest rivals in the history of the sport. Perhaps even comparable to the kind of rivalry shared by Messi and Christiano Ronaldo now.
However, there were many in the league who believed Larry Legend was overrated. Players like Dennis Rodman thought that if Larry had been a black athlete, he would have been just another nameless cog in the machine. Isiah Thomas echoed his thoughts, like many others in the league.
But not 6-time NBA Champion Michael Jordan. Jordan knew the brilliance of Larry Bird, he knew what the 6ft 9″ forward was capable of. In the book 'When The Game Was Ours,' MJ shared his thoughts on the greatness of the Celtics legend. In fact, Jordan even compared Lebron James and Bird.
Also read: "I Was F**king Rattled in Boston": Draymond Green Credits 'GOAT Stephen Curry' for Carrying him in Game 4 of 2022 NBA Finals
Michael Jordan believed Larry Bird was better than LeBron James
In When The Game Was Ours, a book written by Larry Bird and Magic Johnson, Michael shared his undiluted opinion about the Celtics forward.
At first, Jordan exclaimed that Larry was the best small forward to ever play the game. He then shrugged off the claims that Larry could never have played with LeBron James. What more praise can you expect when even the greatest player in history sings praises for you?
 Michael Jordan: "Larry was a debate. He still is. People ask me all the time who my all-time five top players are, and when I start saying Larry, they interrupt me. They say, 'You've got to be kidding me. He can't play with LeBron James!' I tell them, 'You guys don't get it. Larry is far better than any small forward who played the game, and to be honest, I'm still not sure if he is a small forward or a power forward."
LeBron vs Larry is a debate for the ages
Well, LeBron James has definitely proven his might. He is an absolute beast and his longevity is scarier than his freak athleticism. However, even though Larry lacked these two qualities, the 6ft 9″ forward still holds his own ground. He was an exceptional shooter who could influence the game in a variety of ways.
However, Jordan's comparison between James and Larry is outdated. The book was released in 2009 when LBJ was still a young star figuring out things in Cleveland. To be compared to Larry even then says a lot about his skills. He is definitely the greatest small forward in history and it is more than likely that even Michael Jordan agrees to that now.
Also read: "I Wanted to be a Smaller Shaquille O'Neal!": Allen Iverson Once Colorfully Described His First Impression of Lakers Legend
---
Share this article