Lakers star LeBron James comes out in string support of England players who have been facing racial abuse after losing to Italy in the Finals
LeBron James has never been one to take any form of abuse sitting down. As arguably the greatest player of all time, the King has a massive platform, something he routinely uses to bring awareness to issues of any kind.
Recently, England's football (or soccer for those in North America) team got to the Finals of the European football championship. It was a close game throughout, with the score standing 1-1 even after extra-time. And during the penalties, something happened that every British person was afraid of.
Bukayo Saka, and Jadon Sancho's penalties were blocked by the Italian keeper, while Marcus Rashford hit the post. Ultimately, this proved to be the reason for England's demise in the competition.
Following the loss, these three players of color faced a massive and disgusting amount of racial abuse from many twisted minds on this planet. And it seems that halfway across the world, LeBron James has noticed this injustice.
Also Read: Kendrick Perkins gets absolutely SMOKED by a fan on Twitter
LeBron James puts up an Instagram story in support of the English players
Oftentimes, when the King has something to say, subtlety is not something he cares for. But, this time, it seems he decided to change things up a bit.
Recently, he posted this on his Instagram story in support of the players.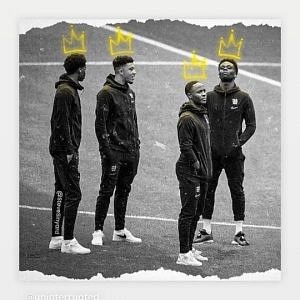 Racism is something the world has housed for a very long time, far too long in fact. At some point, individuals have to realize where the line is. And insulting someone for their race, for merely a bad performance in a sport is something that crosses it completely.
If there is any consolation here, it is that the British police have started an investigation to find the perpetrators of such heinous actions.
He is the second most abused athlete after lebron James in 2020

Look what he has done for this country.

Back to back 20+goals for united despite needing surgery

Rally for rashford! Represent England with pride king 👑👑👑👑 pic.twitter.com/ntmBKFLRl7

— Prince Jean C (@eyez1218) July 13, 2021
Still, if we are still at a point where there are individuals who aren't disgusted by even the thought of such actions, then perhaps there is a long way to go for racism to be exterminated.
Also Read: When Kobe Bryant broke down how the Celtics legend gave up personal stats to make his team better