"Light the Beam Some Other Day": 76ers Broadcast Trolls Kings After Joel Embiid-less Team Grabs 129-127 Win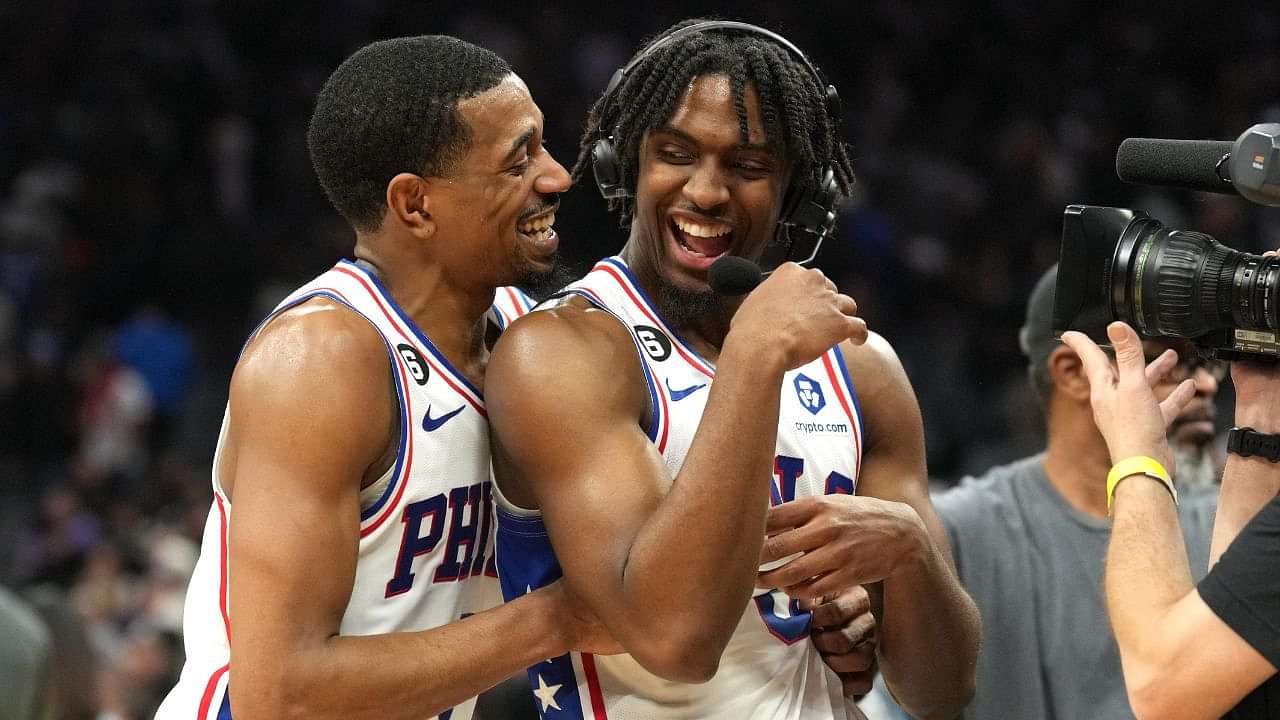 With both teams entering the contest having won a few consecutive games, the Philadelphia 76ers-Sacramento Kings clash promised to be an entertaining one. However, with James Harden and Joel Embiid ruled out of the clash a few hours prior, De'Aaron Fox and co. were expected to hand Doc Rivers' boys the first loss amid their 5-game road trip.
The closely-fought battle witnessed merely 2 lead changes & 2 ties. After 48 minutes of action-packed basketball being played, the Pennsylvania-based organization clinched a 129-127 victory.
The pairing of Domantas Sabonis(16/9/10) and Fox (31 points & 9 assists) had a pretty great outing. However, thanks to the 6 players on the Sixers' roster with double-digit points, the team managed to snap SacTown's 6-game win streak.
Also Read: 6ft 7″ Luka Doncic Fumbles While Praising 22-Year-Old Josh Green and Lets an Innuendo Slip
NBCS Philly trolls the Sacramento Kings
Tobias Harris, Montrezl Harrell, and Georges Niang went on to record 17 points each, with Shake Milton and De'Anthony Melton combining for 29 points and 12 assists. However, it was Tyrese Maxey who had the best performance of the night.
Replacing an injured Harden in the team's starting five, the 22-year-old played 41:18 minutes and recorded 32 points, 6 assists, and 3 rebounds.
Loading embed tweet https://twitter.com/statmuse/status/1617034472138092544?ref_src=twsrc%5Etfw
The Sixers' broadcast decided to troll the California-based organization. NBCS Philly wrote "Light the beam some other day" during the postgame interview.
Loading embed tweet https://twitter.com/RTNBA/status/1617040081365372928?ref_src=twsrc%5Etfw
As soon as the photo went viral all over social media, NBA Twitter couldn't help but laugh.
Loading embed tweet https://twitter.com/1NickG_/status/1617040890723196930?ref_src=twsrc%5Etfw
Loading embed tweet https://twitter.com/WickwireCade/status/1617040754752516096?ref_src=twsrc%5Etfw
Loading embed tweet https://twitter.com/HardenFinalsMVP/status/1617040262601080835?ref_src=twsrc%5Etfw
Joel Embiid and the Sixers move up a spot in the standings
After their win and with the Milwaukee Bucks' loss to the Cleveland Cavaliers, the Philadelphia 76ers have now moved up one spot in the Eastern Conference.
Trailing the Boston Celtics by 4.5 games, JoJo and co. sit #2 with an impressive 30-16 record.
While the likes of Maxey, Harden, Tobias, and others have been extremely consistent, the team has been performing well due to Joel's MVP-like campaign.
It'll be interesting to see Philly's record by the All-Star break.
Also Read: Joel Embiid Joins Shaquillle O'Neal With 30-Point Game Streak While Leading 76ers To Win Over Damian Lillard's Blazers
---