Magic Johnson Reveals Michael Jordan's $10 Billion Business and Isiah Thomas's Ventures Are Reasons For Why They Can End Their Feud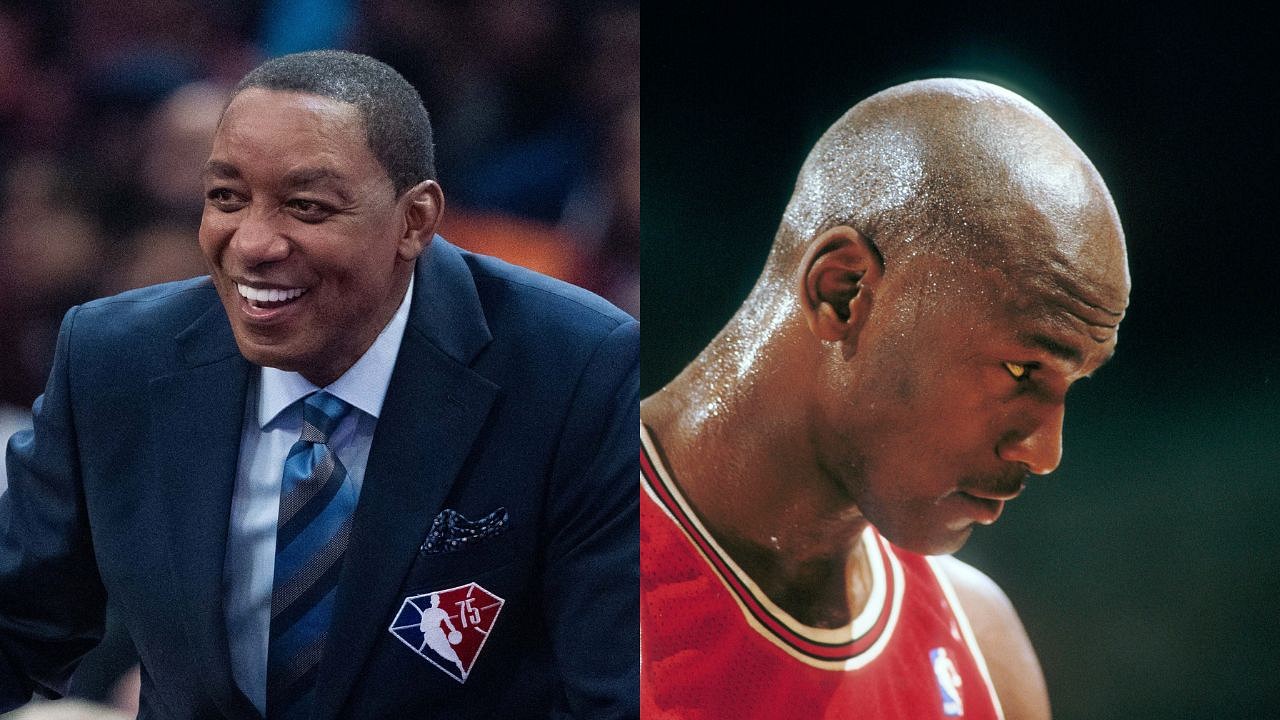 Beef between players in the NBA during the 1980s and 90s still stands to this day. The rivalries that were forged in the heat of battle amongst the elite of the elite in the league are ones that have had a lasting effect to them. The most prominent of these is most certainly Michael Jordan and Isiah Thomas's feud. 
Jordan never missed the Playoffs while with the Chicago Bulls but he certainly missed a lot of Finals trips early on in his career. This was thanks in large part to the Detroit Pistons who kicked them out of the postseason in 1998, '89, and '90. 
Their rivalry stemmed from the fact that the 'Bad Boy' style of play was simply too rough for the Bulls. Every game between them felt as though it would be a bloodbath. And it was. The nail in the coffin was when the Bulls swept them in the 1991 ECF and Isiah and crew left their bench prior to the game ending, without shaking the Bulls players' hands.
Also read: "Remember Crying When Pistons Beat Michael Jordan": Allen Iverson Claimed 6ft 6″ Bulls Legend Was His 'Superhero'
Magic Johnson wants to bring Michael Jordan and Isiah Thomas together 
Magic Johnson, with just how lively he is all the time, is undoubtedly the glue that holds that group of 1980s players together. Stephen Jackson even confirmed this during Magic's appearance on his and Matt Barnes' podcast. 
So, when asked about the rivalry and 35-year feud between Michael Jordan and Isiah Thomas, Magic explicitly said that he did not like it. He even hopes to bring them together if he has the power to do so in the future.
Magic calls on Isiah and MJ to squash their beef.

Full episode drops tomorrow on the Showtime Basketball YouTube.💨 pic.twitter.com/Jlm2dtPLL9

— SHOWTIME Basketball (@shobasketball) January 11, 2023
During the 'Last Dance' docuseries, MJ called IT an a**hole and revealed him and Scottie Pippen didn't want Thomas on the Dream Team because he would ruin their dynamic. 
Many fans want them to sit down face-to-face and hash out their differences. Magic does have a point when he said that both the former NBA legends have moved on with their lives to a point where they are far removed from that stage of their life. 
Michael Jordan has Jordan Brand which is reportedly worth around $10 billion and Isiah Thomas has invested in a bevy of companies. Perhaps time might eventually heal all if the two allow it. 
Magic Johnson feuded with Isiah Thomas as well
Magic Johnson and Isiah Thomas enjoyed quite a close friendship with one another during the early and mid 1980s. Magic even cried in a hotel room in Boston to IT after losing a championship to the Boston Celtics. They faced off against one another in the 1988 NBA Finals where they shared a kiss on the hardwood prior to a game. 
Their feud began in the early 190s when it was revealed that Magic had contracted HIV. According to him, it was IT who spread rumors about both his sexuality and the way he contracted the virus. This put quite the divide between the two. 
They would however, have a highly televised sit-down interview with one another where they hugged it out towards the end, buried the hatchet, and called each other 'brother'.
Also read: "There ain't no Plan B": When Dwyane Wade Got No Option From Pat Riley But to Emulate Michael Jordan's Flu Game, the Flash Didn't Disappoint
---
Share this article