"Magic Johnson Takes it to Another Level": James Worthy Picks Lakers Legend as his #1 Player in NBA History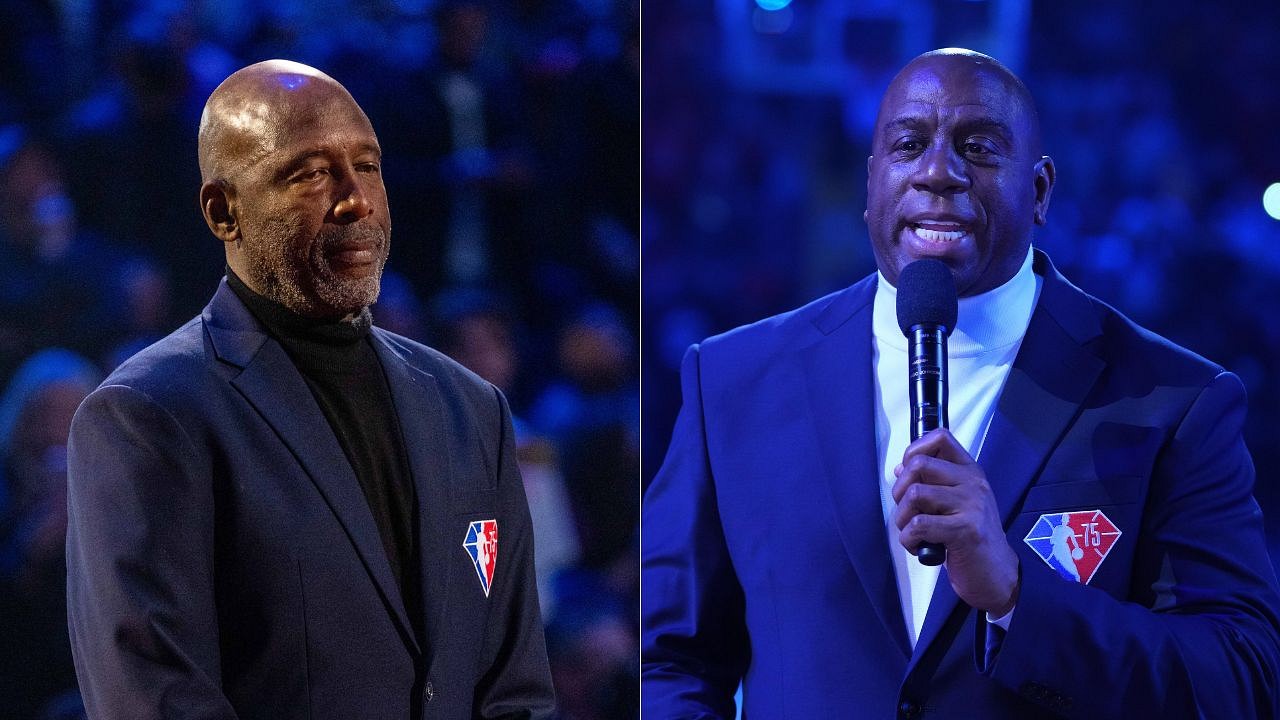 Magic Johnson is one of the greatest point guards to set foot on the NBA hardwood. A long-time Lakers legend, Earvin is easily one of the best to suit up for the Purple & Gold.
During his 13-year stint with the Los Angeles-based franchise, the former Michigan State Spartan managed to achieve all the possible accolades. Apart from being a 3-time league MVP, the 6-foot-9 guard made 12 All-Star appearances & 10 All-NBA selections, won 4 assists titles, 2 steals titles, 5 NBA titles, and 3 Finals MVPs.
Magic Johnson will always have the MOST electric passing highlights 🔥 pic.twitter.com/NmaW4LhALD

— Hoops Videos (@HoopsVids) December 22, 2022
Also Read: $600 Million Worth Magic Johnson's NBA Career Came to Screeching Halt Because of HIV Fear
Magic might not be the frontrunner for the GOAT debate among the likes of Michael Jordan, LeBron James, and Kareem Abdul-Jabbar, however, Johnson is still considered to be one of the most impactful players in NBA history.
"Magic Johnson enhances everybody": James Worthy
James Worthy was a member of the Showtime Lakers that was co-led by Kareem and Magic.
Now, Worthy has played a lot of basketball with both the icons and even went against some of the game's greatest. However, his pick for the #1 NBA player of all time was Johnson.
In a podcast appearance, James termed Jabbar as a  "GOAT", but eventually, he explained why Magic was the #1 player in league history. Having a conversation with Richard Jefferson, the former Tar Heel said:
"He enhances everybody, three times more than you could ever. Other point guards enhance players around them. Magic takes it to another level. He monitors players and he makes sure that they're in there. And then when he has to perform, he's done it. (In) His rookie year, when Kareem was hurt, he was MVP. He's a winner."
Did James Worthy play an important role in helping the Showtime Lakers win championships?
After Johnson, Kareem, and Michael Cooper, James Worthy had the most (3) championships during the Showtime Lakers era.
The 6-foot-9 forward won the championships in the years 1985, 1987, and 1988. He also played a critical role in defeating the Celtics & the Pistons in those finals.
One of the more offensively gifted players on that squad, Worthy was pretty efficient, to say the least. Having averaged 22.1/5.5/3.7 in all the 3 playoffs that the Lakers won the title, James' contributions to the team were very crucial.
Also Read: Billionaire Michael Jordan Once Listed the Players he Dissed During NBA Career
---
Share this article