"Michael Jordan and Nikola Jokic Are The Greatest Draft Picks in NBA History": Gilbert Arenas Showers Rich Praise on 2-Time MVP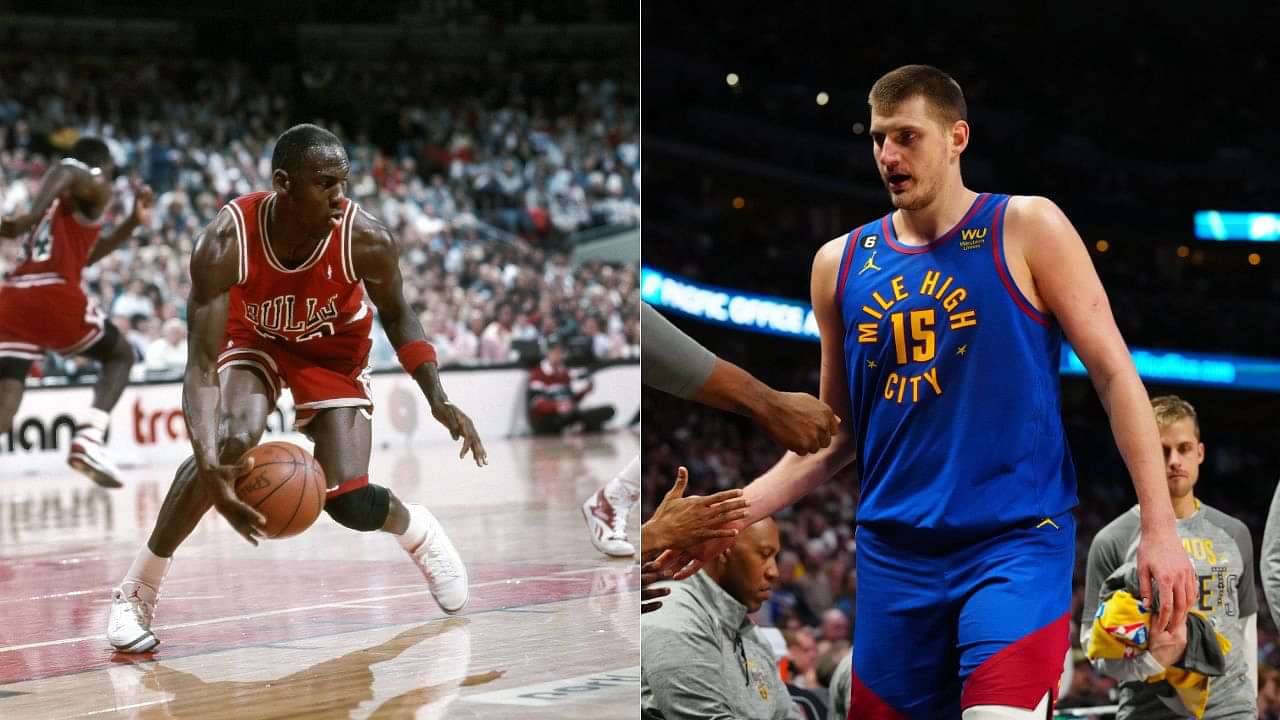 Gilbert Arenas provides some perspective on what makes Nikola Jokic and Michael Jordan the two greatest draft steals. The former All-Star also named Kobe Bryant in his top 3.
There can be no disputing the fact that Nikola Jokic is now the greatest second-round pick of all time. Through 8 NBA seasons, Jokic has 5 All-Star game appearances and has 2 MVP trophies.
He's progressed from being a slightly above-average player to winning back-to-back MVP trophies. Jokic is on track to win a third straight trophy if he keeps his current numbers up.
Jokic has already recorded the second-highest assists average by a center after Wilt Chamberlain. The Serb is on his way to shattering Wilt's 8.6 assists per game average from his Sixers days.
Nikola is also on track to become the first center and only the 3rd player to average a triple-double. His current averages sit at 24.5 points, 11.8 rebounds, and 10 assists per game.
Loading embed tweet https://twitter.com/nikolaesthetic/status/1634176116930822146?ref_src=twsrc%5Etfw
Also Read – "Triple-Double Nikola Jokic remains the GOAT": NBA Twitter Reacts as Nuggets Improve to 17-0 When the Joker Records Triple-Doubles
Gilbert Arenas argues that Nikola Jokic and Michael Jordan are the 2 greatest picks ever
Michael Jordan was famously snubbed by the Portland Trail Blazers with the no. 2 pick in the 1984 Draft. This mistake goes down as an all-time GM blunder that robbed the Blazers of several championships.
Gilbert Arenas believes that selecting Michael Jordan at no. 3 was the greatest draft decision ever. He bases this on the fact of how Jordan outplayed the expectations even for a no. 1 pick.
The former Wizards star also named Jokic as the second-greatest pick of all time. Arenas cited the Joker's MVP-level production as a no. 41 pick as his reason.
Loading embed tweet https://twitter.com/SwipaCam/status/1634231745544372224?ref_src=twsrc%5Etfw
Also Read – "Nikola Jokic Surpassed Michael Jordan and Magic Johnson!": 2x MVP Crosses Hall of Famers, Ties Larry Bird for 30-point Triple Doubles
Arenas named Kobe Bryant, picked by Jerry West at no. 13, as his third-greatest pick ever. The reasons, as with Jokic and MJ, relate to the margin by which Bryant outplayed his draft position.
Apart from Nikola Jokic, who are the greatest second-round picks ever?
Dennis Rodman was famously drafted in the second round by the Detroit Pistons in 1986. The Worm won 7 rebounding championships and two DPOY titles during his 13 NBA seasons.
Manu Ginobili, selected by the Spurs with the no. 57 pick in the 1999 NBA Draft, was a crucial member of 4 of their championship runs. One might argue that Ginobili should have received the 2005 Finals MVP.
Ginobili also led the Argentina national basketball team to an Olympics gold at Athens in 2004. Before the advent of Jokic, Ginobili was universally considered the greatest draft steal of all time.
---