"Michael Jordan Holds the Ball Out and Says…": How MJ Once Made Steve Kerr Painfully Aware of the Difference in Their Level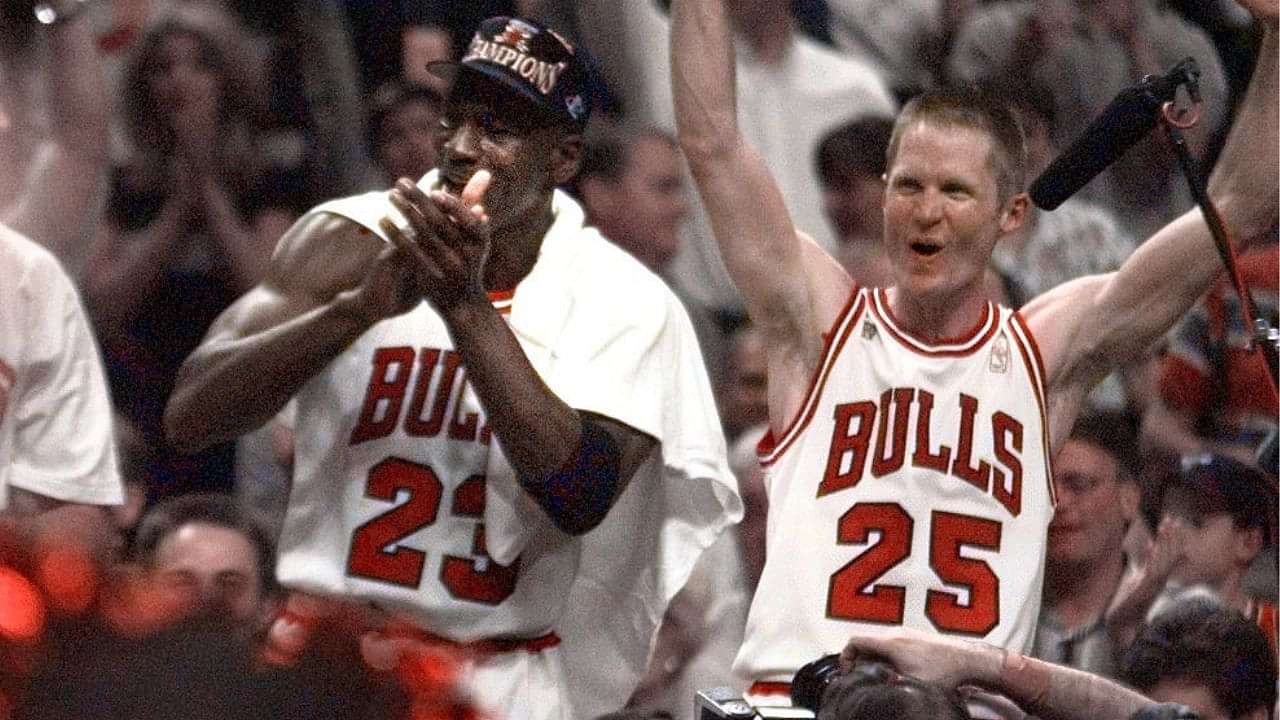 Steve Kerr was once baffled by the grandeur and prowess of six-time NBA champion Michael Jordan. Prior to being teammates with His Airness in 1993, Kerr had brief one-year stints with the Orlando Magic and the franchise that drafted him in 1989, the Phoenix Suns.
As is the custom, rookie Kerr was subject to a rude awakening when Michael Jordan decided to display his eminence right in front of the Suns' bench. Jordan and the Chicago Bulls were slated to play the newly recruited Steve Kerr and the Phoenix Suns in 1989. Michael Jordan had earned himself a reputation by 1988/1989 for his rapid movements, deceit, and athletic ability. To summarise, his ability to score the basketball was sublime.
A moment of brilliance from Jordan in the game left the Phoenix rookie and the bench awestruck. Needless to say, they were astounded at the sequence of events that transpired.
Also read: "I Could Have Played A Couple Of More Years": Kareem Abdul-Jabbar Thinks LeBron James Would Have Had To Wait A Few More Seasons To Break His Record
Michael Jordan once displayed to Steve Kerr the variance in skill!
Kerr had been brought into the league due to his ability to shoot the ball from beyond the arc. However, there existed a moment between 1988 and 1989 that was defining for Kerr.  He was taught about the enormous difference in skill between Jordan and his opponents.
One such scenario involved sharpshooter Steve Kerr and his rookie organization, the Phoenix Suns. The Golden State Warriors head coach once narrated an incident during his rookie campaign.
Kerr said: "We played the Bulls and I was just trying to make the roster. Michael Jordan gets the ball right in front of our bench and Im already scared to death. I'm like God I hope I don't get into this game. I'm not ready for this stuff. And he holds the ball out and he looks right at me….He holds the ball and he goes watch this.
Kerr continued: "And he turns, he went right around Dan Marley and bam, dunks it! Looks back at our bench and starts laughing..and Im looking like, there's no way in hell I can ever make this now..I really don't want to."
In 1988/1989, Jordan averaged a staggering 32.5 points, 8.0 rebounds, and 8.0 assists in 81 games. The shooting guard had put the league on notice with his stellar displays. He had diversified his arsenal to the extent where he would be able to score on defenders regardless of the circumstances. A colossal talent during his apex years.
Also read:"Russell Westbrook Causing Ty Lue THE SAME PROBLEMS!?": Skip Bayless Questions as Clippers Coach Benches Brodie in Crucial Moments
Steve Kerr and Michael Jordan: The three-peat era!
In spite of the aforementioned story, Kerr would go on to emulate some of the greatest players during the era to clinch himself a Hall of Fame-worthy career. He was utilized as a three-point specialist with the Chicago Bulls and the San Antonio Spurs.
Franchises he won a cumulative five NBA championships with. Three of those came beside Jordan when the pair dominated the NBA for three straight years between 1995/1996 and 1997/1998.
As a matter of fact, Kerr was pivotal to their NBA ring in 1997. When he hit the jumper against the Utah Jazz in the clutch moments, the Bulls ended up winning their 5th championship. Kerr essentially enabled the Bulls to clinch their fifth championship under the Michael Jordan and Phil Jackson era.
Also read: 36 Years After Fumbling 1st Meeting With Kareem Abdul Jabbar, Charles Barkley Gets a Gift From the Cap at All-Star Weekend
---