"Are You Mormon?": Shaquille O'Neal Played Matchmaker for Staunch Lakers Teammate, Tried to Set Him Up For Marriage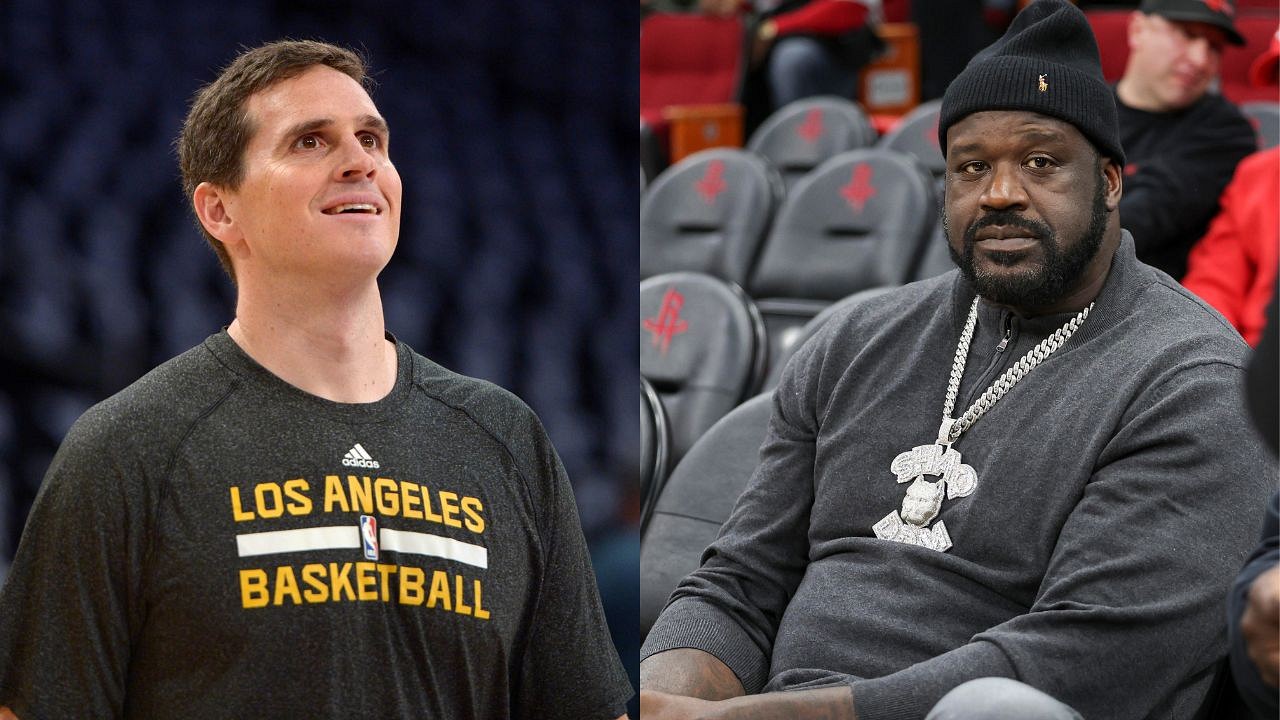 Shaquille O'Neal is a hard character to read. His past and his activities are so conflicted, so polar opposite to each other that even today, Shaq remains unpredictable. You can't really categorize him as a kind person or a bully. In fact, he is both and more. His bullying is of course legendary. From smacking around a 20-something Kobe Bryant to slapping Greg Ostertag, O'Neal had ample space for violence.
On the other hand, he was one of the most generous athletes of his era. Shaq had been raised by his mother and stepfather to empathize with the less fortunate. The 7ft 1″ fearsome big man wasn't afraid of shelling thousands of dollars for a specially-abled woman or finding a partner for his staunchly Mormon teammate. And in hindsight, helping a specially-abled woman buy a vehicle sounds far less complicated than looking for a Mormon partner.
Also read: "Kobe Bryant is DEFINITELY my favorite player!": When Halle Berry, like all of us, was caught thirsting for the Lakers legend
Shaquille O'Neal tried to set up his teammate with a Mormon girl
In his book Three-Ring Circus, Jeff Pearlman talked of Mark Madsen. The 6ft 9″ played with the lakers for 3 seasons and developed a friendship with Shaquille O'Neal. Diesel, who was especially hard on rookies, instead defended Madsen for his ideologies and religion. You see, Madsen was a staunch Mormon and saving himself for his future wife.
O'Neal, who had never hidden his love or attraction for the opposite sex, accepted Madsen and his religious beliefs and never ridiculed him for it. Instead, Shaq took it upon himself to find Mark a Mormon wife. Pearlman wrote of this in detail in his book.
Jeff Pearlman: "Unlike his teammates, Madsen was a devout Mormon who was saving himself for marriage. Some 15 years earlier, A.C. Green, the born-again Christian forward, had been drafted out of Oregon State and subjected to nonstop ridicule from Magic Johnson, Byron Scott, and the gang. This time, with Madsen, O'Neal would not allow it. In fact, he turned into his new teammate's personal MormonMatch.com service. On one team flight, the two men were sitting side by side when a pretty stewardess approached. "Are you Mormon?" O'Neal asked. "No," she replied. "Why?" "Never mind," O'Neal said. Recalled Madsen: "A few weeks later, a single member of the Lakers' front office came up to me at the Staples Center and said, 'The most interesting thing happened last night. I'm sitting in a restaurant in Redondo Beach and Shaq was in there asking some of the girls if they were Mormon because if they were, he wanted to set them up with you.'"
Mark "The Dancer" Madsen
In actuality, Mark's nickname was 'Mad Dog.' He was monikered so for his rough and physical style of play. However, for all that he did for the Lakers, his dance during their 2001 Championship parade. The rookie, who was drafted by the Lakers the same season, won the fans over with a slightly awkward but adorable dance routine.
During the parade, Diesel started rapping for the fans who had assembled for the parade. Madsen grasped the opportunity and broke out the legendary dance moves. He remains alive in the Lakers and their fans' memories, forever enshrined as Mark 'The Dancer' Madsen.
Also read: "Proud Of My Baby": Shaquille O'Neal's Ex-Wife Shaunie Takes To IG To Shower Shaqir O'Neal With Praise
---
Share this article