NBA Rookie of the Year: Can Anthony Edwards upstage LaMelo Ball to win Rookie of the Year honors?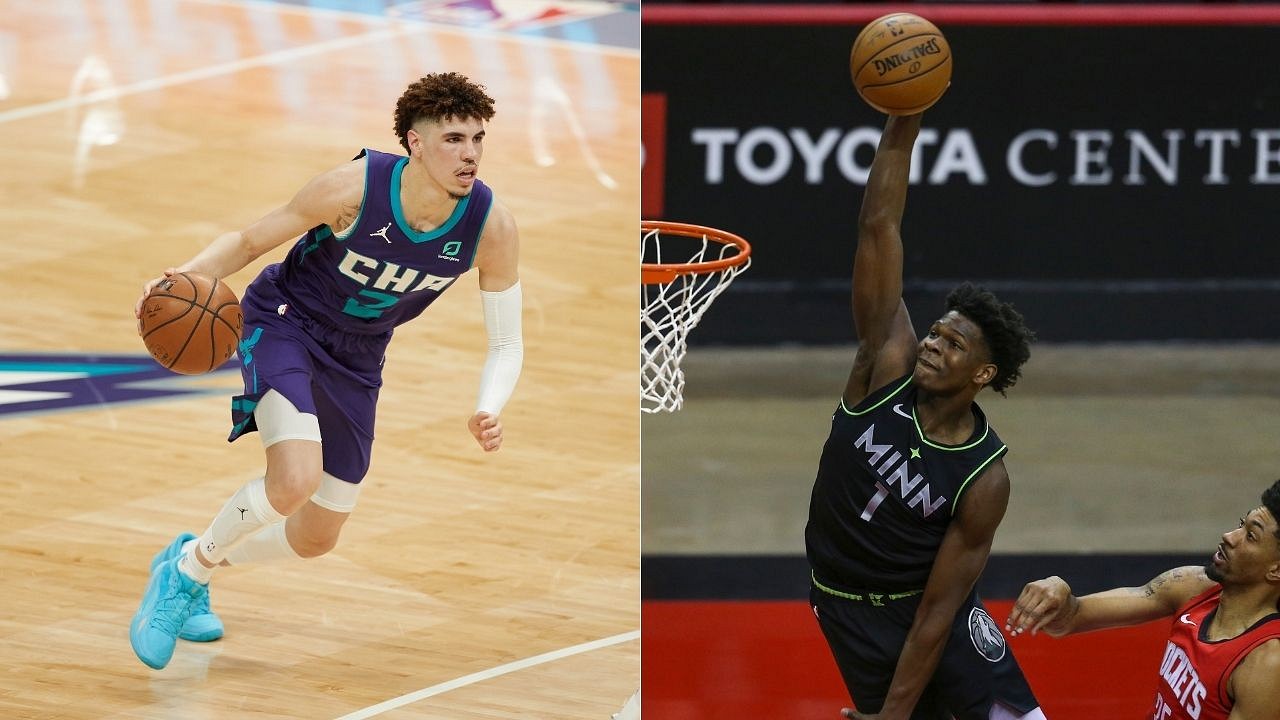 The race for NBA Rookie of the Year seemed to be a formality not long ago. However, injury to LaMelo Ball allowed Anthony Edwards to catch up.
The 2020 NBA Draft Class was one that had been viewed with a great degree of skepticism. Ahead of the draft, many pundits had established the absence of a can't-miss prospect on the board.
The likes of LaMelo Ball and James Wiseman had undoubtedly drawn eyeballs with their high school play. But they were considered far from sure things – the fate of the latter rookie underlines this point pretty well.
Also Read: "Ben Simmons does not need to be Steph Curry": Doc Rivers cites Lakers legend Magic Johnson's example while praising the Sixers star
Both Anthony Edwards and LaMelo Ball have shown more than enough in their rookie seasons to be considered worthy contenders for NBA Rookie of the Year honors. We'll try to take a cursory glance at what each rookie has achieved this year and arrive at a conclusion.
Anthony Edwards vs LaMelo Ball: NBA Rookie of the Year contenders
The Case for Ant Man
Edwards has been drafted into arguably one of the toughest spots for rookies in the NBA. The Timberwolves have been unable to groom and/or hold on to their young stars throughout their franchise history.
The Georgia Bulldogs product has proved to be a breath of fresh air for the young team. He started the season off on the slower side – understandable, since he barely got a training camp of note.
Edwards began to turn the corner after his first couple of weeks in the league. As a 6'4″ wing with extraordinary athletic gifts, certain playtypes were always going to come naturally for the 19-year-old.
Ant Man has a penchant for above-the-rim play that can only be described as breathtaking. He can get past his defender in a jiffy and before you know it, he's punching it through the rim. One look at his poster dunk over Yuta Watanabe is enough to see his ability to explode:
Edwards was a shaky jump shooter through the first 2 months of his career, causing serious doubts about his ceiling as a star. He's starting to allay those fears with his performances in the latter half of the season.
The rookie displayed a phenomenal improvement from February to March in an increased role. His minutes average went up 3 minutes, but he upped his scoring by a whopping 8 points per game. His 24.2 ppg came at 42.3% from the field and a below-average 30.1% from 3.
April proved to be his best shooting month of the year. Edwards's 3-point percentage stood at a respectable 34.4% as he dialled back a bit on the scoring load due to the reintegration of D'Lo and KAT.
Also Read: NBA Play-in Tournament: Predicting matchups for Jayson Tatum, Russell Westbrook and co for their Eastern Conference play-in games
Anthony Edwards stats
Ant Man is averaging 19 points, 4.7 rebounds, 2.8 assists, 1.1 steals, and 0.5 blocks per game on the year. His shooting splits are 42% from the field, 32.4% on 3-pointers and 77.4% from the free throw line.
His shooting from the line is a good indicator of his upside as a jump shooter. Improved shot selection with a bias towards more spot-up shots would definitely help him bump his efficiency up.
The Case for LaMelo Ball
LaMelo has had one of the most highlight-filled rookie year for any player in the 20th century. The 6'6″ guard out of Chino Hills has proved to be a sensation right off the bat.
Melo has a flair for making passes that would cause oohs and aahs if capacity crowds were allowed in the arenas. The 19-year-old seems to play with the attitude of a self-assured streetballer. And he absolutely has the gall and the skillset to back up his inventiveness.
Charlotte has quickly become a must-watch League Pass team with him, Gordon Hayward, Terry Rozier and Miles Bridges. Melo has been a transcendent playmaker in transition and a capable conductor in half-court sets.
His impact, while passing the eye test, is also apparent in how infectious his energy is. The young, athletic side has scored hordes of alley-oops with Melo feeding the rock. They seem to all enjoy themselves when the youngest Ball brother is on the floor.
LaMelo Ball led all rookies in total scoring, rebounding, assists and steals for a huge chunk of the season. Before he went down with a wrist injury, Melo had begun averaging 20 points per game as a starter.
LaMelo Ball stats
Melo is averaging 15.9 points, 5.9 rebounds, 6.2 assists, and 1.6 steals per game this year. He's averaging 44.5% from the field, 35.4% on 3-pointers and 77% from the free throw line.
Since becoming a starter, Melo has taken a huge leap ahead. His scoring is up to 18.8 ppg, and he's been shooting a borderline-elite 39.3% from the 3-point line. His rebounding and assist numbers stayed virtually the same in both roles.
Verdict: Who should win NBA Rookie of the Year?
LaMelo Ball seems to be the clear winner here, based on the NBA-readiness he's shown as a rookie. He's proved that he wouldn't look out of place against the likes of LeBron James and Steph Curry.
This doesn't mean that Anthony Edwards is necessarily a worse prospect. In all fairness, it should've been expected that Melo would win NBA Rookie of the Year honors all along. The Chino Hills product has experience of playing professional basketball from before.
Melo's been exposed to higher levels of competition among grown men, so his learning curve was less steep. Edwards also has a significant gap on the defense and playmaking fronts to cover in order to catch up.
Ball would have been a unanimous winner had he not gone down with injury. This allowed Edwards to catch up and show his improvement as a shooter and volume scorer.
All in all, the duo seem destined to make multiple All-Star teams in the future.
---
Share this article