NBA Virtual Fans sign up cost: How much does it cost be on NBA Virtual Fan screen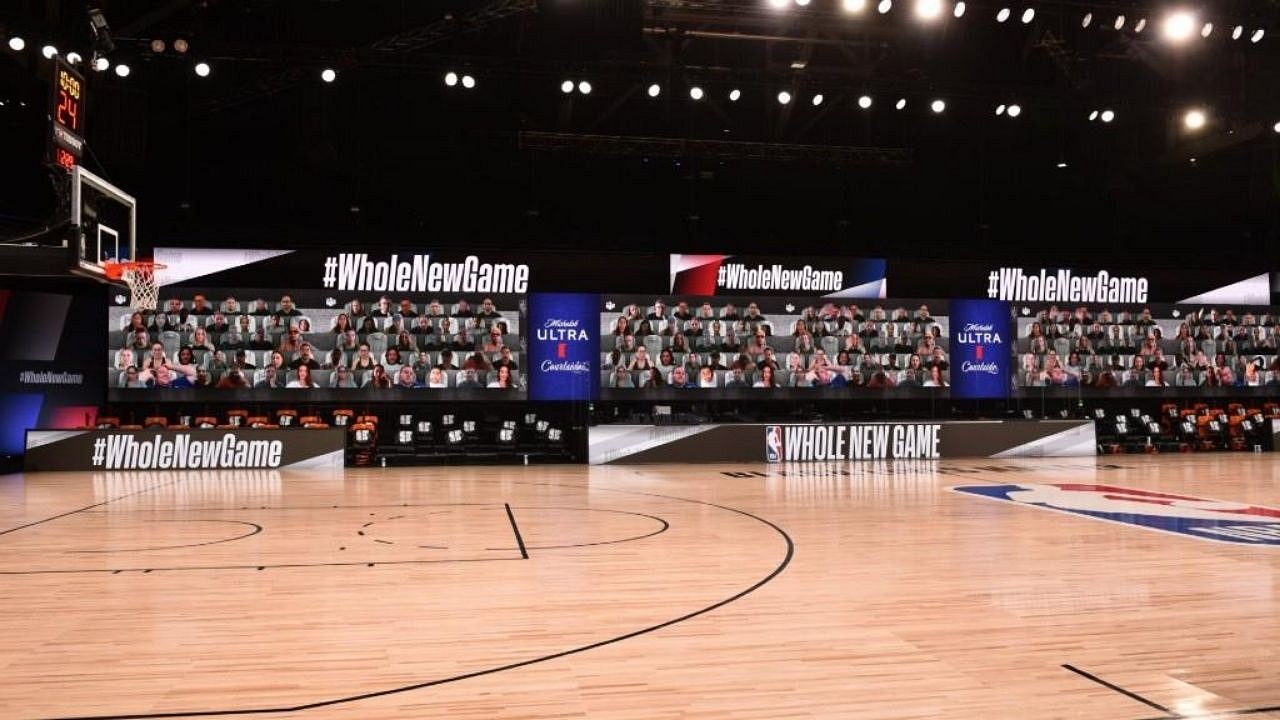 'NBA Virtual fans sign up cost' is one question that has been on the minds of all NBA fans, as they wish to view the Bubble action up close. 
The NBA's concept of virtual fans during the games in the Orlando bubble has been a revolutionary decision. The league's decision to partner with Microsoft Teams has enabled die hard fans to cheer on their favorite players and teams from the comfort of their homes.
Several franchises have allocated various means to select the fans to appear on the LED screen. Michelob Ultra Courtside tickets can also help you get on the NBA Virtual Fan LED screen through their affiliated campaign with the NBA
The NBA has been trying its level best to create a great playing experience for the players in the bubble with fantastic court experiences and fake cheer sounds pumped into the venues. However, everything feels hollow without the fans.
But these different means to get onto the LED virtual fans board has led to rumors about whether is it a free of cost or does it really cost dollars to cheer for your favorite players?
NBA Virtual Fans sign up cost
NBA has made it clear that every fan can cheer on their teams for free through virtual means. However, the choice to select the fans depends upon each franchise with some franchises favoring their season pass holders.
The Michelob campaign is free of cost for the fans too.
Other franchise like the Pacers, Pelicans and Heat have made a form accessible to the fans, wherein one can fill one's details and get added to the list of fans that want to be a part of the Virtual fans board.
The teams will then contact the fan(if they are selected) and walk them through the entire process of setting up their Microsoft teams.
The league has already seen great moments on the LED board from Chris Paul's family cheering him on to a cut-out of Dirk Nowitzki.
The NBA Has Virtual Fans In The Stand pic.twitter.com/LkiIPqeiZT

— 2Cool2Blog (@2Cool2BIog) July 30, 2020
Microsoft and NBAs 'Together Mode
Microsoft has been using the 'Together Mode' to empower the Virtual fans feature, with the backgrounds removed from individual fan live videos and all of them blended into one fan wall.
Also Read: How to be a virtual fan in the NBA Bubble
The experience seems surreal and kudos to both Microsoft and the NBA to somehow make it accessible for the players to enjoy a 'fan-full' NBA Bubble.
---