"Nobody Fears LeBron James': Former Teammate Explains Why Michael Jordan Will Always be the GOAT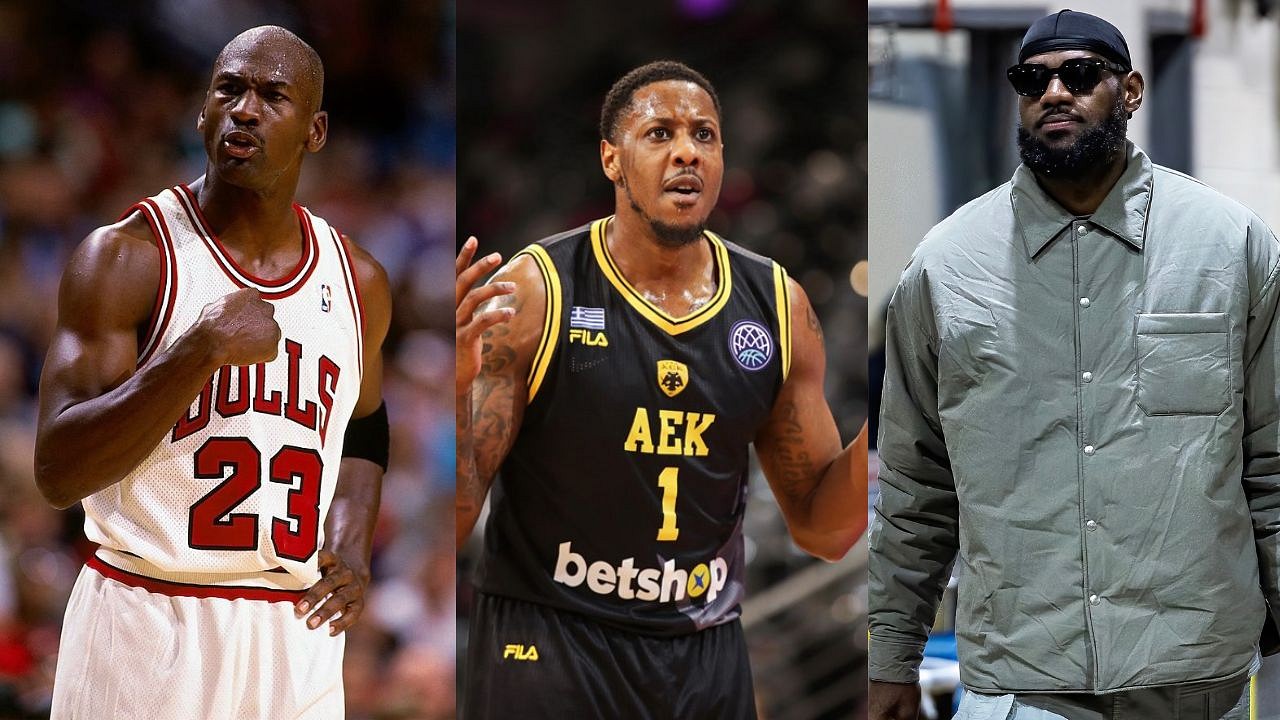 The GOAT debate is one that has spanned multiple generations by now. But, Michael Jordan has unquestionably had the longest reign as the man atop that mountain. And of course, LeBron James has been his longest and strongest competitor for the title. So of course, when even the calmest, most sane people sit down to have a conversation about the two, things are bound to get a little heated.
When it comes to these incredibly divisive matters, most celebrities, and especially NBA players, are known to stay out of it. After all, who knows which section of their fanbase they hurt? And yet, when it comes to this debate, it's like all the rules go right out of the window.
Following just that kind of thinking, Mario Chalmers once got down and dirty with this debate. And in doing so, he explained why Michael Jordan will perhaps never be overtaken as the GOAT by LeBron James.
Also Read: Ja Morant Str*p Club Pictures: Grizzlies Star Gets Vehemently Betrayed After Hugely Entertaining Night as Photos Reveal
Mario Chalmers brings up the good ol' fear factor as his reasoning
When most are looking to prove Michael Jordan's dominance over LeBron James in this category, they often bring up either the rings, or the NBA finals record, or a myriad of other things that drive LeBron James's fans right up the wall.
However, when it comes to NBA players, both former and current, they bring up the 'fear factor' of His Airness, and apparently how it is an ability that LeBron James has never had, despite his long, illustrious career. Here is what a former teammate of James', Mario Chalmers had to say on the matter.
Chalmers on LeBron and mj pic.twitter.com/jfNcGZhWgF

— Dom2K 🌊🏖 (@Dom_2k) March 18, 2023
"Nobody fears Bron (LeBron James). Nobody is like 'damn, I gotta go play against Bron tonight.' Nobody said that. I don't know why. Because I've seen people be scared when they actually line up to him. But they're not scared thinking about that matchup. You hear anybody from that era talk about going against (Michael) Jordan? There's a fear."
Admittedly, if this was said by a fan, or even just someone who has never been to the NBA, the opinion would justifiably be laughed out of the room. But, this is a former teammate of LeBron James's here. He has seen everything from as close to his perspective as you can.
So, at the end of the day, here is the deal. Even if LeBron James is a better player than Michael Jordan ever was (we'd say he absolutely was at some point), fear factors apparently matter a lot more. So maybe, despite just how great he has been over his 2-decade long career in the NBA, Michael Jordan is just the hump James will never get over.
How long did Mario Chalmers and LeBron James play together?
LeBron James and Mario Chalmers were teammates during their time on the Miami Heat. The two even won 2 titles during their time together, which is impressive considering they were only on the same team from the 2010-11 to the 2013-14 NBA season. That's two titles in 4 seasons, beyond impressive. However, we're not sure the good old days are going to mean much to James after he hears about the comments this whole article was about.
Also Read: "A Lot of Real Estate in San Francisco": Dillon Brooks Taps Into His Devilish Side to Get Into the Warriors' Heads Yet Again
---
Share this article