Ja Morant Str*p Club Pictures: Grizzlies Star Gets Vehemently Betrayed After Hugely Entertaining Night as Photos Reveal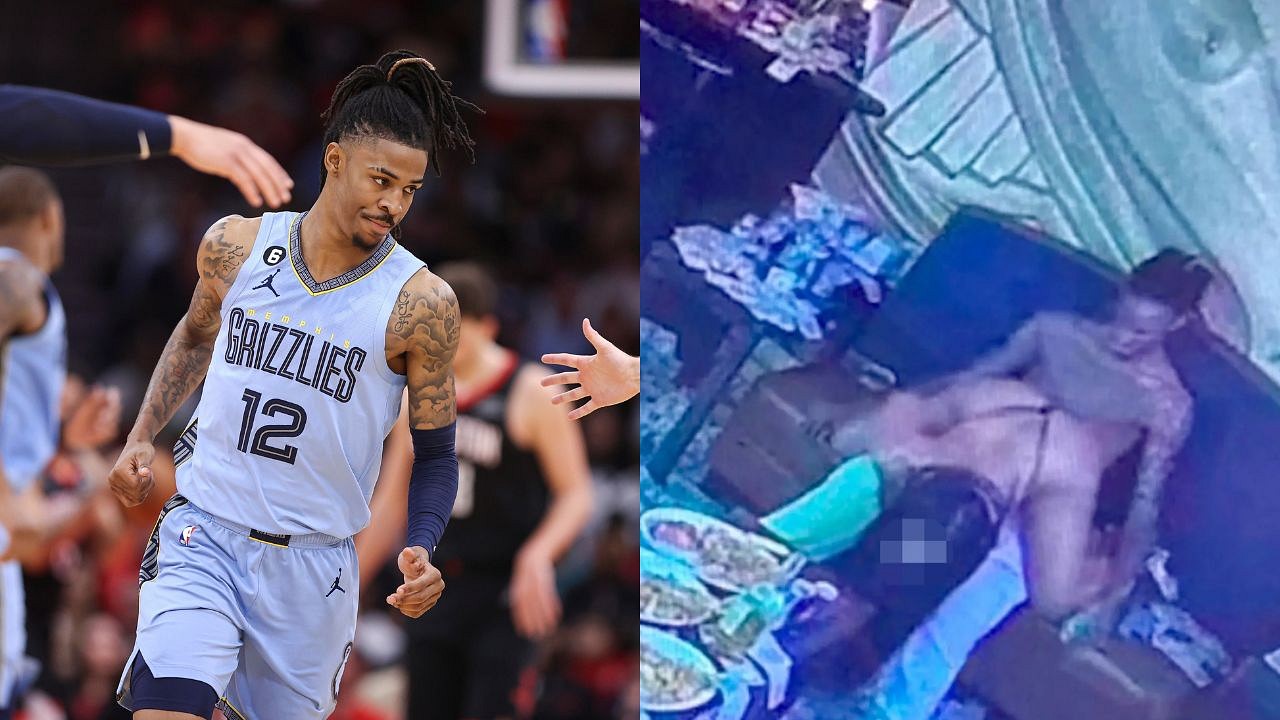 Up until this point, Ja Morant has put himself in all the serious controversy you could imagine. The 23-year-old has been accused of beating up a teenager after a pickup game, pointing a gun at an opposing NBA team's bus, threatening mall security, and of course, showing off a gun on his social media.
Due to all this, Ja Morant has had to take some serious punishment.  But, it appears that a local str*p club believed that all of his hardship just wasn't enough. So, instead, they decided to go rogue, and absolutely destroy the Grizzlies' star's right to privacy. And frankly, after what they did, it's hard to see any big spenders ever going back there again.
Ja Morant's pictures at the str*p club get unfairly exposed to the public by the establishment
Many may see this story and believe that Ja Morant's behavior was somehow the problem yet again. However, this apparently, couldn't have been farther from the truth. Instead, as Deborah Dunafon, the majority owner of the str*p club Shotgun Willie's said, the man was beyond respectful.
"This kid, really young, was exceptionally respectful and sweet, and he did not drink (on his second visit) … We've had (Denver) Nuggets, and Broncos… come in and pitch quarters at the girls, be disrespectful and nasty. (But), he was marvellous."
Strip club released Ja Morant photos from night he was there 😭😭😭 pic.twitter.com/gbHLFYlzBR

— Shannonnn sharpes Burner (PARODY Account) (@shannonsharpeee) March 12, 2023
Of course, you could say the nicest things about anyone. But if you turn around and make a fool of them anyway, none of it really matters, does it? And now, because of them, massive publications have essentially re-loaded their smear campaigns on the player.
The New York Post wrote, "Memphis Grizzlies All-Star point guard Ja Morant dribbled and drooled over a stripper at the same Denver-area jiggle joint where he blew $50,000 in tips — and flashed a gun 48 hours later"
And of course, the Daily Mail wasn't far behind, saying that Ja Morant "reportedly splashed out so much cash, money covered the room".
At the end of the day, going to the str*p club could be morally taxing. However, the fact that the man is being persecuted for it to this level is beyond unfair. This is no longer a mere reporting of news by these news entities. This is moral policing of the highest order, hardly something anyone deserves.
Ja Morant, may have made mistakes, but he has already gotten what he deserves. He is a good young man who has made some mistakes. But, this wasn't one of them. This was Morant just having some fun, even if he spent $50,000 in tips. That's money he can more than afford to give away, whether it covers all the floors or not, and no matter what, something that should remain his private business.
Even Stephen A Smith is on Ja Morant's side
When it comes to criticizing current NBA players, Stephen A Smith is not the type that hesitates. He has even dished out quite a bit to Ja Morant on his gun-related problems. However, on this matter, even the 55-year-old couldn't help but announce his disgust at how things had unfolded here.
What do people think happens there?

Why is the club releasing these? Feels like a massive invasion of privacy!

Why would any big spenders go there ever again? https://t.co/ye7jiv2tOw

— Stephen A Smith (@stephenasmith) March 12, 2023
There are few places athletes get to stay away from everything. Where the paparazzi won't find them. And if they do, they will hesitate to question them. That is a code that 'Shotgun Willie's' has spit all over. And we're willing to bet, they will be facing some serious consequences very soon.
---
Share this article